Dean's Alumni Awards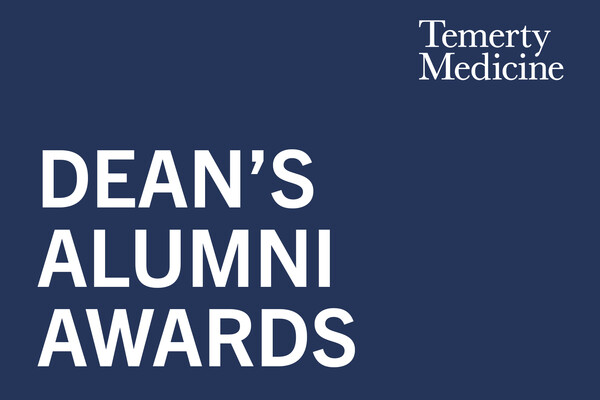 Our Temerty Medicine alumni network consists of more than 62,000 graduates of our life sciences, rehabilitation sciences, MD and MD/PhD programs, as well as more than 20,000 former residents and clinical fellows. Together, they are contributing to better health and health care throughout Toronto, across Canada and around the world. 
Every year we celebrate our Temerty Medicine alumni community's impact with the Dean's Alumni Awards. We highlight the contributions of our alumni as they advance clinical care, health research, medical education and more.
Help us recognize exceptional alumni and share their achievements with the Temerty Faculty of Medicine community. Nominations for the 2022 Dean's Alumni Awards are now open and will close on March 29, 2022.
Individual alumni (including former residents and clinical fellows) can be recognized for one of the following awards:
Lifetime Achievement Awards 
These awards recognize alumni who have demonstrated a lifetime of exceptional professionalism through leadership, research, teaching, clinical care, administration or public service. Two recipients will be honoured each year, one for career accomplishments with international/global impact and one for career achievements with national/community impact.
Humanitarian Award
This award honours alumni who have provided extraordinary volunteer service, demonstrating leadership through local or global work. Recipients have enriched the lives of others through their volunteerism in the Temerty Faculty of Medicine or through their work with civic, charitable and social causes beyond the scope of their clinical or academic responsibilities.
Emerging Leader Award
This award is presented to alumni early in their career who have completed their training in the past 15 years. Recipients will have demonstrated outstanding service to Temerty Medicine, their local medical/healthcare community, or a scientific or academic achievement. The recipient can receive this award for a specific achievement or for a body of work.
Nominee Eligibility and Criteria
Individuals who hold a degree or certificate from — or completed their training at — U of T's Faculty of Medicine (now Temerty Faculty of Medicine) are eligible for consideration (including graduates of our life sciences, rehabilitation sciences, MD/PhD programs, and former residents and clinical fellows). Individuals who only completed post-doctoral research fellowships are not eligible for nomination.
Nominations may be submitted by any individual, independently or on behalf of a group or institution. Self-nominations will not be accepted. 
Nominees can only be nominated in one category per year.
Nominees should exemplify professionalism in keeping with Temerty Medicine's core values. 
Additional eligibility criteria apply for the Emerging Leader Awards, please see the award descriptions for more details.
Please be sure to include with your submission:
A letter of nomination highlighting the nominee's achievements and explaining why the nominee should receive the award. Maximum 250 words.
One letter of support from an individual familiar with the nominee's work (who is not the nominator nor the nominee's spouse or relative). 
A current copy of the nominee's curriculum vitae.
Optional: Supplementary documents (maximum two) that convey the importance of the nominee's work. These can include notices and reviews, media coverage, abstracts, etc.
Please note, nominations will be kept on file for three years for future  consideration.
Selection Committee Eligibility
Each award has its own committee of three to seven alumni who review the nominations and select the award recipient. If space allows, members may choose to serve on more than one virtual award selection committee. In 2021, all committee deliberations took place virtually. If you would like to participate on an awards selection committee, please email Katrina Heisz at katrina.heisz@utoronto.ca.
All committee members:
Must be part of the U of T Temerty Faculty of Medicine community of alumni, students, faculty or staff.
Cannot be nominated in the current award year.
Cannot nominate or provide letters of support for current award candidates.
Be available to attend virtual committee meeting(s).
Lifetime Achievement Award
Humanitarian Award (formerly Volunteerism)
Emerging Leader Award (formerly Rising Star)
MD 25th Anniversary Award
Insulin 100 Emerging Leader Award (2021)