Professional Values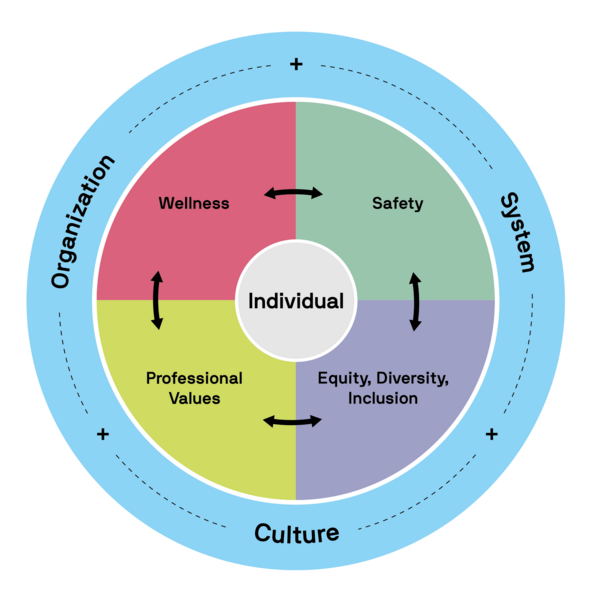 We believe that within our academic and clinical settings, shared norms, values, and expectations help to describe and support the behaviours expected of us by patients and families, and by society. These norms, values, and expectations are collectively known as our professional values. Our professional values are the commitments we keep to our patients, our colleagues, our learners, and ourselves – even in challenging situations – to contribute to psychologically and culturally safe environments that are necessary for excellent healthcare and education and for our shared wellbeing. 
We also believe that while many professional values are timeless, others evolve to become more prominent as a result of necessary societal change. The Faculty's Academic Strategic Plan (2018-2023) highlights themes of collaboration, health and wellbeing, diversity and inclusion, excellence through equity, and sustainability.
What We're Doing
Working with Department Chairs to develop and educate a network of Wellness Leads; to ensure faculty have access to mentorship and supportive connections; to encourage flexibility in academic reviews; and to confirm there are clear processes to address unprofessional behaviour.
If you are a Temerty Medicine faculty member experiencing unprofessional behaviour, please contact professional.values@utoronto.ca for a confidential conversation.
Awarded annually to recognize faculty members and learners from all our sectors who contribute to strengthening our shared professional values
This guide is meant to be used in a variety of ways to engage faculty members in discussions about the critical role that professional values play in teaching and learning contexts, as well as the evolution of how we articulate and support these values today. 
Professional Relationships Management Committee
A Professional Relationships Management Committee is charged with the interpretation and implementation of the Relations with Industry in MD Training standards and provides guidance to the Dean, as required.
For more information about this committee, please contact Nancy Smart or 416-978-7212