Words of Wisdom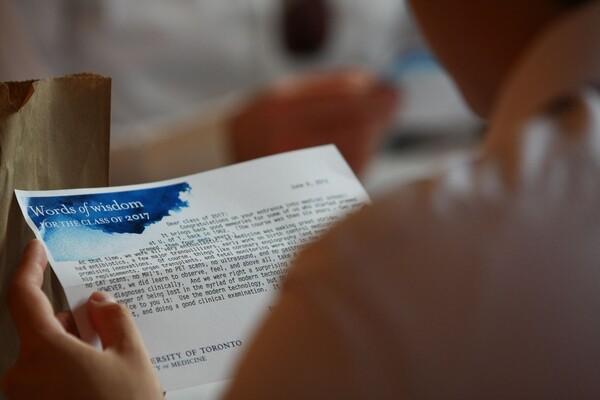 The Temerty Faculty of Medicine invites alumni to share their Words of Wisdom with our students.
Words of Wisdom is an opportunity for alumni to write notes of congratulations and encouragement to learners and welcome them to U of T and the Temerty Faculty of Medicine. Your personal wisdom is so appreciated and immediately connects learners with the Temerty Medicine alumni community.
Submit your Words of Wisdom note
For Words of Wisdom inquiries, please contact Katrina Heisz at katrina.heisz@utoronto.ca.
"I first read my Words of Wisdom letter during Orientation Week, just as I was entering the University of Toronto community. Reading this letter gave me even more confidence that I was in the right place, joining U of T's Temerty Faculty of Medicine. I still have my letter and will read it again from time to time as a reminder that I'm a lifelong member of a community rich in support, diversity and resources for their students and alumni. Words of Wisdom letters offer a personalized welcome to the U of T family. Thank you to all alumni who have shared their personal experiences, tips for surviving medical school and life advice for the incoming classes."
— Kenya Costa-Dookhan, MD Class 2T4

Alumni Words of Wisdom:
"It's easy to get lost in the weeds of your experiments and get stuck in the never-ending lab work. Develop yourself outside of science. Network, and learn how to talk to people outside of your field about your ideas and research."

— J.J. David Ho, BSc'06, PhD'13
"Look up 'impostor syndrome' and whenever you doubt yourself, read it. You belong here, no matter what you think. And remember the onion: you will learn everything you need to know slowly, and over time — peeling back the layers."

— Dr. Kaitie Turchin, MD '09
"It can be hard to be a good occupational therapist — but as long as you keep your patient at the centre of your work, you will never go wrong. There are no limits as to what you can do with an OT degree, although sometimes you have to work beyond the system. Learn, grow, thrive and do the best you can because you will be rewarded in the end."

— Pearl Gryfe, BSc (OT)'79, MSc (OT)'07
"Find someone in medicine who you admire and whose career is appealing to you, and find a reason to work with them. This is the best way to develop strong mentors. Don't hesitate to approach anyone — you will find many doors are open to you simply because you are a U of T Faculty of Medicine student."  

— Dr. Amol Verma, MD '09
"There is a sense in medicine that you need to put up a wall — a professional space between you and the patient — in order to protect yourself. The thing that has done me so well in my career is to break down that wall. So my advice is not to be scared of forming real relationships with patients and their families. When we strive to cultivate that connection, the quality of our work and our job satisfaction increases exponentially."

— Dr. Adam Rapoport, MD '02, PGME '06, MHSc '08
"The knowledge and skills you obtain in your nutritional sciences education is the first step to a wide array of opportunities that can make a difference in people's lives. Diet and physical activity are the basis of good health. The food we grow, the choices we make in our diet, the environment and nutrition policies we support — all contribute to a long and healthy life. Don't limit yourself in one area of nutrition but always look for the possibilities."

— Laura Pasut, BSc '82, MSc '84
"Medical facts have an increasingly short half life, pedagogy changes, grades fade in memory and importance. But some things endure: a love and skill for learning and caring, a sense of ethics and professionalism, and most of all the relationships and memories we create. And find humility, or the craft will teach it to you sooner than later — and repeatedly."

— Dr. Howard Ovens, MD '78