"Oral histories are a powerful tool": Temerty Medicine addresses historic antisemitic quotas
Education, Alumni, Faculty & Staff, Inclusion & Diversity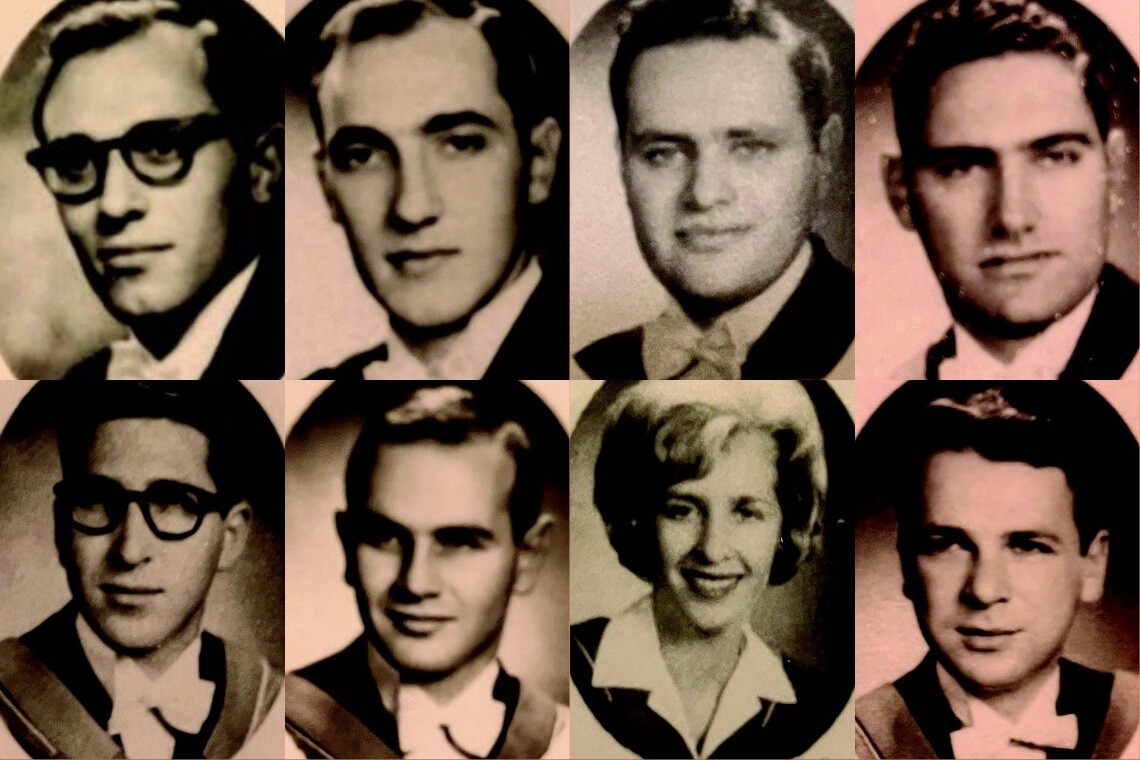 "The stories of these remarkable physicians demonstrate the resilience, determination, ingenuity, and luck necessary to overcome a system of discrimination against Jewish medical students and doctors…" - In Their Own Words by Joanna Krongold
As a U of T doctoral student examining youth Holocaust literature, Joanna Krongold didn't imagine she'd soon immerse herself in the culture of mid-20th century medical training, but a postdoctoral opportunity this past year opened the door to an area of exploration she is now deeply committed to.
"I'm very interested in the history of antisemitism in health professions education," said Dr. Krongold, who, along with Professor Elliot Lass, documented the experiences of senior physicians who lived through an antisemitic quota system for Jewish applicants in the post-war period at U of T's Faculty of Medicine. (These restrictive quotas have been previously documented, including in Charles Levi's 2003 Research Note in Historical Studies in Education and Edward Shorter's Partnership for Excellence: Medicine at the University of Toronto and Academic Hospitals among other sources.)
Last week, Krongold, Lass and their academic committee members, Professors Chaim Bell, Ayelet Kuper and Lisa Richardson, spoke about this narrative history to an audience at Innis College that included not only the doctors interviewed and many of their families but also a wide range of leaders in Toronto medical education, including the CEOs of The Hospital for Sick Children, Sinai Health, Sunnybrook Health Sciences Centre and University Health Network, as well as University of Toronto President Meric Gertler.
 "It was such an honour to speak with the doctors who became our interview subjects," said Krongold, whose project was jointly funded by the Anne Tanenbaum Centre for Jewish Studies and the Temerty Faculty of Medicine. "Their recollections, intelligence, generosity, and humour lent the project an authenticity and immersion in the subject matter that we never could have obtained through scholarly research alone."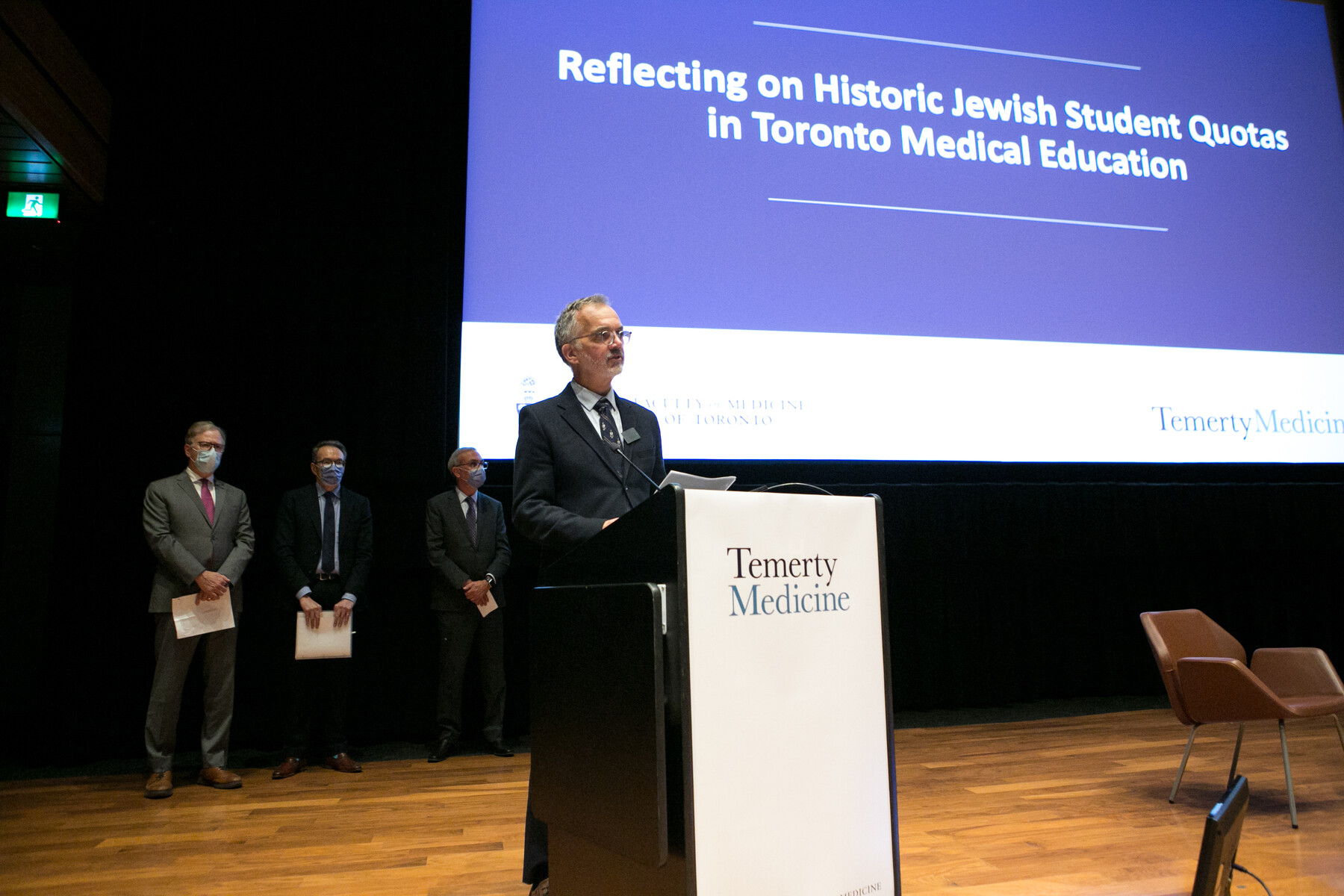 At the Innis College event, Temerty Medicine Dean Trevor Young acknowledged and apologized for the Faculty's antisemitic quota system, which capped the number of Jewish students in each year's incoming MD class.
"I want to publicly recognize that the Faculty of Medicine's actions to exclude Jews from the medical profession were wrong and morally reprehensible," Young said. "The quotas enforced were intentional and pernicious.
"Furthermore, I acknowledge and accept that these actions caused widespread harm to the Jewish community, to the medical students who endured the antisemitic environment, and to those who were excluded entirely.
"On behalf of the Faculty, I acknowledge and regret the harm this caused," he continued. "There is no excuse or justification for these actions, and the message they conveyed to my Jewish colleagues that you do not belong was entirely unacceptable: Jewish students and physicians did not deserve to be treated with such contempt."
Bell, who is Physician-in-Chief at Sinai Health, welcomed the Dean's apology, noting the symbolic timing of the event during the 10-day period of repentance observed between the Jewish holidays of Rosh Hashana (starting Sept. 25) and Yom Kippur (Oct. 5).
"It's a powerful thing to see leadership acknowledge and apologize for the harm caused by these exclusionary antisemitic policies," Bell said. "Not everyone knows this history. Oral histories, such as those collected in this research, are a powerful tool to help us understand… Despite exclusion from faculties of medicine and teaching hospitals, Jewish people have made incredible contributions to our faculties, to our hospitals and to health care in Toronto, and in Canada."
Kevin Smith, CEO of University Health Network, which includes Toronto General and Toronto Western hospitals, and Sick Kids' CEO Ronald Cohn spoke about their institutions' antisemitic practices, which blocked internships and employment for Jewish trainees and physicians during the same post-war period.
Sinai Health CEO Gary Newton outlined the role of Mount Sinai Hospital, which celebrates its centenary in 2023, as a haven for Jewish physicians who faced exclusion from the Toronto medical establishment; Sinai Health is now a leading member of the Toronto Academic Health Network (TAHSN) that connects 14 full and associate affiliated teaching hospitals across the GTA with the University of Toronto.
The current chair of TAHSN, Sunnybrook CEO Andy Smith, reaffirmed the network's ongoing commitment to eradicating antisemitism, as well as religious and racial intolerance and discrimination of all kinds. And he committed to an annual TAHSN-wide lectureship examining discriminatory practices in medicine that will be co-developed with members of Temerty Medicine's Jewish community.
"Teaching hospitals have an important role to play in combatting contemporary antisemitism and discrimination in all forms," Smith said. "TAHSN partners are committed to being a welcoming, inclusive place for Jewish staff, physicians and learners."
For Richardson, as an Indigenous leader committed to reconciliation and repair among many communities, this project on antisemitism and its legacy has involved much learning and reflection.
"Transformative change requires the ability to be courageous and acknowledge what has happened, and commit to transforming to be better," said Richardson, Associate Dean, Inclusion and Diversity, who helped guide the development of the event and acted as emcee.
"I hope there will be healing in hearing us acknowledge this harm and our commitment to address contemporary forms of antisemitism. We are deeply committed to supporting any learners who experience discrimination, mistreatment, racism, misogyny or harm of any kind."
In recent years, Temerty Medicine has initiated several measures to provide education and support in this area. Kuper, an associate professor of medicine, was appointed senior advisor on antisemitism for 2021-22 with the Faculty's Office of Inclusion and Diversity to better understand the experiences of Jewish learners, staff and faculty members and identify opportunities for support.
The Faculty also has a diversity mentorship program to connect undergraduate medical students or first-year residents with culturally appropriate physicians, scientists and other leaders. In addition, the MD Program offers a ground-breaking session for second-year students that examines ethical lessons from the Holocaust, including the role of physicians.
At the event last week, Dean Young also announced a continuation of the postdoctoral research funding in antisemitism in partnership with the Anne Tanenbaum Centre for Jewish Studies. "Our work is not done," Young said. "The Temerty Faculty of Medicine is fully committed to combating antisemitism and intolerance in all its hateful forms. We are educating our students and faculty, we are supporting ongoing research – and we are speaking up."
LEARN MORE
Read Joanna Krongold's research:
In Their Own Words: Jewish Doctors, Antisemitism, and the Restrictive Quota System at the University of Toronto's Faculty of Medicine
Photo Gallery