Temerty Medicine MD Student Named Rhodes Scholar
Students, Research, Education, Alumni, Faculty & Staff, Giving, Partnerships, Inclusion & Diversity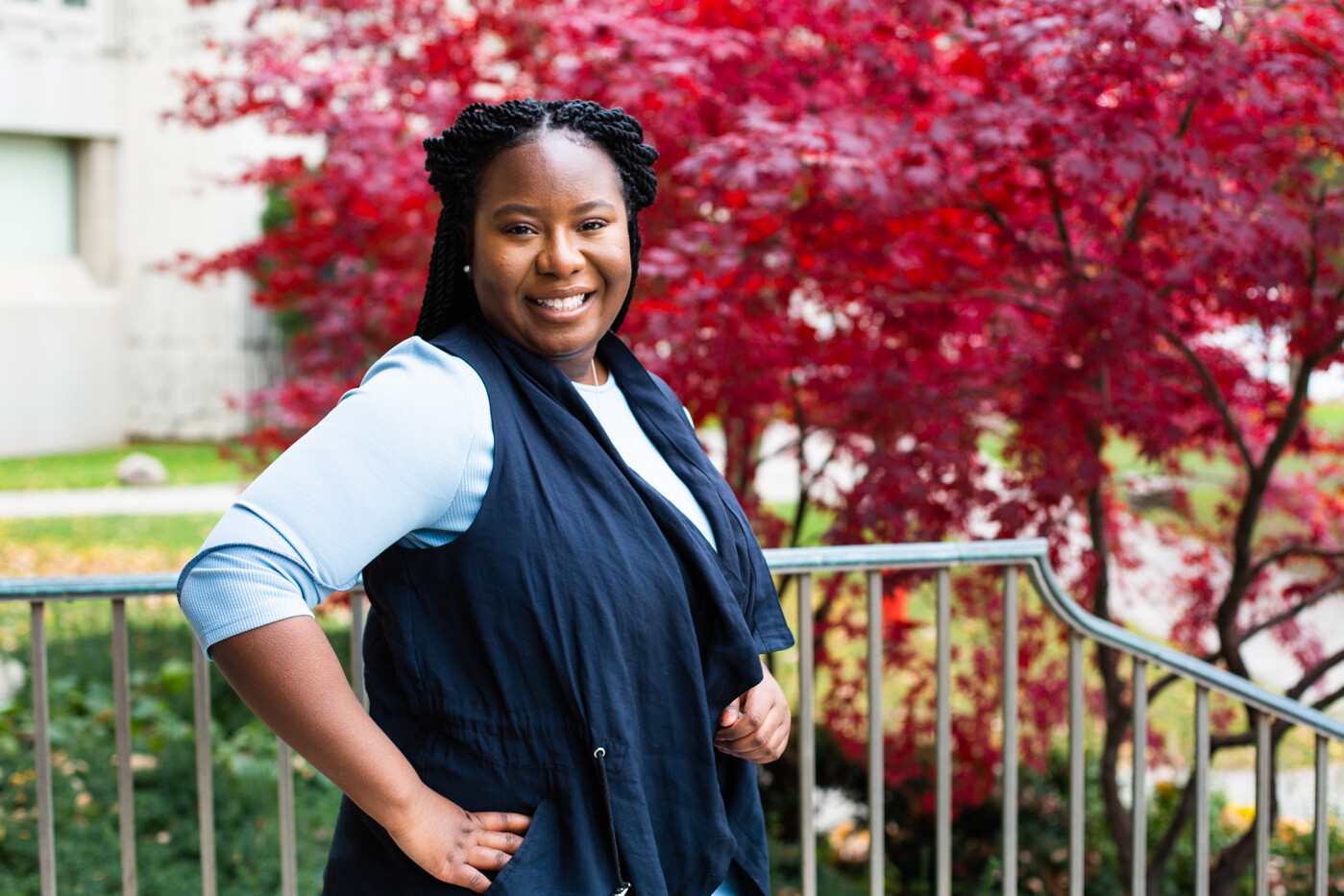 Erin Howe
Nicole Mfoafo-M'Carthy, a second-year medical student at the University of Toronto, is one of 11 Canadians selected this year to receive a Rhodes Scholarship — one of the most prestigious awards in the world. 
The Rhodes Scholarship nurtures exceptional, public-spirited leaders from every corner of the earth, and covers expenses for a postgraduate degree at the University of Oxford in the United Kingdom. It identifies and supports young people with potential to make a positive impact on the world. 
One way Mfoafo-M'Carthy looks to create impact is through research. She has a keen interest in workplace policy related to gender, disability and intersectionality. 
"Work is such a large part of many people's lives, but differences between the experiences of people of different genders are often overlooked — especially how gender interacts with our other social identities and positions such as disability," she says. "There's a tremendous opportunity to explore what can make workplaces safer and better for everyone."  
Mfoafo-M'Carthy began to explore this area during undergraduate studies at the University of Calgary. Her thesis focused on mental health in gendered workplaces, and how employers can create more inclusive policies that account for diversity and individual needs. 
At U of T, the MD Program student is working on a qualitative assessment of moral injury — the cognitive and emotional response after events that go against a person's own moral code — in long-term care workers. 
As part of the project, Mfoafo-M'Carthy looks at how people working in long-term care experienced the COVID-19 pandemic, and what could have been done to support them better. At the University of Oxford, she plans to pursue her interest in the intersection of health and policy.  
Mfoafo-M'Carthy, who is also a junior fellow at Massey College, says she had always intended to pursue a master's degree or doctorate, but was unsure about timing. Nor did she ever dream that possibility would become a reality through one of the world's most highly regarded scholarships. 
As she prepares to join the network of more than 4,500 Rhodes Scholars worldwide, Mfoafo-M'Carthy says her story is one of community. 
"If someone had told me when I arrived at U of T last fall that I would become a Rhodes Scholar, I'd never have imagined it," she says. "But over time, and with more exposure to the opportunities here, I could see how this opportunity aligned with what I wanted for myself. And I was fortunate to receive so much support from people here at U of T."  
Among her supporters, Mfoafo-M'Carthy lists Professors Ayelet Kuper, Marcus Law, Tony Pignatiello and Jennifer Bryan, who was her mentor through the Diversity Mentorship Program. She also credits neurology resident Dr. Victoria Reedman, who encouraged her to apply to Rhodes, and notes that many faculty members were supporters throughout the application process, helping her prepare for the two-day long interview. 
Mfoafo-M'Carthy says her experiences as a mentee helped cement her own commitment to mentoring others in the community. She received mentorship through Community of Support and, after she was accepted to the MD Program, became a mentor herself. 
Mfoafo-M'Carthy is heavily involved with the Black Medical Students Association, as a mentor and as co-director of community outreach. As well, she is a committee member for the Ontario Medical Association's OMA Women. 
In 2015, she created Gurl, a mentorship program in Calgary for girls from immigrant families between the ages of 9 and 13. Gurl continues to operate and provide participants with a sense of community.  
Mfoafo-M'Carthy also founded a non-profit organization called Career Match, which ensures youth are provided with the tools and resources to make informed decisions about their careers. The organization provides networking opportunities along with career fair events to match students with mentors. 
Within days of learning she is headed to Oxford, Mfoafo-M'Carthy began to connect with other Rhodes Scholars, including a few here at the university. And while she is excited to embark upon her next academic adventure at Rhodes House in Oxford, she says she's still taking in her big news.   
Mfoafo-M'Carthy will begin her studies at the University of Oxford in September of 2022, and return to study in the MD Program upon completion of her graduate degree.