Reckoning with Historic Antisemitism in Medical Education
Students, Research, Alumni, Faculty & Staff, Partnerships, Inclusion & Diversity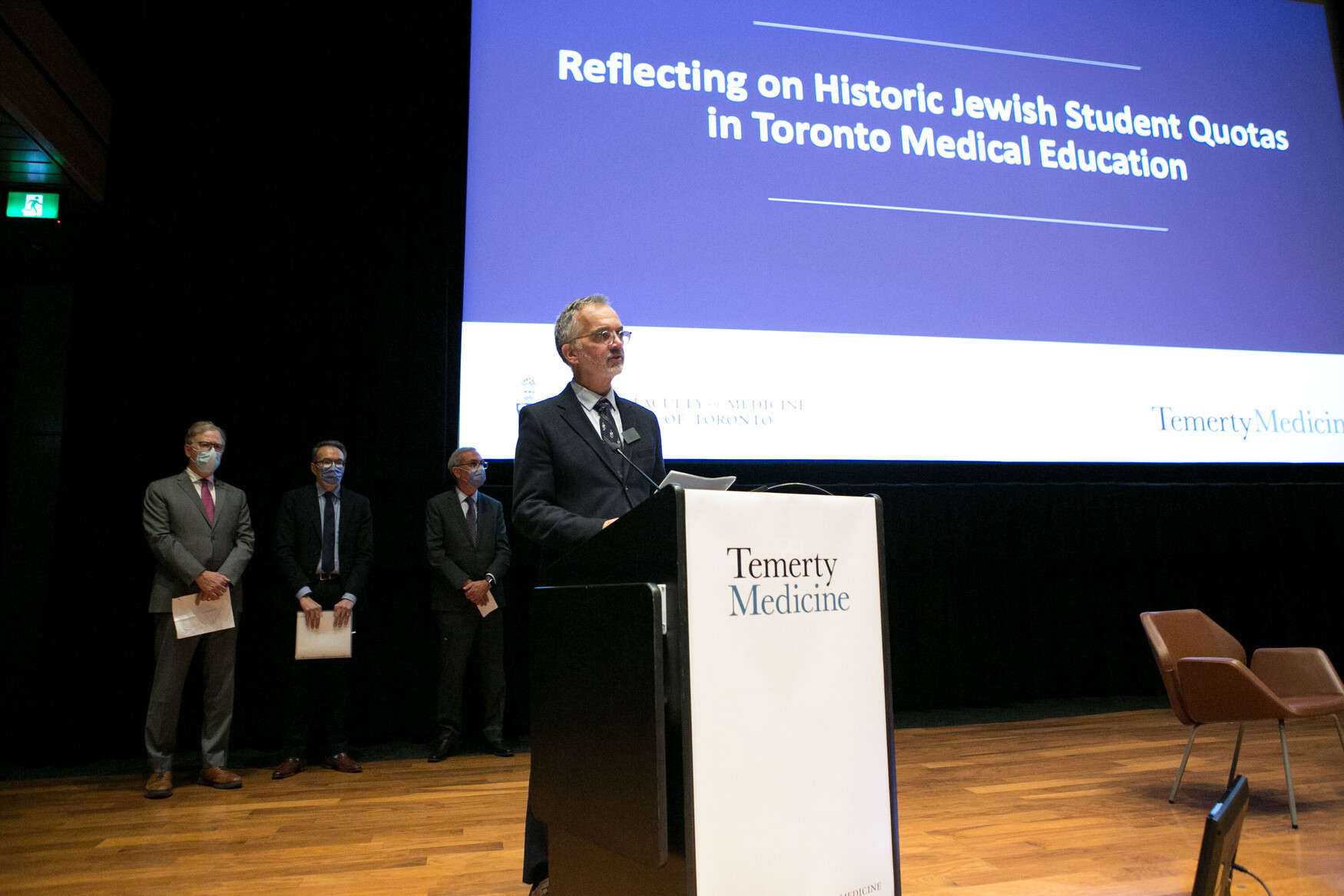 Last week, Temerty Medicine brought together about 100 senior physicians, their families and invited guests for an evening of reflection that was both inspiring – and upsetting.
The topic was a dark chapter in our history as a Faculty of Medicine: the use of antisemitic quotas to cap the number of Jewish students accepted to study medicine at the University of Toronto in the postwar period.
Inspiring was the work of Temerty Medicine colleagues Chaim Bell, Ayelet Kuper, Elliot Lass, Lisa Richardson and postdoctoral fellow Joanna Krongold, who undertook a research project documenting the experiences of senior Jewish physicians who lived through this time. Those lived experiences brought to life in vivid and disturbing detail the quota system that has been previously acknowledged by several medical historians.
"The stories of these remarkable physicians demonstrate the resilience, determination, ingenuity, and luck necessary to overcome a system of discrimination against Jewish medical students and doctors…" Krongold writes in In Their Own Words, the narrative culmination of a year-long archival and interview project supported by Temerty Medicine and the Anne Tanenbaum Centre for Jewish Studies at U of T.
Upsetting was hearing first-hand from accomplished alumni Marvin Tile (MD '57) and Elaine Borins (MD '62) about their personal experiences with rampant antisemitism – compounded in Dr. Borins' case by contemptuous misogyny – that pervaded medical education into the 1950s and 60s.
At Temerty Medicine, we need to be accountable.
Here's part of what I told the audience last week:
I think about how hard every one of those post-war Jewish students worked – and the sacrifices their families made – to get in the door of our small-c conservative, capital-P Protestant medical school; how hard they worked when they got here – and how painful it must have been to persevere in the face of rampant antisemitism.
There were many brilliant Jewish physicians of the time, but so many more careers were lost completely: those aspiring medical students not known to us, those who met or exceeded the rigorous standards yet were rejected outright because quote: "We already have enough Jews".
As you've heard from my colleagues, this offensive rejoinder permeated Toronto's medical training programs of the postwar period, from anesthesia to psychiatry and beyond. Many of you in the room and watching online know exactly how this felt.
I want to publicly recognize that the Faculty of Medicine's actions to exclude Jews from the medical profession were wrong and morally reprehensible. The quotas enforced were intentional and pernicious.
Furthermore, I acknowledge and accept that these actions caused widespread harm: to the Jewish community, to the medical students who endured the antisemitic environment, and to those who were excluded entirely.
On behalf of the Faculty, I acknowledge and regret the harm this caused. There is no excuse or justification for these actions, and the message they conveyed to my Jewish colleagues that you do not belong was entirely unacceptable: Jewish students and physicians did not deserve to be treated with such contempt.
For this, I am truly sorry.
As Dean, I accept responsibility for leading a way forward within the Faculty: a way forward to make amends, to educate and to deepen a culture of respect and inclusivity for our Jewish community members.
I know that our work is not done. I and my colleagues at Temerty Medicine are fully committed to combating antisemitism and intolerance in all its hateful forms. We are educating our students and faculty. We are supporting ongoing research – and we are speaking up.
I was heartened that my CEO colleagues from partner hospitals with their own troubled history of excluding Jewish trainees and physicians – University Health Network and SickKids specifically – joined me in this public reflection and atonement. I was also grateful for the participation of leaders from Sinai Health, a haven for Jewish physicians for nearly 100 years, as well as the Chair of the Toronto Academic Health Science Network, which represents the University of Toronto affiliated network of 14 leading hospitals across the GTA.
As institutional leaders, we all have work to do. We must continue to educate ourselves, our colleagues and our learners about contemporary forms of antisemitism and xenophobia. It's only through a commitment to continued education and dialogue that we at Temerty Medicine will foster a respectful, inclusive culture where we all belong. 
Reflecting on Historic Jewish Student Quotas in Toronto Medical Education