Living Through Transformation
2021 Dean's Report, Students, Research, Education, Alumni, Faculty & Staff, Giving, Partnerships, Inclusion & Diversity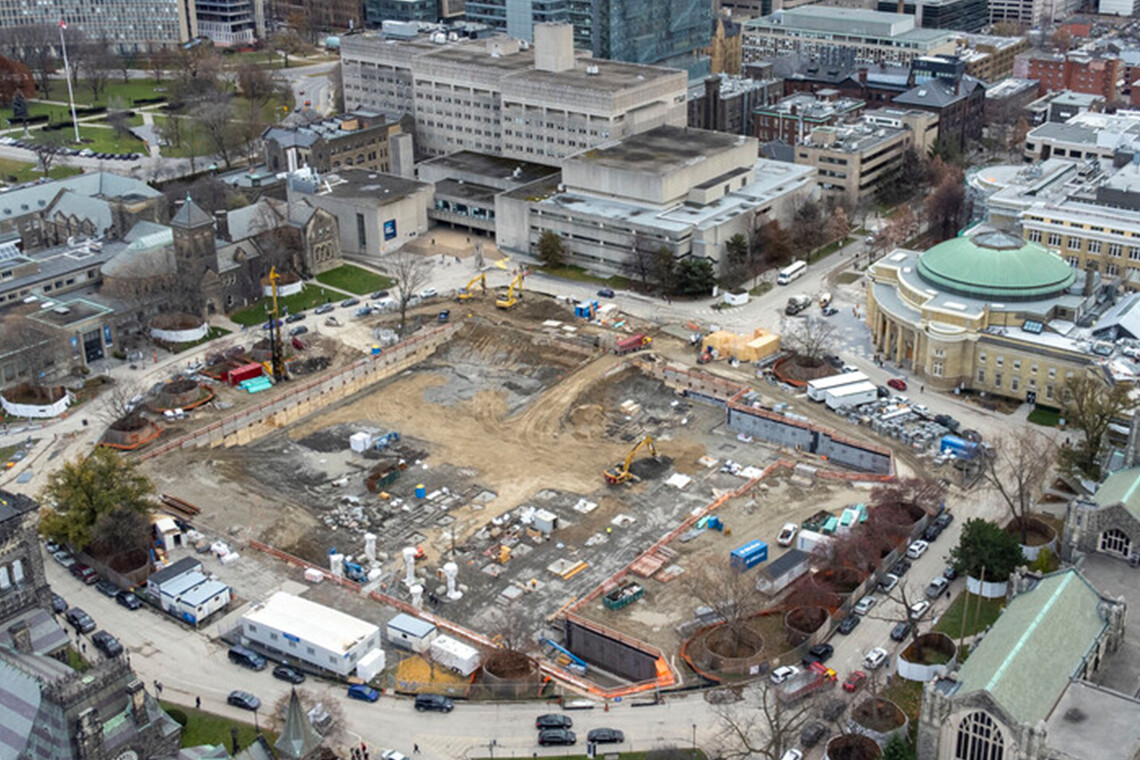 David Lee
Beginning last week, more students, faculty, and staff began returning to classrooms, offices, and labs at the University of Toronto. There is a growing sense of optimism as we slowly resume full operations. For those who have visited the St. George campus, you may have noticed a few changes and much work underway. It's all part of an effort to improve our facilities and the surrounding environment. This presents us with many possibilities as we envision new and renewed buildings. But, as anyone who has lived through a renovation knows, the path to realizing that vision can be arduous.
One of the most apparent changes is occurring on and around Front Campus. The field that sits at the centre of King's College Circle is being excavated as part of the University's Landmark Project. There are also new and renewed pedestrian pathways under construction. Once completed, this project will provide a more pedestrian-friendly public space, new underground parking, and the construction of the largest urban geoexchange system in Canada that will prevent the equivalent of 15,000 tonnes of carbon dioxide each year from reaching the atmosphere. Due to work on this project, parking on King's College Circle is restricted, and pedestrian and vehicular pathways are also impacted. Please use caution and follow the directions provided by signage and on-site construction attendants.
Within MSB, work has begun on new facilities for the Emerging and Pandemic Infections Consortium (EPIC). This new research initiative will build on our momentum in combatting the SARS-CoV-2 virus to provide an integrated and innovative response to infectious diseases. The EPIC facility in MSB will be home to a new C-CL3 laboratory that will enable advanced research on infectious diseases. In preparation for construction, asbestos abatement and demolition are currently underway. Full University governance approval is anticipated by the end of March 2022, with construction expected to begin later this year.
We are also preparing to construct the James and Louise Temerty Building. The new building, made possible in part thanks to the generous donation of James and Louise Temerty and the Temerty Foundation, will see a new state-of-the-art facility for education and research built on the space currently occupied by the west wing of MSB. We are continuing to undertake planning for this new building with the aim of obtaining final approval by the end of June 2022. We anticipate construction will begin in the spring of 2024, and the new building will open at the end of 2027.
We will need to relocate existing offices, labs, and teaching facilities in the MSB's west wing to make that construction possible. Temerty Medicine will temporarily lease two floors at 777 Bay Street to house offices and labs. We are working closely on the design of this space with those impacted. We anticipate construction of this leased space will begin in late summer 2022, and occupancy will begin in late spring 2023. The Division of Teaching Laboratories will also relocate to the Ramsay Wright Building. This move has already been approved, and designs are being finalized. We anticipate renovations will begin in 2023, and the space will be ready for classes in fall 2024.
We all know that Temerty Medicine needs to improve its physical infrastructure. The new and renewed spaces we are preparing for will considerably enhance the quality of our learning and working environments. But we must also acknowledge that living through these transformations will be challenging at times. We will do our best to minimize the disruptions and disturbances, but we cannot guarantee they won't occur. Throughout this process, we will continue to keep you apprised of our progress with regular updates in MedEmail. You can also subscribe to Service Alerts from U of T's Facilities and Services for the latest updates on construction and work notices. Finally, if you are curious about work that might be occurring near your office, lab, or classroom, please don't hesitate to send an email to msb.updates@utoronto.ca with your questions. During these transformative construction projects, your support and understanding are fundamental to their success and will be very appreciated.
Patricia Houston
Acting Dean and Vice Dean, Medical Education
Temerty Faculty of Medicine