Women's Health Site Combats 'Cracks in the Health Care System'
Students, Research, Education, Alumni, Faculty & Staff, Partnerships, Inclusion & Diversity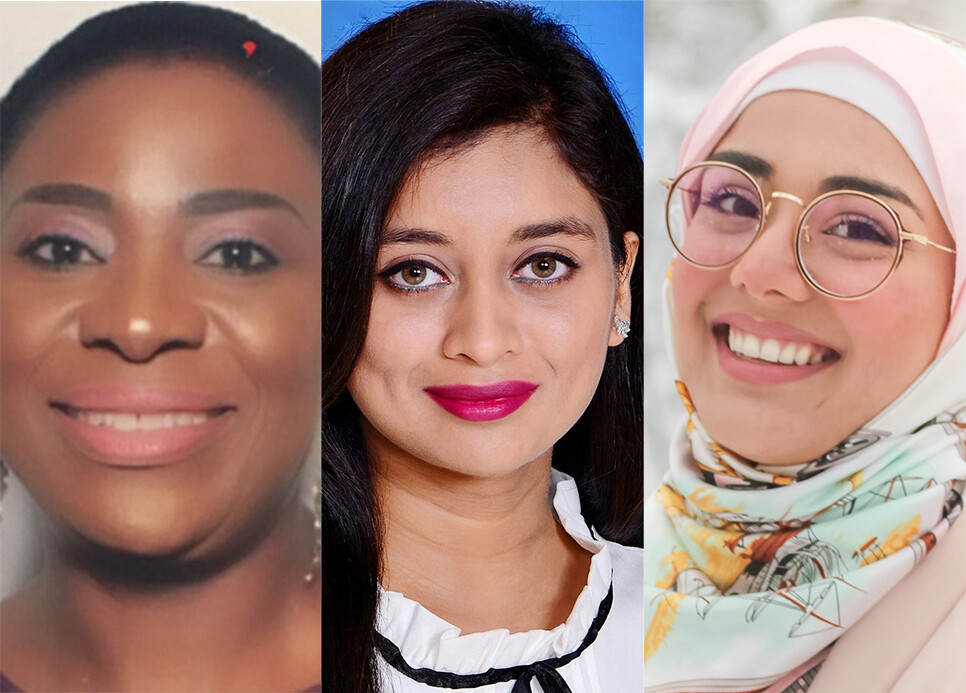 Three women from the Temerty Faculty of Medicine have created an online video series and information forum focused on women's health, in response to challenges posed by the COVID-19 pandemic.
The forum – known as Women's Health Education Made Simple (WHEMS) – destigmatizes topics like pregnancy loss, mental health, and period health.
The group has produced more than 20 videos to date featuring health care professionals including obstetricians, gynaecologists, and psychiatrists who combat popular stereotypes.
The goal of the initiative is to debunk health myths and stop misinformation, say WHEMS' founders Dr. Modupe Tunde-Byass, an assistant professor in the Temerty Faculty of Medicine's Department of Obstetrics & Gynaecology and President of Black Physicians' of Canada, Dr. Tanzila Basrin, a family and emergency doctor and Temerty alumna, and Salwa Farooqi, a fourth-year student in the MD program.
In a recent conversation, the founders shared their perspectives on why the project was needed with writer Gabrielle Giroday.
Why did you create this forum?
Farooqi: In March 2020, when the pandemic hit, medical students weren't able to attend in-person classes for four months. I wanted to do something meaningful.
Due to changes caused by the pandemic, a lot of clinics were being transferred online. Medical professionals were changing their clinic schedules or having to reduce in-person appointments.
Around this time, one of my close friends told me she was pregnant and sent me an image of her first ultrasound. She told me she was anxious about testing and follow-ups during the COVID-19 pandemic.
My friend's anxiety inspired me to think about how the health care system could better support pregnant women and their families during the pandemic, and help alleviate their stressors through sharing trusted information.
I reached out to Dr. Tunde-Byass, who I knew from my clerkship at the North York General Hospital, where she's a staff obstetrician-gynaecologist. During my core rotation at the hospital, she mentored me and took me under her wing.
I then reached out to Dr. Basrin after seeing her online videos about the pandemic. Both women wanted to help.
In May 2020, we launched WHEMS videos on YouTube and Facebook. In August 2020, we launched the WHEMS website and Instagram site.
Now, we have nine members of WHEMS led by the three of us. We're all BIPOC women.
What are the barriers you're trying to address through this initiative?
Tunde-Byass: Some barriers that existed, and still exist, have to do with language, short visits and the technological barriers of telemedicine.
The pandemic has caused disruptions to the way we all provide health care. Encounters between doctors and patients in offices are limited and short.
Patients often can't bring their partners or their families to their appointments. In the second wave of the pandemic, we're seeing the cracks in the health care system.

We also know there are barriers in BIPOC communities in terms of accessing health care systems. Access for BIPOC people can be very limited.
With our initiative, we wanted to create accurate, evidence-based information that people could access online when they had questions.
How have you seen a knowledge gap about women's reproductive health impact the health care system?
Basrin: What I have seen, as a family and emergency doctor, is that during appointments we're not always able to answer every question a patient may have, especially during a pandemic.
What I realized is that a knowledge gap not only disempowers patients, it encourages people to seek out information on Google and other online sites. When this happens, it can be hard to differentiate online what's accurate and what's not. If I wasn't a doctor, I would have no idea how to look for good and bad information.
Look at topics like period health – this is something that impacts every woman, but not something that is talked about. I have seen women come in thinking that a three month long period is normal, since that's all she has known.
One of the cornerstones of WHEMS is that we want to be evidence-based and patient-centred. We don't use big words. We try not to use medical jargon. We're trying to really get feedback from family and friends who are not in medicine about what's easy to understand.
We want to empower women with knowledge so that they can advocate for their health and better recognize when to seek care.
What are some future areas you'd like to focus on?
Tunde-Byass: In the future, our project will address vaccine hesitancy in Canada and how to convince and encourage people that vaccines are safe.
For me, it's important to focus on social responsibility, and to acknowledge how COVID-19 has affected the BIPOC community. There is a significant disparity in the way COVID-19 has impacted the BIPOC community, in terms of the rate of deaths and hospitalizations.
The pandemic heavily affects people who are low-wage workers and essential workers, who may have no sick pay and who have to go to work, whether they like it or not.
In the long term, we still have to deal with the social determinants of health, like income, education, housing and employment. The disparities are ingrained in our health system, but exposed by the pandemic. If we can correct this narrative now, we'll have a more fair and equitable system.
Our initiative gives patients fair and unbiased information in areas that might not typically be talked about, so they can make informed decisions.
When you empower women, you empower all of society.
How has this initiative emphasized the importance of mentorship?
Basrin: I come from a South Asian family. In my experience, which many BIPOC women may be able to relate to, I was encouraged to prioritize balancing my work life with family, more than my male counterparts.
For this reason, I was thought I should choose the least busy schedule.
So, I put away my passion for emergency medicine, over fears about how shift work would impact my family or how I'd be able to manage my life outside medicine. The fear took away my initial urge to apply for emergency medicine.
These worries sound ridiculous to me now, but they did subconsciously impact me.
However, this is where mentorship changed the course of my career.
During medical school, I learned about medical education and leadership from my mentor, Dr. Parisa Rezaiefar.
During residency, I was inspired by another mentor, Dr. Walter Himmel, who urged me to apply to a fellowship for emergency medicine.
He still mentors me, and I'm now doing my three-month emergency medicine fellowship, called the SEME program.
In this initiative, Dr. Tunde-Byass continues to inspire me with her knowledge and leadership skills, further debunking the limitations that I had once created for myself.
Farooqi: I think for me personally mentorship has been a really, really important part of career development, and pursuing my goals.
I come from a background where I have no physicians in my family. I grew up in a homogenously non-affluent immigrant neighbourhood.
I'm an immigrant myself, so growing up I didn't have many role models working in medicine around me. My mother and father used to work in blue-collar jobs. They still do.
I didn't have the same opportunities that a lot of people in medicine would.
So, for me, it was important to find people that could empower me and help me find the direction I wanted to go in.
When I started medical school, I was in search of mentorship that showed how we, as BIPOC women, could carve out an identity for ourselves in medicine.
When I met Dr. Tunde-Byass and saw how she functions in a clinical setting and a leadership setting, it was very inspiring for me.
To see her function at so many levels in the hospital, while making a meaningful impact in the lives of her patients, really moved me.
I was excited to see a person of colour in such an important role.
All three of us have links to North York General Hospital, which served as an important foundation for us and how we met.
Dr. Basrin is closer in age to me. I think she provides the other aspect of mentorship – related to school and education, and how to navigate clerkship and residency. She's taught me how to have difficult conversations and advocate for myself.
Both of them have listened to me and validated my ideas. I think mentorship has had a life-changing effect on me.