U of T Students 3D Printing Face Shields for GTA Front-Line Workers 
Students, Faculty & Staff, Education, Research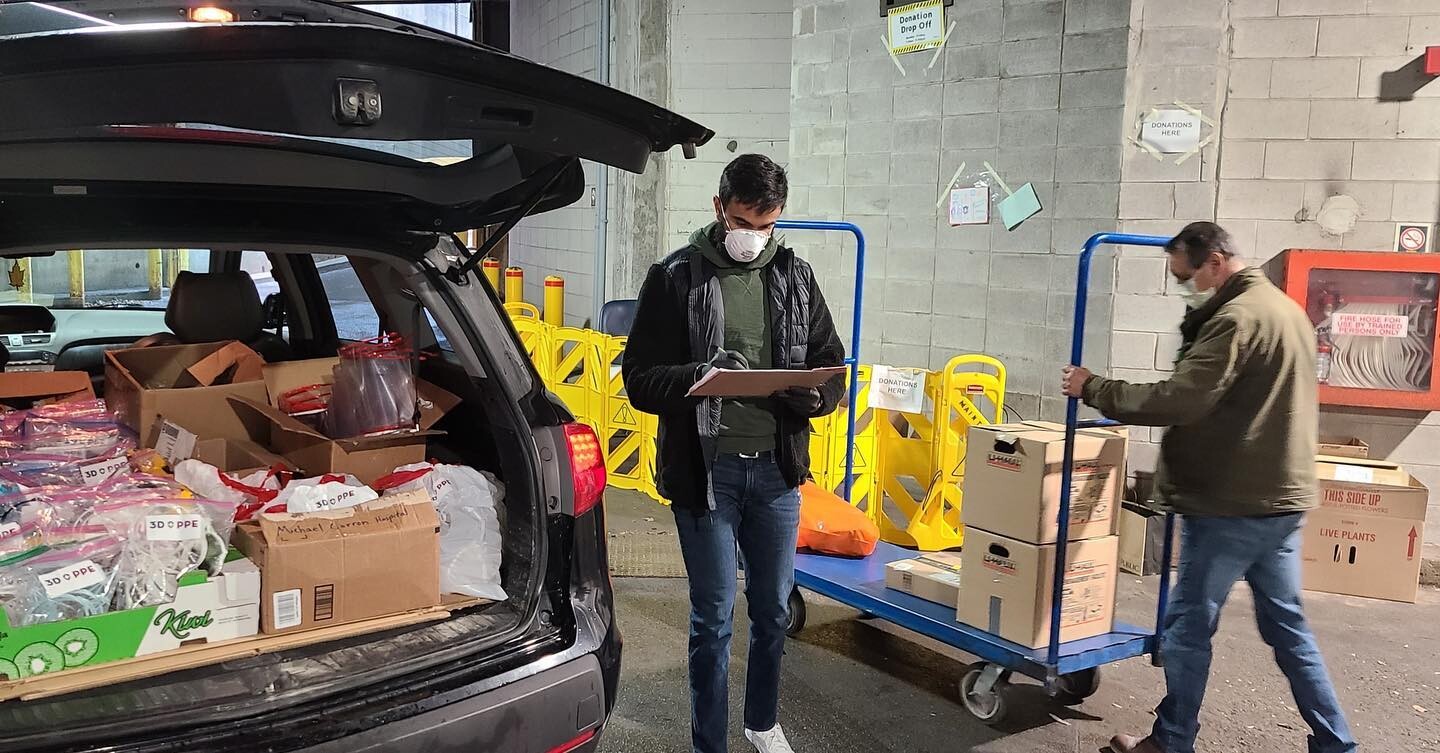 Anser Daud
,
Yousuf Ahmed
and
Isra Hussein
spoke with writer
Julia Soudat
about their project –
3DPPE
– and how the initiative is helping those on the front lines of the COVID-19 pandemic. 
Tell me a bit about this project.
After hearing about the work that medical students at Queen's University were engaging in, involving community 3D printers to target a very real need and demand in personal protective equipment (PPE) at hospitals, we decided that we needed to step up to do the same for our own community. We reached out to the students at Queen's and learned about how they were structuring their organization and best practices for the face shields that they were producing. During that meeting, we were also introduced to some McMaster medical students who were also interested in doing the same. Upon talking with them, we decided that through a direct collaboration, our catchment area would be supported and our service to our community would be improved. Our successful collaboration across the GTHA currently involves sharing resources and materials with their large team of health profession students, presenting a unified appearance online and in media and working to support health care workers in our respective communities. On our side, within a day of reaching out to other medical and health professions students at U of T, we had over 35 people join our Toronto team and over 100 volunteers, which has been a huge support in accomplishing so much in such a short time.
We're currently focused on making face shields, and our next target is ~2000 face shields to 5 different hospitals around the GTA. We are looking for ways to ensure equitable delivery of PPE to local hospitals, clinics, shelters, and long term/nursing homes, and are planning on working with Ontario Health to do so.
What inspired you to get involved in this?
Yousuf: We were slowly learning about the impact that COVID-19 was having on our community and it really started to sink in for me when I heard stories and saw videos of health care workers talking about challenges with reusing or using limited PPE. I'm personally fascinated by the intersection of medicine with business and technology and I saw this as a unique opportunity to see how my interests could align valuably with a team's contribution to the community. 
Isra: As an MD/MSc student in Systems Leadership and Innovation, I saw the shortage of PPE as a glaring gap in our health care system. Being removed from clinical settings and going completely virtual with our learning, I struggled not to feel helpless against this issue. What can I do, as a medical student, to support individuals that are not being adequately supported by our system?
The government is already pulling together resources in an impressive way to do their part and I am sure that these are issues we will be tackling at a systems-level when we come out of this. In the meantime, there is a lot of work to be done on the ground to fill these existing gaps. Being a part of this initiative was both necessary and empowering. In just a few weeks, our grassroots initiative brought together medical students across Ontario to mobilize innovative technologies. Having the opportunity to collaborate with my amazing peers to keep our front-line health care workers safe has been my silver lining. After all, it's our front-line health care workers who put their lives on the line for us every day. That inspires me to keep pushing forward.
Anser: We were pulled out of the hospitals by administration to ensure that only essential health care workers remained for everyone's safety. While we understood the reasoning behind this decision, we didn't want to be on the sidelines - so we started thinking of ways we could support front-line health care workers. Some of our peers were volunteering to do groceries for them, supporting seniors, organizing PPE drives, and more - this was one way we found to give back. We were inspired by the potential that 3D printing technology carried, and thus wanted to harness a network of printers across the city (and province!)
What have been the greatest lessons you've learned so far?
The sheer power of teamwork and collaboration. Having a large core team was a little intimidating at first, but now we know that it's vital to where we are now and where we are going with our initiative. Making sure to reach out to those involved and trying to create an internal structure enabled us to have a large core team which in turn enabled our team to accomplish so much in terms of fundraising, logistics, health outreach and communication.
The value of collaboration has also been a great reminder - by working with community initiatives that are working on similar initiatives like PPE collection, we are able to share resources like 3D printer and connections with organizations for equitable delivery (such as Ontario Health). In turn, we share the contacts we find that other organizations would find useful, and we help connect people who reach out to us to other relevant organizations as needed.
Biggest challenges?
One of the biggest challenges we continue to face is how to make sure that we are capitalizing on our potential. The challenge with being students in a time like this is that we can't dedicate our entire time to initiatives like this one. Nonetheless, we see all the potential our team has and we are constantly trying to work with them to push for next steps that will improve our impact - from collaborations with community PPE initiatives to reaching out to printer groups and coalitions.
If someone is interested in getting involved, how do they go about it?
We're looking for a variety of people: those who can use their 3D printers to print visors, those who have time and a vehicle that can help with logistic pickup/drop-off of our face shields, and those that are able to financially contribute to our organization. All the links to participate can be found at http://www.3dppegtha.ca/. We sincerely appreciate any help we can get!
Inspired by the work of other Ontario medical students, a group of MD students from the University of Toronto joined forces with students in other health professions to create and distribute 3D-printed Personal Protective Equipment to health care workers in the Greater Toronto and Hamilton Area (GTHA). Students