Turning Big Ideas into Real Solutions: UofTMed Student Showcase
Students, Research, Education, Giving, Partnerships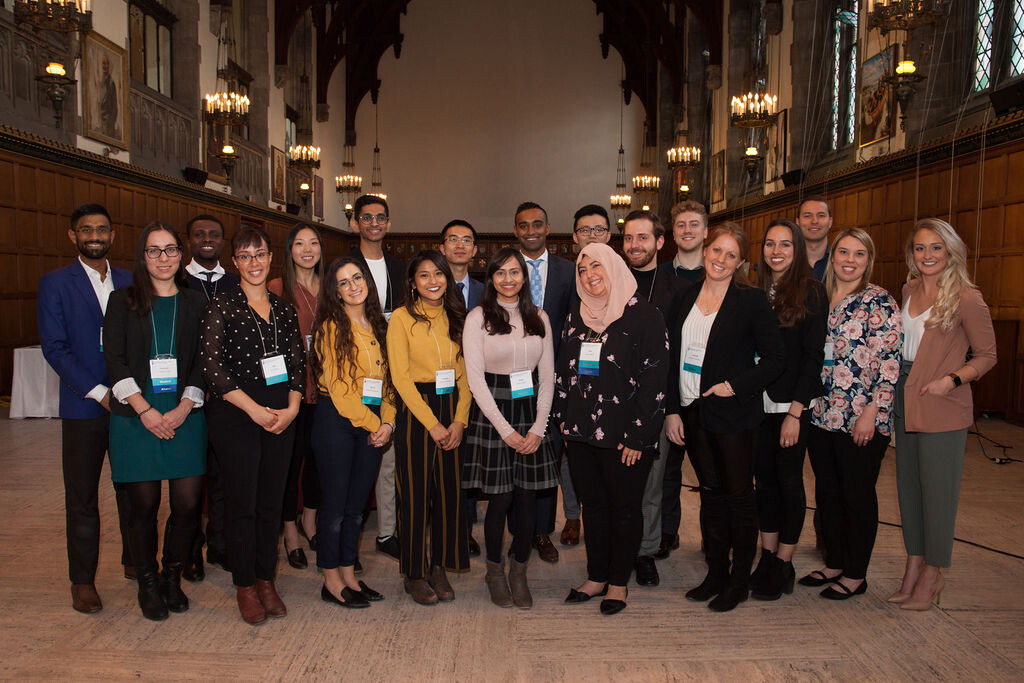 Big questions spark ideas that could change medicine.
At this year's UofTMed Student Showcase — an annual event celebrating donors to the Faculty of Medicine — students and trainees put their innovative answers on display.
"Our trainees are giving us a glimpse of medicine's future," said Dean Trevor Young. "And the generosity of donors enables them to ask questions, create solutions and think big."
The event brought research and technologies to life through 11 interactive exhibits. Guests had the unique opportunity to try their hand at surgical skills, lacto-engineering, physiotherapy and more.

Three projects were selected as the most interesting and innovative by donors:
Sachin Doshi (grand prize) for cost-effective 3D-printed intubation tools
 
Analyssa Cardenas (runner-up) for an exergame that helps kids with cerebral palsy participate in physical activity after orthopaedic surgery
 
Austin Pereira and Bill Shi (runners-up) for a smartphone-administered visual field test that monitors glaucoma progression
See how U of T Medicine trainees and researchers are pursuing a deeper understanding of health sciences through the 11 projects featured:


Sachin Doshi
MD/MEng Program (IBBME)
(Grand prize)

Intubation involves opening up a patient's airways by placing a tube into the trachea, using force sensors to apply cricoid pressure and a laryngoscope to light the back of the throat. Force sensors come in one size and currently don't have the ability to maintain the correct pressure. Laryngoscopes need large batteries, which are unsustainable and sometimes unavailable due to high costs and poor access.
Doshi and his supervisor, Prof. Michael Dinsmore, are working to make intubation more accurate, safe and sustainable. Using 3D printing, they created better force sensors capable of applying precise pressure that can also be customized to a patient's throat size. They also print laryngoscopes that use the heat from an operator's hand to generate light, removing the need for batteries. Both tools can be made at a fraction of what commercial devices cost to manufacture.


Analyssa Cardenas
Rehabilitation Sciences
(Runner up)
Many children with cerebral palsy experience muscle shortening and bone changes requiring orthopaedic surgery. Exercise is key to recovery but most kids are unmotivated to take part in activities like walking on a treadmill or riding a bike.
With colleagues, Cardenas has developed a multi-player video game where participants move their character by using a hand-held controller while pedaling a stationary bicycle. She hopes the exergames will give kids with cerebral palsy a fun, effective way to recover and promote socialization with peers.


Austin Pereira & Bill Shi
MD/MEng Program (IBBME)
(Runners-up)
People with glaucoma need to take a visual field test regularly to monitor their eye health. Tests can only be done on a Humphrey Field Analyzer, which is typically found in specialized clinics or hospitals. This leads to long wait times for tests and many going without care.
Pereira and Shi have developed the Toronto Portable Perimeter (TPP), a head-mounted device, which allows users to take a visual field test using a smartphone. People with glaucoma can take tests more often and in the comfort of their home, allowing them to keep better track of their eye health.
 
Charlotte Anderson
Rehabilitation Sciences
Sixty per cent of Canadian youth have suffered from a concussion. Treatments are normally focused on alleviating symptoms related to the head, like headaches and vertigo. But, what about the neck? It is connected to the head, yet there is no protocol to assess the neck after a concussion.
Anderson's research aims to change this. Her work shows how physiotherapy treatments for the neck can help mitigate and eliminate post-concussion symptoms. She hopes physiotherapy can change the way we deal with concussions and neck care will be woven into regular care.


Oluwasuen Daniel Davies & Jason Fan
MD Program, University of Toronto Mississauga
When cancer patients go through chemotherapy, they are faced with many side effects like nausea, muscle pain and numbness. It is difficult to know if symptoms are mild and can be managed at home or severe enough to require a hospital visit.
Along with colleagues, Davies and Fan are testing the effectiveness of a chemotherapy symptom monitoring mobile app in Canada. Patients can use the app daily to update their symptoms and levels of severity and receive self-care advice for mild to moderate symptoms or a call from a nurse if symptoms are severe. Previous studies in other countries have shown an average increase in length of survival by 5 months in patients using the app. Davis and Fan are hoping the app can also improve quality of life for cancer patients in Canada.
 
Meghan McGee, Jane Francis & Michael Pitino
Nutritional Sciences
Infants born with very low birth weights (VBLW) are at risk of developing obesity and cardiometabolic diseases during adolescence and adulthood. Studies have shown breastfeeding is associated with lower rates of obesity in children and adults. Yet, around 70 per cent of mothers who give birth to premature babies need a supplement to breastfeed.
McGee, Francis and Pitino work at the MaxImizing Lacto-engineering for Kids' Health (MILKH) lab where lactating mothers donate breastmilk, which is then pasteurized, fortified and given to babies with VBLW. The group is evaluating the long-term impact of donor milk on the growth and body composition of these infants while improving breastfeeding rates and increasing positive health outcomes.
 
Saly Halawa, Graham Kasper, Shirley Jiang
MD Program

Halawa, Kasper and Jiang are peer mentors in the Essential Skills Program — a student-led initiative that helps undergraduate medical students learn laparoscopic surgical skills. The program gives students the chance to work with a laparoscopic skills trainer box and receive advice on how to improve techniques. The sessions include video tutorials, peer feedback and support so learners can continue to improve their skills.
 
Sana Smaoui
Rehabilitation Sciences
More than half of stroke survivors are at risk of developing long-term swallowing dysfunction (Dysphagia). The neurological damage from a stroke impairs muscular function and can lead to eating issues, choking hazards and pneumonia. The popular solution is to provide patients with modified diets. Smaoui thinks rehabilitation is a better solution.
Through her research at the Toronto Rehabilitation Institute, Smaoui is working to help patients with Dysphagia using a resistance trainer for the tongue. Patients apply pressure to the trainer with their tongue and work through exercises to help strengthen muscles. Smaoui hopes her research will improve quality of life and eventually allow patients to regain their ability to swallow.
 
Stephanie Nishi
Nutritional Sciences
Eating walnuts and almonds can help reduce heart disease, diabetes risk and stimulate a healthy diet. But nutritional facts show that nuts are high in calories and fat — leaving most people to think they shouldn't eat too many nuts since it can lead to weight gain.
Nishi is trying to bust this myth with her research, which shows in the case of nuts calories and fats may not lead to weight gain. As a registered dietician, Nishi provides clients with the real facts on nuts as well as strategies on how to incorporate them into their diets in line with the new Canada Food Guide.
 
Tomas Saun & Sydney McQueen
Plastic & Reconstructive Surgery
MD/PhD Program
Physicians are always ready to help their patients heal but are not always able or willing to heal themselves. Many doctors have come forward with their stories around burnout and depression and both hospitals and universities have introduced ways to incorporate wellness and mindfulness into training — but, there is still much work to be done.
Saun and McQueen are trying to change the way physicians and residents practice mindfulness through Project Breathe. Using virtual reality, doctors can take a break and escape to a digital world with guided breathing, auditory and visual exercises. By taking a much-needed breather, Saun and McQueen hope they can provide a small way to help fellow physicians heal.
 
Hassan Syed
Life Sciences Program

Knee injuries are common for people of all ages — whether from sports, exercise or falls. For more severe injuries that require surgery, doctors will recommend physiotherapy so patients can regain their mobility. Between visits, patients are required to do exercises at home but in many cases they aren't doing them right, leading to further injury.
Syed is developing the KneeConnect, a wearable device that connects to a smartphone or tablet to guide you through physiotherapy exercises like squats, stretches and leg raises. The device attaches to a user's leg and uses motion sensors to track movement and provide real-time feedback so you can work through exercises easily and accurately.

Photography by Stephanie Coffey