Student Wins U of T's Three Minute Thesis Event for Work on Surgery and Distraction
Students, Research, Education, Alumni, Faculty & Staff, Giving, Partnerships, Inclusion & Diversity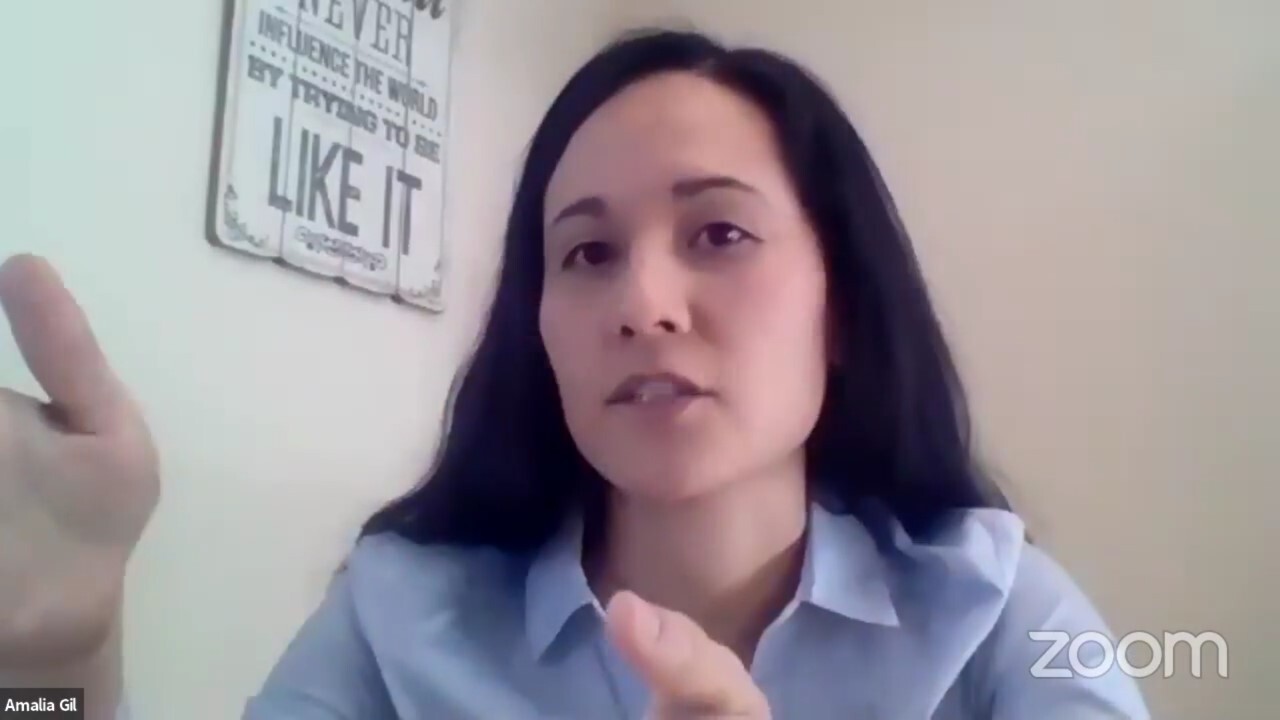 Master's student Amalia Gil has won the University of Toronto's Three Minute Thesis (3MT®) competition, for her research on identifying distractions in surgery with eye tracking.
Gil was one of a dozen finalists in the annual event, which ran last week and gave students the opportunity to explain their research verbally for a broad audience in less than three minutes.
This year's event was virtual due to the COVID-19 pandemic, with students presenting online for non-specialist judges via Zoom and Facebook Live.
"The virtual aspect definitely affected my preparation," said Gil, a clinical engineering student at the Institute of Biomaterials and Biomedical Engineering. "I had to remove an interactive piece at the beginning and force myself to look at the camera. But I got more comfortable with lots of practice."
The work paid off, as Gil was able to quickly contrast an operating room that has many distractions with one where distractions are limited, and ask viewers which they would prefer. Experts estimate there are 50,000 preventable deaths a year in North America, she also pointed out, many of which are thought to result from distractions and errors in the OR.
Gil's research project involves tracking surgeons' eye movements during laparoscopic bariatric (or gastrointestinal) surgery. The eye-tracking system includes four light-emitting diodes and a camera mounted on the monitor that surgeons use to guide their surgery. The LEDs create reflections on the surgeon's cornea and the camera tracks these reflections, thereby tracking the surgeon's eye movements.
Gil and her colleagues then compare those eye movements with data compiled by the OR Black Box® capture system developed by Teodor Grantcharov, Gil's research supervisor at IBBME. Grantcharov is a professor of surgery at U of T and a staff surgeon and scientist with St. Michael's Hospital at Unity Health Toronto, where he runs the International Centre for Surgical Safety.
The OR Black Box® system acts like a flight recorder, providing a detailed log of the surgical environment through video, audio and other monitoring.
The research team has verified the technical viability of the eye tracking system in conjunction with the OR Black Box® in the live operating room. They are now looking at which distractions are most disruptive — and how to reduce or eliminate them.
"Distractions depend on many factors, from the surgeon and the difficulty of the operation to the team, cell phones and pagers, irrelevant conversations and more," said Gil. "But often the solution lies in systems design, because eliminating distractions entirely isn't always practical."
An example is the number of times people enter and exit the OR. "If the medical team knows that coming and going is disruptive, they can choose to limit those actions at critical points in the surgery," Gil said.
Gil hopes to analyze data compiled through the eye tracking system and incorporate it into her formal thesis over the summer, although the COVID-19 pandemic has created several barriers for university research and education.
Longer term, Gil wants to pursue patient safety. Although she worked as a chemical engineer after her undergraduate degree at the University of Waterloo, she said safety was always important to her.
Now her passion for health care and engineering, and the varied perspectives of Grantcharov's lab members motivate her learning and research, she said. "It's a very supportive and diverse group with a lot of thinking outside the box, which allows us to pursue innovative solutions to patient safety issues."
Gil will receive $1,000 for her first-place finish in the thesis competition. Second place went to Chris Ahuja from the department of surgery, for his project on smart stem cells to repair the spinal cord. Aaron Cabral from the department of chemistry won third place for research on the rapid and sensitive detection of bacteria with fluorescent chemical sensors.
View Amalia Gil's 3MT presentation.
View the entire University of Toronto 3MT finals competition.