Rewiring the brain: More than $25 million to advance Sunnybrook's Harquail Centre for Neuromodulation
Research, Education, Faculty & Staff, Giving, Partnerships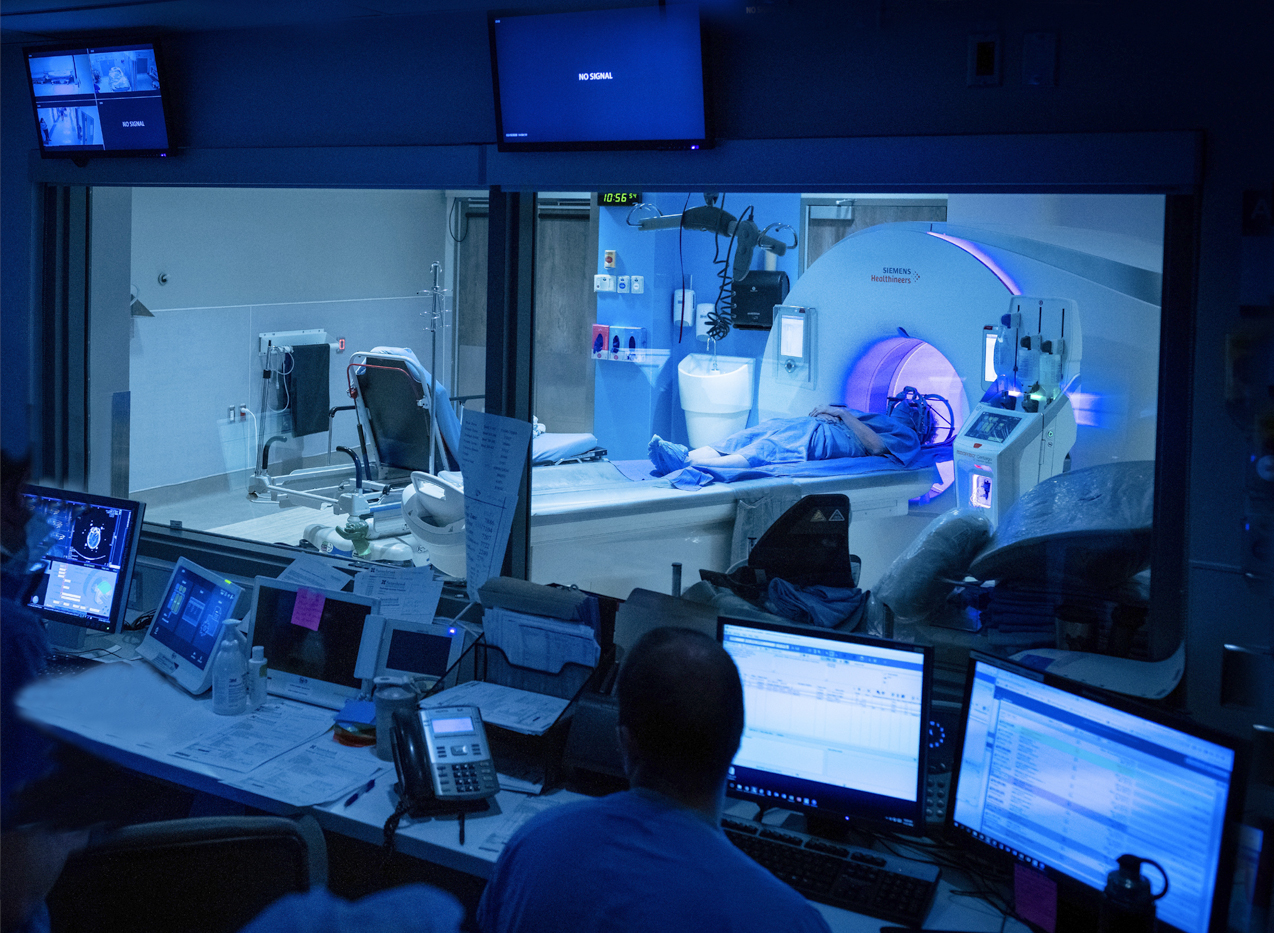 Sunnybrook Foundation and the University of Toronto are pleased to announce a landmark gift from David Harquail, Birgitta Sigfridsson-Harquail and family that will secure and expand the Harquail Centre for Neuromodulation at Sunnybrook — a leading global hub for a wide range of cutting-edge, less- to non-invasive neuromodulation therapies for some of the most difficult-to-treat brain disorders.
The family's new gift of $12 million — which brings the combined commitment from the Harquails and Sunnybrook Foundation to more than $25 million — will accelerate the Harquail Centre's world-leading work in neuromodulation research, education, and patient care. It builds on their earlier commitment to Sunnybrook Foundation in 2018, which launched the Harquail Centre for Neuromodulation as one of the world's most comprehensive centres offering a complete range of neuromodulation treatments under one roof, including MRI-guided focused ultrasound and deep brain stimulation.
"Ambitious, exciting and brave work is underway at the Harquail Centre for Neuromodulation, where clinical care is inextricably linked to research, innovation, education and advocacy," said David Harquail, an alumnus of U of T's Faculty of Applied Science and Engineering. "We hope our gift will inspire others to join in our shared vision to transform brain health." The Harquail family's new commitment to both Sunnybrook and U of T's Temerty Faculty of Medicine will double the Harquail Centre's annual funding over the next five years: establishing new professorships, supporting learners and advancing vital research projects. The gift will also endow a new Harquail Chair in Neuromodulation to be held by the Harquail Centre's director.
"The Harquail family's generous foundational support established the Harquail Centre as a global leader in brain therapy," said Dr. Nir Lipsman, director of the Harquail Centre for Neuromodulation and associate professor of surgery at U of T, who will be the inaugural Harquail Chair in Neuromodulation. "This new gift ensures that the Harquail Centre investigators continue pushing the envelope of what neuromodulation can achieve, enhancing our understanding and treatment of the most challenging brain conditions, with the potential to impact patients across Ontario, Canada and the world."  
"This gift demonstrates the tremendous power of partnership and collaboration," said Dr. Trevor Young, dean of the Temerty Faculty of Medicine and vice-provost, relations with health care institutions at U of T. "Temerty Medicine is delighted to partner with Sunnybrook on this next phase of the Harquail Centre and is very grateful to the Harquail family for their visionary support."
In addition to the Harquail family's investment, Sunnybrook Foundation and U of T have committed $3 million and $1 million respectively in matching funds to the Harquail Centre for Neuromodulation. They will seek to raise an additional $8 million in future philanthropic support.
"When donors join together with hospitals and universities, we can accelerate change on a massive scale — ultimately impacting patients here in Toronto, but also across Ontario, Canada and around the world," said Kelly Cole, president & CEO, Sunnybrook Foundation.
The Harquail Centre's work also will be enhanced in the coming years by its new home within Sunnybrook's Garry Hurvitz Brain Sciences Centre: a state-of-the-art new facility that will bring together multidisciplinary teams of experts to improve care and innovation.
"The Harquail family's investment, coupled with the new collaborative opportunities that will be made possible through the Garry Hurvitz Brain Sciences Centre, are unleashing a revolutionary new era in brain health in our city — and for the world," said Dr. Andy Smith, Sunnybrook's president and CEO, as well as a professor of surgery at U of T.
"With this gift from the Harquail family, we will see better outcomes with fewer complications related to some of the most pernicious brain disorders," said Meric Gertler, president of the University of Toronto. "Today's announcement is a boon for patients in Canada and globally and reflects our shared leadership in one of today's most promising areas of medical science."
With the power to influence brain circuitry, neuromodulation is a highly promising approach for a wide range of psychiatric and brain disorders. Sunnybrook's Harquail Centre of Neuromodulation quickly built upon Sunnybrook's early success in focused ultrasound, launching world-first clinical trials using focused ultrasound in Alzheimer's disease, ALS and Parkinson's disease; the first North American clinical trials for severe depression and obsessive-compulsive disorder; and deep brain stimulation in post-traumatic stress disorder, treatment-resistant alcohol use disorder and more. Deeply interdisciplinary in its approach, the Harquail Centre supports a critical mass of experts in surgery, internal medicine, psychiatry and other fields.