Researchers Working on Injection-Free Cell Therapy for Diabetes
Students, Research, Education, Alumni, Faculty & Staff, Giving, Partnerships, Inclusion & Diversity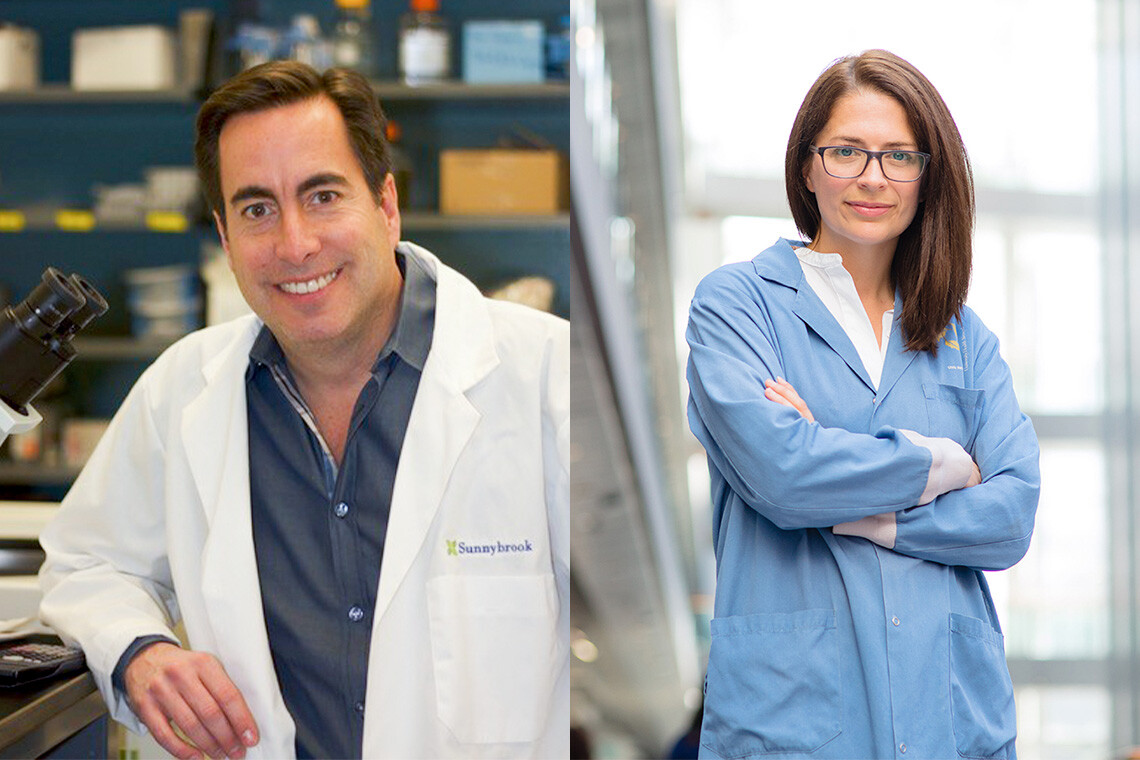 Courtesy of Medicine by Design
In a person with type 1 diabetes, the body mistakenly attacks pancreatic cells that produce insulin, a hormone responsible for regulating blood sugar.
Without insulin, serious and eventually fatal symptoms will occur. Yet, imagine if, instead of needing daily insulin injections, people with diabetes could have insulin-producing cells placed back into the body, fixing the problem at its source. This is the vision of a Medicine by Design-funded research team.
The approach is not without its challenges.
"Scientists are able to generate pancreatic cells from stem cells in the lab, and they can be transplanted to someone who has lost pancreatic function, but they'll be reattacked by the immune system," says Juan-Carlos Zúñiga-Pflücker, senior scientist at Sunnybrook Research Institute and professor of immunology in the Temerty Faculty of Medicine. "What our work is meant to do is enable those transplants to be broadly acceptable so anyone can benefit from transplanted therapies. But the barrier of the immune system is a difficult thing to overcome, and even more so in the context of autoimmunity."
The cells are attacked because the immune system recognizes them as harmful invaders instead of helpful therapies. It is a complex problem that demands a complex strategy – and that strategy is an emerging area of research called immunoengineering, which uses bioengineering techniques to manipulate the immune system.
The only way to currently suppress the immune system is through drug treatments, but they're not selective; they suppress the whole immune system and leave people vulnerable to infection and illness.
The team's strategy aims to be more precise. They want to finely tune the immune system to maintain a healthy system while not rejecting a therapeutic transplant.
Zúñiga-Pflücker says a collaborative effort is important in solving this major challenge to regenerative medicine. "We can optimize cell types and engineer effective tissues in our separate labs. But if we don't come together to create better tools to engineer the immune system, these therapies will not be usable. It's something very fundamental."
The team is one of 12 sharing nearly $21 million in funding from Medicine by Design over three years. Funded by a $114-million grant from the Canada First Research Excellence Fund, Medicine by Design is a strategic research initiative that is working at the convergence of engineering, medicine and science to catalyze transformative discoveries in regenerative medicine and accelerate them toward clinical impact.
Though the research could be applied broadly across regenerative medicine therapies, type 1 diabetes makes an ideal test case, says Zúñiga-Pflücker, who is also chair of the department of immunology.
"Not only is diabetes an autoimmune disease, where the diabetic's own immune system attacks and kills insulin producing cells, but attempts to replace the lost cells with transplanted cells are also challenged by other impacts of the disease, as well as the presence of auto-reactive immune cells," he says. "This makes it a powerful test case for our research since we can test the transplants under multiple immune stresses."
Zúñiga-Pflücker leads the project, which brings the work of six different labs together.
Two labs, led by the Temerty Faculty of Medicine's Maria Cristina Nostro, a senior scientist at the University Health Network's (UHN) McEwen Stem Cell Institute; and Sara Nunes Vasconcelos, a scientist at UHN's Toronto General Hospital Research Institute, are using stem cells to generate tissues containing insulin-secreting cells for transplants.
Zúñiga-Pflücker says that this arm of the project is well ahead of schedule. "The Nostro and Vasconcelos labs are defining the right conditions that are necessary for generating insulin-producing cells, which are called islet cells. They're creating newer and more effective ways to make these tissues."
Nostro and Vasconcelos are also associate professors at U of T in the department of physiology and Institute of Biomedical Engineering, respectively.
The tissues created in their labs will be used to test the work of the other four labs involved in the project, which are concerned with engineering the immune reaction. And here, each of these labs is bringing a piece of the puzzle.
Zúñiga-Pflücker and Naoto Hirano, a senior scientist at Princess Margaret Cancer Centre and a professor of immunology at U of T, work on producing regulatory T cells (Tregs). These cells can supress immune response and play a role in preventing autoimmune diseases like diabetes.
In earlier Medicine by Design-funded research, Zúñiga-Pflücker and Hirano came up with a method for producing T cells in a defined way. Some of the key breakthroughs developed as part of this research helped lay the foundation for Notch Therapeutics, a company co-founded by Zúñiga-Pflücker, which closed an $85-million (U.S.) Series A financing earlier this year.
Now, in the current research project, the two labs are crafting methods for producing Tregs and investigating how harnessing the power of other types of immune cells to work alongside the Tregs can induce the immune system to tolerate transplanted therapies.
The third investigator is Tracy McGaha, whose lab is looking at the role of macrophages, a type of white blood cell that that typically helps to attack foreign substances but can also play a role in repairing damaged tissues. McGaha is a senior scientist at Princess Margaret Cancer Centre, UHN, and a professor in the department of immunology in the Temerty Faculty of Medicine.
A fourth lab, led by Sarah Crome, is investigating a family of immune cells called innate lymphoid cells (ILCs), which act within tissues to help induce and modulate immune responses.
"We know several immune cell populations we individually study can protect from harmful immune responses and promote immune tolerance," says Crome, who is a scientist at the Toronto General Hospital Research Institute, UHN, and an assistant professor of immunology at U of T. "The trouble is when you get into a situation that combines an autoimmune disease with rejection that can occur following islet transplantation, it's a real challenge shutting down multiple harmful and sustained immune responses."
Crome says that there are many different types of ILCs, so her work focuses on narrowing down which types of ILCs are best to use along with the Tregs.
Right now, each of the four labs working with immune cells are optimizing their cell types and techniques, and then, Crome says they will bring all their "best players" together.
"We're really looking at harnessing whole networks of cells, instead of just looking at one cell population at a time. It's bringing all of our collective expertise together into one project that makes this a powerful approach."
Zúñiga-Pflücker says Medicine by Design has been instrumental in uniting this team of experts.
"Thanks to Medicine by Design's support of our immunoenigneering program, we're able to bring together multiple research sites within the University of Toronto and affiliated research institutes; UHN's Princess Margaret Cancer Centre, Toronto General Hospital Research Institute and McEwen Stem Cell Institute; and Sunnybrook Research Institute."