H2i Start-ups Claim Top Prizes
Students, Research, Faculty & Staff, Partnerships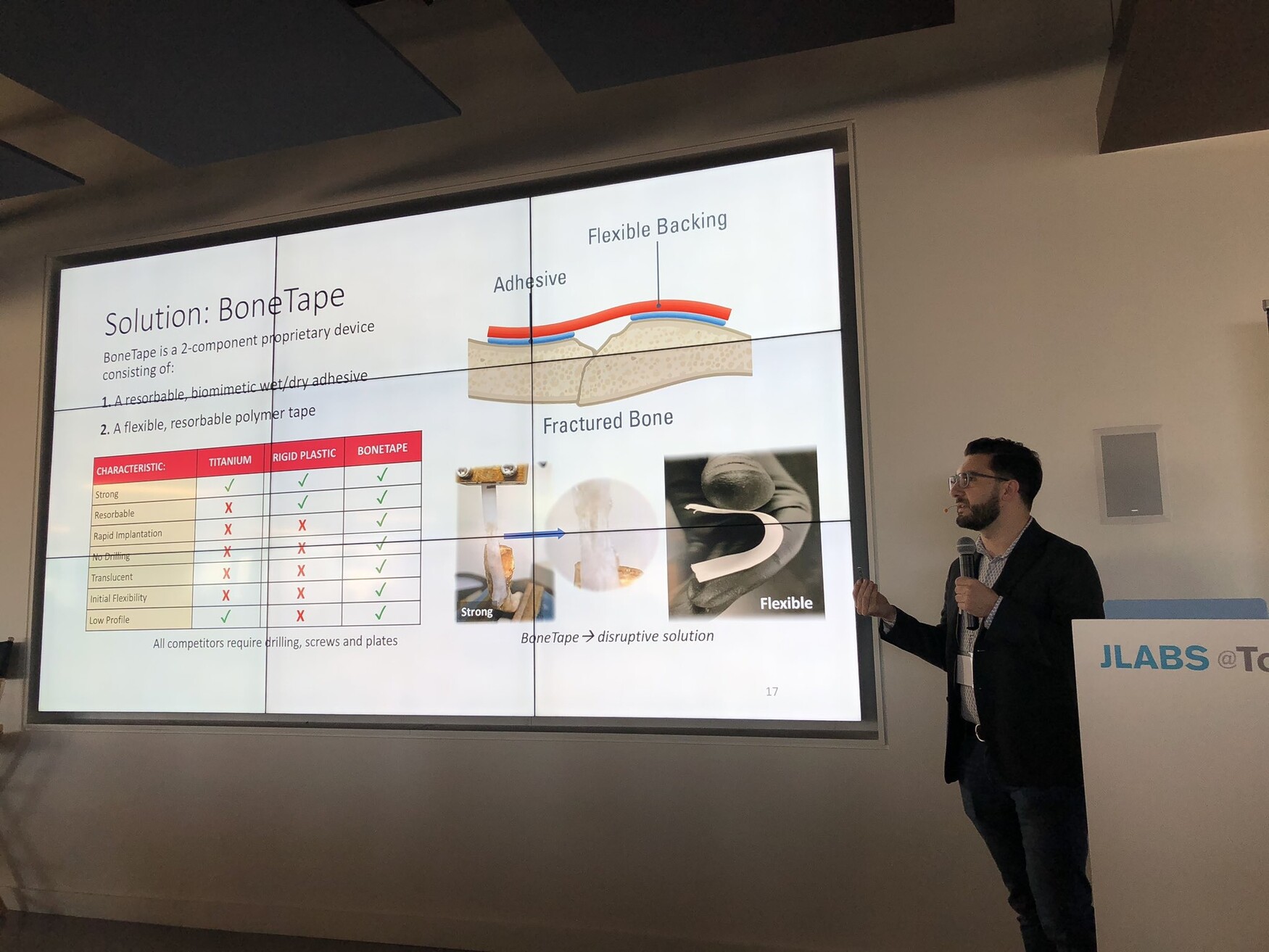 Nanology Labs and Cohesys Win RBC Pitch Competition
Two companies supported by the Health Innovation Hub (H2i), the Faculty of Medicine campus-linked accelerator, won first place in the 2019 RBC Prize for Innovation and Entrepreneurship pitch competition. This marks the second year in a row that H2i supported companies claimed the top prizes.
Nanology Labs took top spot in the Later Stage competition, winning $25,000, while Cohesys won the $10,000 first place prize in the Early Stage competition. They presented their business idea in a five-minute pitch to a panel of judges, who selected the winner.
"It was really exciting, after the pitch was done, to be told how well I presented and how clear my message was by the judges," said Dr. Mohammad Ali Amini, CEO of Nanology.
Nanology has developed a non-toxic MRI contrast agent that can be used to detect tumors, particularly brain tumors, at an earlier stage. The technology is based on research Amini undertook while completing his PhD in the lab or Dr. Shirley Wu, a professor in the Leslie Dan Faculty of Pharmacy. Together, they co-founded the company.
"I really didn't have time to prepare for this competition because I had had my PhD thesis defence a day before the pitch competition, but one of the great things about H2i is that they really get you to repeat and refine your message over time, so I was prepared," said Amini.
Cohesys has developed an adhesive tape, called BoneTape, that can be used to treat fractures in the face or skull instead of the rigid metal plates and screws typically used. This can reduce complications and improve patient outcome, explains Dr. Michael Floros, Founder & CEO of Cohesys.
"The current practice is incredibly time consuming and can result in complications in up to 40 per cent of cases. We've identified a solution that is much easier, and therefore faster to use," said Floros.
Floros, a material scientist by training, developed BoneTape while working as a post-doctoral fellow in the laboratory of Professor Paul Santerre, co-director of H2i and a professor in the Institute of Biomaterials and Biomedical Engineering and Faculty of Dentistry.
Professor Joseph Ferenbok, Director of the Translational Research Program (TRP) at the Faculty of Medicine and H2i's other co-director, credits their team of mentors – especially lead mentor Andris Lauris – for the centre's success at the pitch competition.
"We've developed a large team of mentors with specialties in all sorts of different fields," said Ferenbok. This includes expertise in regulatory policy, taxation, patent law and knowledge translation.
"Andris, in particular, is very good helping entrepreneurs hone their messaging. He regularly runs mock pitch competitions to get them to refine their thinking and business plans."
H2i provides student entrepreneurs with training, mentorship, funding, and access to collaborators and equipment in order to bring their innovative ideas to the marketplace. Unlike traditional boot-camp entry requirements from many other campus-linked accelerators, H2i welcomes companies to their services via a graded-entry system based on where the company is landed in the company building process, assessed at the time of entry, on an on-going basis.
"H2i has been incredibly helpful, helping me think about the business, defining milestones, and especially with networking," said Amini.
The prize money will be quickly put to use by the start-ups. Floros said the funds will help Cohesys complete a patent application, while Amini will use the funds to hire a PhD student to assist with further trials of Nanology's MRI contrast agent.