Faces of U of T Medicine: Naheed Dosani
Inclusion & Diversity, Partnerships, Giving, Faculty & Staff, Alumni, Education, Research, Students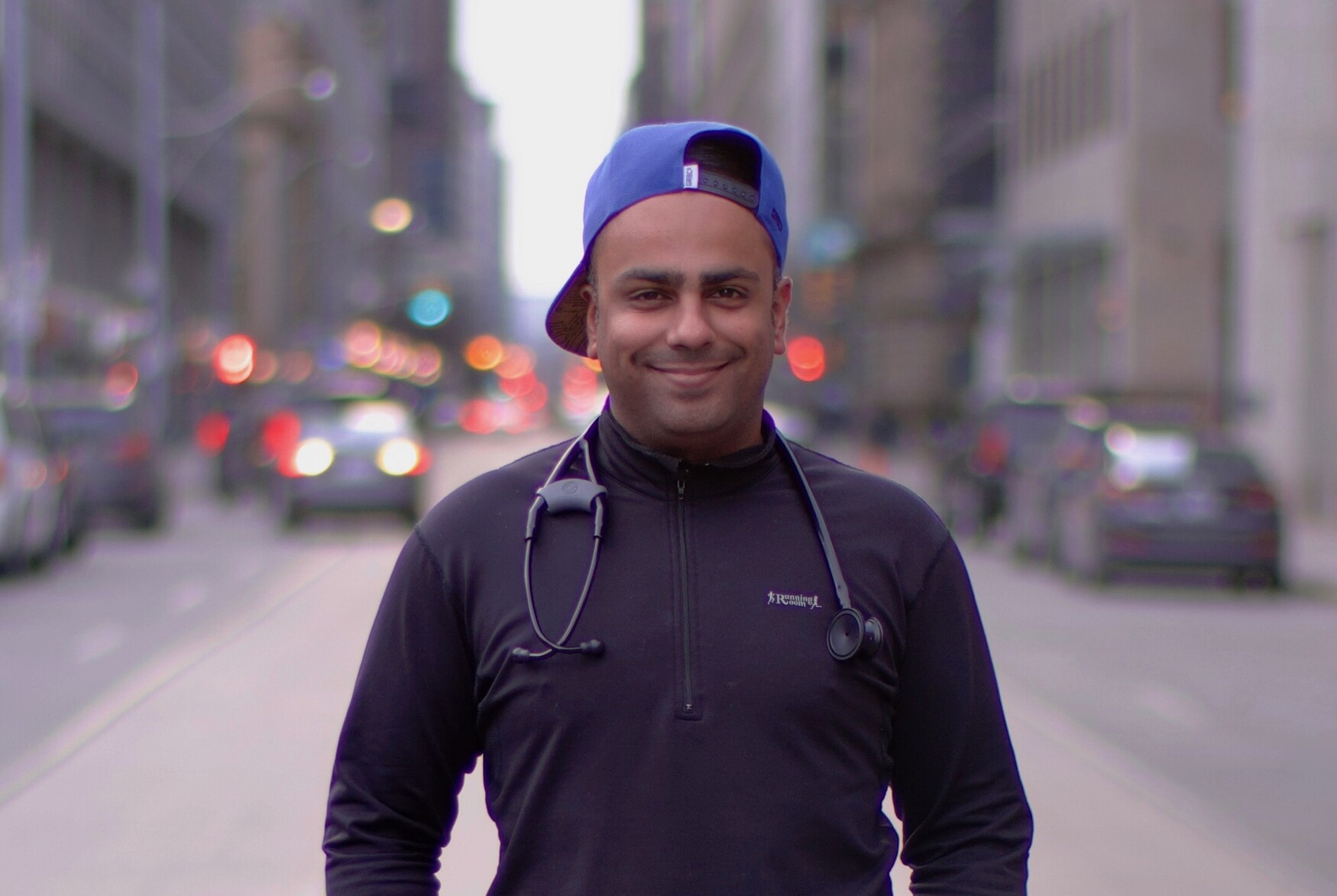 Naheed Dosani
is a palliative care physician who specializes in caring for homeless and vulnerably housed individuals. He is the founder of
Palliative Education and Care for the Homeless (PEACH)
program at the Inner City Health Associates (ICHA), a physician at
William Osler Health System
, Lecturer at the Department of Family and Community Medicine – and a
TikTok star
. While caring and advocating for marginalized individuals and communities and creating accessible and engaging health care content on social media, Dosani is also on the frontlines of the COVID-19 response, working at assessment centres and assisting with testing and assessment policies for vulnerably housed populations. He spoke to
Julia Soudat
about his work, and the lessons we should all take away from this experience.
How are you helping with the COVID-19 pandemic? What is your role?
I'm working at a COVID-19 assessment center in Peel Region through the William Osler Health System. I'm on the front lines, seeing people with symptoms and assessing those individuals for appropriateness of testing. I'm also assisting with COVID-19 assessments and planning for the homeless population through the PEACH program in downtown Toronto.
While the process of assessment is similar in both locations, there are some differences between providing care for those who are homeless and vulnerably housed and those who are not. The homeless and vulnerably housed population obviously lives in different conditions and often has a mistrust of healthcare providers and institutions. It's very important to build relationships and be trauma-informed when caring for these individuals, and support this population in ways that are unique. Especially because experiences of loss, trauma, mental illness and substance use are more common within these communities.
Has the scope of your work changed in response to COVID-19? What are some challenges you're facing?
As a palliative care provider who focuses on those who are stigmatized and marginalized in our communities, the work that was already hard to do has now become even harder to do. We are having to limit physical visits for only those who are displaying physical symptoms and while it sounds great to offer virtual care, individuals who are homeless and vulnerably housed often don't have access to internet and phone technologies that would make this possible. Not to mention the difficulties of accessing Personal Protective Equipment (PPE), which is absolutely a worldwide issue right now.
There are also some unique challenges that come up when dealing with the homeless and vulnerably housed specific to this pandemic. For instance, if someone is homeless and living in a shelter, it's hard for them to follow the recommendation of self-isolation. It's clear that social distancing and self-isolation are options that are only available to those with privilege. Those without privilege may not have access to this very important public health practice.
This experience, albeit being incredible challenging, has reminded me of why I went into medicine. It has spoken to many parts of me including my sense of collective community, the pride I have in our healthcare system and the principle of justice that's deeply rooted in many aspects of how myself and many people I admire are approaching this situation.
Because of my experiences on the frontlines an assessment center, I've been given the opportunity to have support a team working tirelessly around-the-clock as to how to design methods of testing testing  for people who are vulnerably housed in our communities. I never imagined I'd be here last week. But it's truly times like this that necessitate the need to respond to the population in front of us.
What is a message you would like everyone to know about COVID-19? What is something you feel is important to emphasize?
While the entire world is sitting on edge and has been impacted by COVID-19, it's important to recognize that even in a pandemic like this, the people impacted most are those who experience inequities in our societies. People who are poor, homeless, incarcerated, people experiencing mental illness, and so many others experiencing structural vulnerabilities.
We've always had a disparity gap between the "haves" and the "have nots" but how much is that gap widening even amidst a pandemic? Specific strategies are needed to address this and there's a unique call to action to ensure equity amidst a pandemic. These principles are more important now than ever. History will judge us by our actions.
Are there any new learnings you have come across during the COVID-19 pandemic? Maybe some unexpected positives that emerged?
While not always perfect, we should be so proud of our health care system and the way that medicare has been designed to support the collective community, not just individuals. There is no greater time than during a pandemic to reflect on this and it's because of this unique Canadian pride about our healthcare system that we have seen such an incredible, rapid and collective response. I've learned that the phrase "it takes a village" has never resonated more in the health care system than it does right now. I am blown away by the people working long hours and putting in effort on the frontlines and behind the scenes to keep everyone in this country safe.
I can't say enough about how much people are stepping up. Frontline workers, health care staff, clerical, housekeeping, and everyone else involved in any capacity. All kudos need to go to them. I can see this is going to be a long battle, and I worry that we run the risk of compassion fatigue and advocacy burnout. I hope we're able to leverage opportunities with communications and engagement online to motivate people through these difficult times.
This has also taught us about the importance of certain aspects of care that seemed far-fetched but have become reality in a short period. For example, virtual care seemed difficult to implement before the pandemic but thanks to our health leaders, we have been able to come together and make it possible. I hope that what we institute as interventions during this time become long-term solutions for the future.
For instance, if there was no homelessness in the first place, then we probably wouldn't be dealing with the consequences of COVID-19 in the homeless population the way we are now. I hope that the lesson learned here is that equity equals community health. Not only is inequity wrong and immoral but it leads to bad outcomes and bad health for all of us. There's no better time to look at that than during a pandemic.
You've recently started sharing educational TikTok videos that have received great pick-up. What made you choose TikTok as a platform to connect with the public, and why do you think it's been so successful?
I've always been a huge fan of engaging people and the public around issues that I deeply care about. It's important that health workers are out there building relationships with community around important and credible information. I also use Twitter and Instagram which are effective in their own ways. But through TikTok, I've been able to reach a large audience in a short amount of time with succinct and clear messaging. While it started out as an experiment, I'm blown away at how it's taken off and allowed me to convey important messages around palliative care, public health, the social determinants of health and social policy. And when COVID-19 came around, it gave me an opportunity to support other frontline health workers, to educate people about physical distancing and to talk about the impacts of a pandemic on structurally vulnerable populations. I never imagined it would take off the way it has but I'm so grateful it's having an impact and inspiring people here and around the world.
Dr.