Faces of U of T Medicine: Dr. Andrea Boggild
Research, Students, Education, Alumni, Faculty & Staff, Inclusion & Diversity, Giving, Partnerships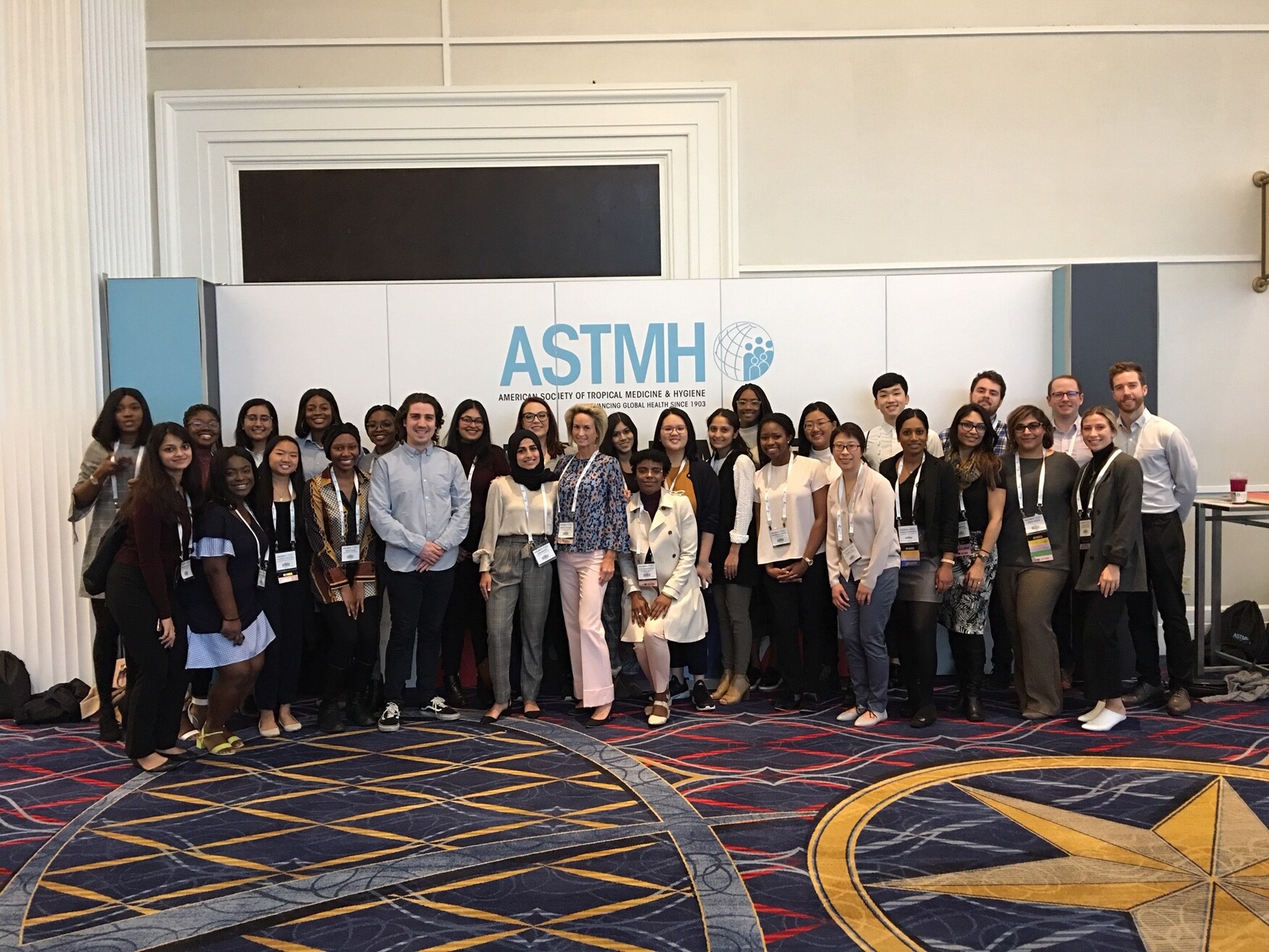 In less than two years, Dr. Andrea Boggild, Medical Director of the Tropical Disease Unit and Associate Professor in the Department of Medicine at the University of Toronto, has mentored 30 students in the Community of Support Program.
In 2018, Boggild launched a concerted effort to increase diversity in her lab and encourage students from under-represented backgrounds to consider careers in medicine and science. Her work has already had an incredible impact, say colleagues.

What's your relationship to U of T?

I joined the faculty of medicine as a learner in 1999. I attended medical school at U of T, after doing my undergraduate and graduate degrees in parasitology. Following undergraduate medicine training at the faculty of medicine, I completed my residency through U of T, as well as a post-doc.

In 2011, I joined the faculty as a staff physician in the department of medicine, and I had the opportunity to become a mentor to learners in the Tropical Disease Unit, as well as in my research program. I am very passionate about community health, and I've always been what I consider to be a passionate educator.
What inspired you to join the Community of Support Program?
About two years ago, having already been a mentor in the faculty of medicine for several years, I began to really notice that - year after year - the demographics of the trainees who would approach me for research opportunities reflected only a proportion of students.
I hadn't had a trainee come through my research program who was African Canadian or Black, or someone who had identified themselves as part of those communities. This was generally the case when it came to medical students or residents in the TDU as well. At that point, I realized there were clearly communities I wasn't reaching with my existing mentorship and training programs.
So, I made a conscious effort to reach out to the Community of Support to better engage an entire demographic who hadn't been represented in my research program, and who were clearly under-represented as medical trainees coming through the clinical side. The full national fabric of Canada simply wasn't represented. I saw a gap there.
What happened next?
I joined the Community of Support and we had a brainstorming session about the types of opportunity gaps they were seeing in their student population, and potential areas where I could contribute. It became apparent that a lot of the Community of Support students had never had an opportunity to work in a research lab, to do any kind of professional or academic writing, to attend scientific conferences, or to shadow physicians.
Community of Support students are often burdened with financial barriers to entering science and medicine. They are often marginalized financially and have had to work part-time jobs or even full-time jobs to support themselves or family members, and haven't had the luxury of opportunities like taking time off to do research assignments in laboratories. I wanted to come up with some creative strategies to be able to engage students in the program, even if they were working part-time jobs.
So how did you address this?
We came up with some different opportunities. One of them was opening up our lab meetings to students. We have a face-to-face weekly lab meeting with my research team, and we chose dates where we would open it up to all students and do teaching around different subjects related to science and medicine. We established a curriculum. Sometimes, we had 35 or 40 students at a meeting.
This approach enabled networking among the trainees and familiarized them with the concept of a weekly lab meeting, where people discussed ideas for research. It also gave us the chance to connect one-on-one with members of the Community of Support who were interested in writing or research projects, or shadowing. For Community of Support trainees interested in medicine, we were able to offer observerships on the clinical side where trainees could shadow physicians.
What were other opportunities that were created?
Some of the students were interested in developing their writing skills. So, we've created opportunities for them to assist or lead review articles, book chapters, case reports, and blog posts. They can also help with research papers that might need another set of eyes on review, or need a bit of work on data analysis and presentation.
Our efforts have really been about trying to engage the trainees in as many opportunities with academic work they may not have experienced previously. If a student contributes to a piece of writing, their name is reflected in the authorship. I'm editor-in-chief of one of the BMC series journals, and one of the gaps I noted in my more senior research trainees is a lack of experience peer reviewing.
So, I wanted to create an opportunity for trainees to be able to review papers in a safe environment, from which they could learn. Therefore, with the support of the journal's editorial manager, we launched an initiative called the trainee editorial board. We just finished a pilot that was a great success. It created a chance for students to become more embedded in the publishing process, so when they are asked to lead a piece of work, they will be better prepared to hit the ground running.

I also have a blog where I post educational information, like how to peer review a manuscript or advice to trainees on becoming a clinician scientist.
What about conferences?
That's another part of what we do. The value to students of attending academic conferences is networking, encountering peers in their field, and peers in a field of which they aspire to be a member.
Every single conference, there are at least three or four dedicated student activities. There are also competitions where students can be up at the podium, and present orally on an international stage. There are also local research days where we encourage Community of Support participants to present their abstracts to get their research out, and become more comfortable with scientific communication.
What is the ultimate goal of your work?
The health of our communities, our organizations, and our cities are directly correlated to the representation that occurs in the health care community. I want to harness the power of the privileges I -- and others like me -- bring to the table in order to break down barriers and be part of the solution to the urgent problems of inequity and lack of diversity.
Efforts to diversify – not just at the leadership level, but at the general faculty level in really advancing the pathway to STEM and medicine for people who have historically been shut out of those disciplines – need to happen. That starts with people taking steps to actively and effectively recruit into their programs the full potential represented by our diverse communities. My goal is to narrow this representation gap, and help my students to fulfill their dreams. I encourage other faculty to reach out to the Community of Support.
The Community of Support program is looking for more mentors like Andrea.
"The effort that Andrea has made to help students from diverse backgrounds learn more about medicine, health research and scientific lab work, is truly remarkable," says Lisa Robinson, associate dean of the Office of Inclusion and Diversity at U of T's Faculty of Medicine. "When leaders like Andrea make a concerted effort to help students feel welcome and included, it can have a meaningful effect on encouraging students to join the scientific and medical community. We're grateful to Andrea for her effort, and hope more people will consider joining us as mentors."
If you are a member of the faculty of medicine and are interested in mentoring, please contact Ike Okafor, Senior Officer Service Learning and Diversity Outreach, for more information. Ike can be reached at ike.okafor@utoronto.ca.
The Faculty of Medicine is also accepting donations to support the Community of Support program, so that more students can benefit from mentorship like Andrea's. To find out more, please contact Michelle Fong, Senior Development Officer at michelley.fong@utoronto.ca or 416-529-8500.