Dr. Tom Gilas receives Michael Garron Hospital's Lifetime Achievement Award in Surgery
Alumni Profile
The U of T alum (MD '78, PGME General Surgery '83) started Surginet – one of the largest international general surgical mailing lists in the world.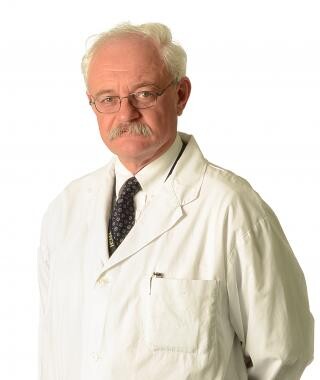 Michael Garron Hospital
When a health care professional retires, their colleagues will often reach out to share their congratulations and favourite memories of working together. But when word got out about the upcoming retirement of Tom Gilas (MD '78, PGME General Surgery '83), an assistant professor of surgery in the University of Toronto's Temerty Faculty of Medicine and general surgeon at Michael Garron Hospital, the tributes pouring in included many from those he had never even met. 
"Surgeons all across the world – some whom only ever communicated with him online – have such respect for his decision making and thoughtfulness," explains Paul Bernick (MD '92, PGME Colorectal Surgery '00), an assistant professor of surgery at Temerty Medicine and the former head of the division of general surgery at Michael Garron Hospital. "He's very humble but has had a major influence on so many people's careers and lives."
In the early nineties, with the advent of the internet, Gilas was one of the first medical professionals to take advantage of new listerv technology to grow connections between surgeons around the world.
Surginet, the email-based chat forum founded by Gilas in 1995, quicky proved successful. The listserv provided surgeons with a virtual space to discuss all aspects of their personal and professional lives – from seeking different perspectives on medical cases and sharing new surgical techniques, to coordinating networking events during upcoming conferences and even sharing their favourite recipes.
In addition to his pioneering role embracing early online tools for global knowledge translation and community building, Gilas has also had a sizeable impact on medical education in Toronto, influencing thousands of trainees during his 38-year career. He was also an early faculty contributor to the Top Knife Program – one of the city's first surgical skills training labs where surgical students had the opportunity to safely learn, practice and demonstrate new techniques.
In recognition of his dedication to his patients, as well as to his fellow members of the Toronto and global surgical communities, Michael Garron Hospital is honouring Gilas with a Lifetime Achievement Award in Surgery.  
Temerty Medicine's Emma Jones had a chance to sit down with Dr. Gilas, to talk more about his impactful career.
What made you want to become a surgeon?
One vivid memory I have was when I was a kid working in the garage and I cut my leg open. I went to the emergency department and when the surgeon arrived, I was so impressed by the presence of this person who was so respected and confident in what he was doing – helping me.
I can't believe I got into medical school; I don't think I'd get into medical school if I applied now! But I worked my rear end off to get in and during my clerkship I became interested in the technical, hands-on approach that the surgeons took to their work.
Embracing technology has been a big focus of your career – what drew you to this?
When the Internet was introduced, I was amazed by it. I remember sending my very first e-mail in the early nineties. It was just mind boggling that you could send a communication to somebody halfway around the world and they could reply almost instantly. I wasn't some kind of technical whiz – I was just interested in what the technology could do.  
One of the things we had back then, and still have, was listserv mailing lists. You send an e-mail, it goes to the group, and anyone in the group can send a reply.
I launched the Surginet listserv in 1995. To this day, we have members throughout the world, and we discuss surgical topics, politics, recipes – whatever surgeons talk about in the lounge. It has been a valuable resource for a lot of surgeons. Many of us meet each other when we travel to different countries, so it built quite a community. I'm grateful to U of T for hosting it on their network.
It was just mind boggling that you could send a communication to somebody halfway around the world and they could reply almost instantly
Can surgeons still sign up for the listserv?
Yes, it's still running, and I intend to continue with it after I retire. Surgeons who want to join just have to send me an e-mail requesting membership with their CV and I admit them – we've been pretty good about that. Over the years, we briefly discussed whether we should change to a different sort of format in terms of a forum or whatever. But we still like the old-fashioned mailing list.
You were also part of a group that developed one of the first surgical skills labs in Toronto – how did that start?
Well, in the eighties, there was no formal surgical skills teaching of surgical residents. They learned on the job. One of my friends and colleagues, Alan Lossing – who was a vascular surgeon at St Michael's Hospital and now is at Southlake Regional Health Centre – started a surgical skills teaching course, which at that time he called Top Knife. And he recruited friends to help teach.
In those days it was at Toronto Western Hospital's research building. Donations came in from everywhere for funding and equipment. Trainees would come every week to learn the latest techniques. U of T's Department of Surgery got wind of it and, over the years, it was turned into a formal Surgical Skills Lab, where students and residents could come and practice.
What was it about mentorship and education that interested you?
I made no conscious decision of any kind to be an educator – I like it when I have an enthusiastic resident and a blank slate. I learn more from the residents than I teach them, just listening to what they talk about and what they see at other hospitals and what they may know about different procedures or treatments.
Surgery is a very demanding specialty. How do you manage the stresses of your work?
At some point in your career, you get to the point where the buck has stopped with you: a difficult surgical decision, or difficult operation or something else. And you think, well, who can I pass this off to or how can I get out of this situation? And there's nobody you can pass this along to, though you'd like to. That can wear on you.
Colleagues help a lot. They're usually the best support in those kinds of things. Fortunately, we have a good group at our hospital. People to talk to, to run things by, to support you physically and mentally.
That ties back into Surginet – this network of colleagues you can communicate with.
It can very helpful, if we're stumped, to run cases through our international colleagues. People have various exposures to and experiences with different systems and levels of training that may be useful.
What are your plans for the future?
I'm not going to disappear from the hospital – I still want to stay exposed to this world. I plan to be a surgical assistant after I officially retire. I want to go in, sit around the lounge, do some assisting. None of the responsibility — just the fun parts. We need people to assist our medical teams, so I'll help as long as I'm able to.
---
Colleagues at Michael Garron Hospital are compiling a commemorative book for Dr. Gilas to celebrate his career. For information on how to submit a message, photo or anecdote about Dr. Gilas, please contact sarah.sparrow@tehn.ca