Diversity, Mentorship, and Understanding a Rare Cancer
Students, Research, Education, Faculty & Staff, Partnerships, Inclusion & Diversity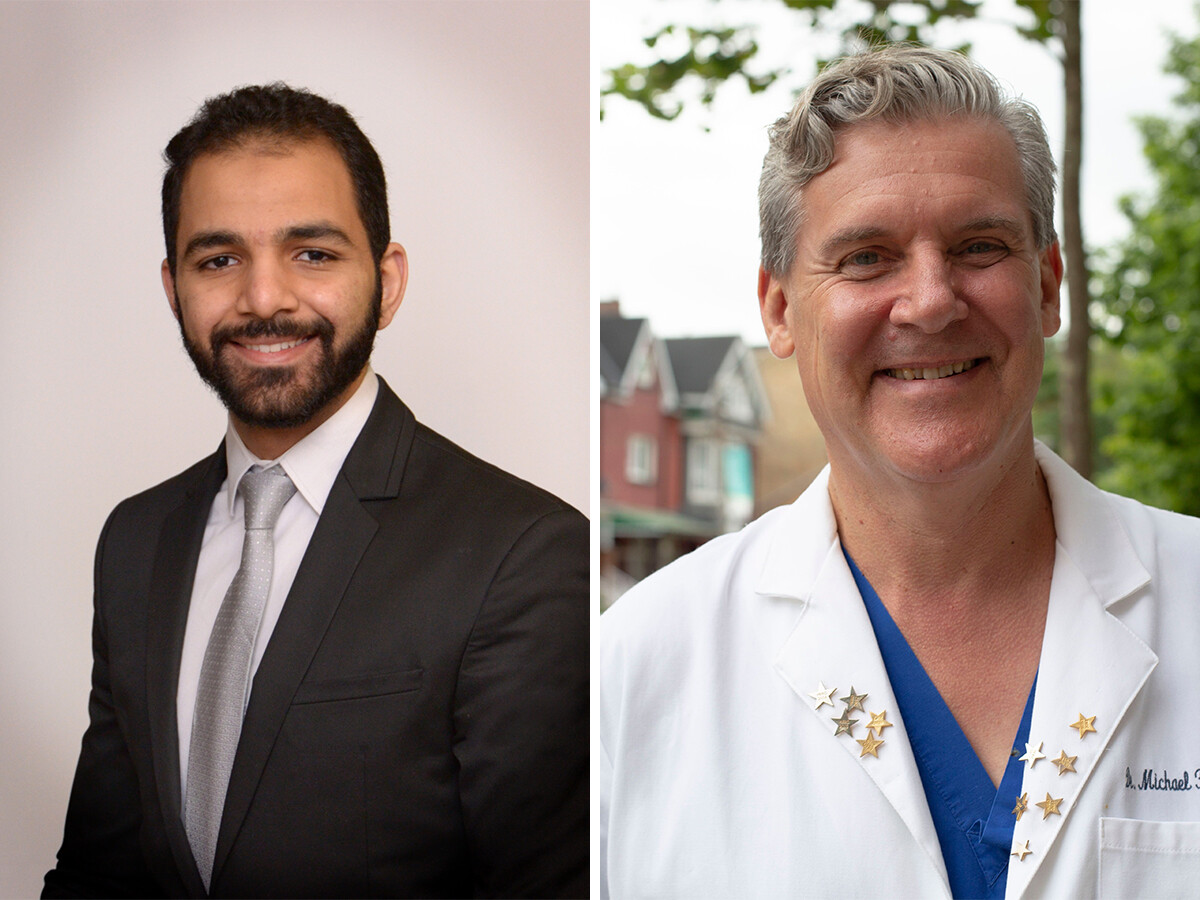 Amr Saleh was a third-year medical student when he met a patient receiving treatment for ependymoma, a rare cancer that arises in the brain or spinal cord.
Saleh wanted to learn more about the disease, but he couldn't find a comprehensive review of its biology and current therapies.
So, he proposed writing one — with his mentor Michael Fehlings, a professor of surgery in the Temerty Faculty of Medicine at the University of Toronto, who is also head of the spinal program at Toronto Western Hospital, University Health Network.
The pair worked with colleagues for over a year, and last month the high-impact journal Nature Reviews Cancer published the fruits of their labour.
"It's unusual for someone at Saleh's stage of training to take on this kind of project," says Fehlings. "He drove review of the literature and writing of the manuscript, and the project grew into a great collaboration with Michael Taylor's lab at SickKids, as well as other trainees."
The goal was to inspire greater interest in the field among clinicians and researchers by synthesizing 100 years of research on ependymomas, highlighting major progress in the field and identifying knowledge gaps, limits of current therapies, and potential new treatments including targeted therapies and immunotherapy.
The paper has already been downloaded more than 1,100 times.
Saleh and Fehlings first connected in early 2020 through Temerty Medicine's Diversity Mentorship Program, which links medical students and first-year residents from diverse backgrounds with faculty mentors who can support their career development.
Saleh, who was born in Saudi Arabia and moved with his family to Canada in 2008, has been passionate about cancer research since high school, when he began independently studying The Biology of Cancer — an influential textbook by Robert Weinberg that he first accessed through his older brother's university library card.
His brother, Mohammad Saleh, is a PhD student at U of T's Institute of Biomedical Engineering and a co-author on the Nature Reviews Cancer paper.
Amr, as an aspiring clinician-scientist, looked up to Fehlings' global impact and academic leadership. "I was excited by the opportunity to work with an internationally recognized clinician-scientist who is widely known for his excellence in patient care and research," says Saleh, who will finish his last year of medical school this spring.
Fehlings, despite his professional accomplishments and reputation, did not start life on easy street.
He was born in Canada after his parents arrived as refugees from Germany shortly after World War II, and he grew up in Toronto's Mount Dennis, a low-income neighborhood that has been home to many immigrants. He was the first member of his family — and the only one from his friend group — to attend university.
Originally, Fehlings thought Saleh might contribute to his lab's research and shadow him in the clinic and operating room. But the two only met in person a few times before COVID-19 hit and public health precautions required them to move their collaboration online.
It was during one of Fehlings' clinics that Saleh met the patient who inspired the review paper.
Ependymomas can occur at any age, although they comprise a larger proportion of primary brain tumours in children than in adults. Current treatments result in a five-year survival rate of roughly 60 to 80 per cent depending on age and other factors, although recurrent ependymomas are very difficult to treat.
Just before publication of the paper, Saleh learned a friend's seven-month-old niece had been diagnosed with an ependymoma. "Hearing about her diagnosis was a powerful reminder of the importance of this work and the need to advance and draw attention to the field," he says.
Saleh will learn which residency program he will be matched with in April, and longer-term he plans to pursue a career in academic medicine.
Fehlings says their partnership has evolved into a friendship and that he looks forward to its next phase — when the pair become colleagues.
"Toronto and U of T enabled me to go to school and study medicine. It was through mentorship that doors opened for me," Fehlings says. "It's an honor to open the door for someone else, and working with Saleh has been a joyful experience."