Race with Steph: Ten Triathlons in Ten Provinces to End Alzheimer's
Research, Faculty & Staff, Giving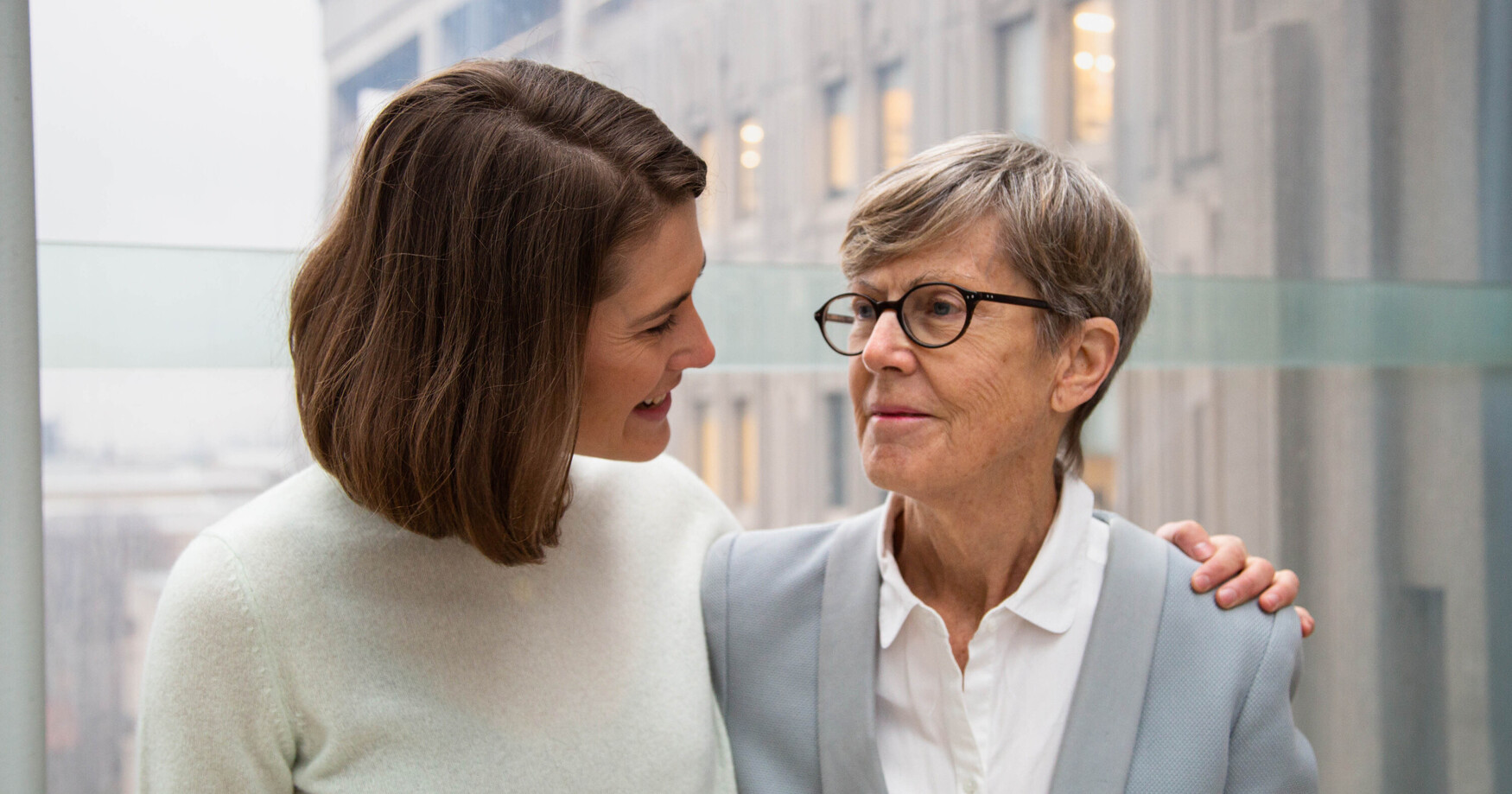 Erin Howe
This summer, Stephanie Fauquier will be swimming, cycling and running more than 500 kms in ten triathlons across Canada. With every stroke, pedal and step she takes, thoughts of one person will undoubtedly fill her mind and drive her to push on: her beloved mother, Dr. Robin McLeod (PGME '81).
Dr. McLeod's name will be familiar to many in the Temerty Medicine community. An internationally renowned surgical expert, she served as a professor of general surgery, as well as of health policy management and evaluation at the University of Toronto. She was also a surgeon and senior investigator at Mount Sinai Hospital and the surgical lead of quality improvement and knowledge transfer program in Cancer Care Ontario's surgical oncology program.  
Two years ago, Dr. McLeod was diagnosed with Alzheimer's disease — becoming one of more than 747,000 Canadians, and millions more around the world, who are living with this condition and other forms of dementia.
"The diagnosis was a huge shock to all of us," says John Fauquier, Dr. McLeod's husband and dad to Steph and her sister Claire. "First, we began to notice aphasia — difficulty communicating. Robin was struggling to find even the most common words."
Soon after, Alzheimer's began bleeding into every aspect of Dr. McLeod's daily life.
"It was the most devastating news of my life," remembers Steph. "When my mom was first diagnosed, there was an element of social isolation because of the stigma of the disease —she felt embarrassed. There is no cure for Alzheimer's. It strips you of your identity, your dignity and your autonomy."
Steph was inspired to take action. An avid athlete, she landed on an ambitious plan to race across the country in support of U of T's Tanz Centre for Research in Neurodegenerative Diseases — both to honour her mom, and to raise awareness and funds for scientific advances in Alzheimer's.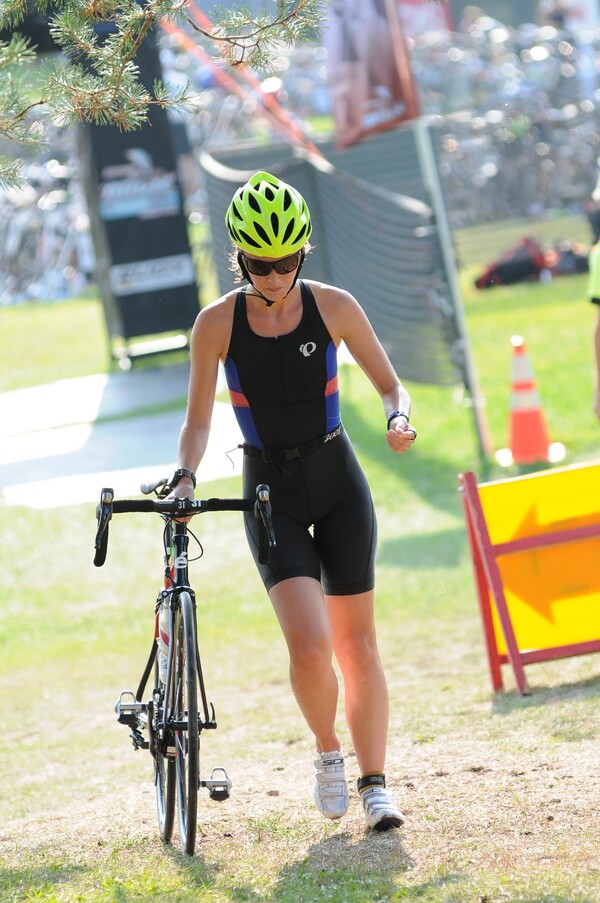 Steph chose the Tanz Centre for its long track record of impact in Alzheimer's research, including its role leading interdisciplinary investigations into the disease's genetic origins, as well as in the development of new diagnostic approaches and drug therapies.
"My mom was a longtime faculty member and researcher at U of T," says Steph. "It felt like the right place to support."
"Steph is doing something that has a span of impact that's hundreds of times bigger than I would have anticipated," says John, who will be attending every triathlon alongside his daughter. "I'm very proud of her."
Steph will be kicking off the first of her ten triathlons at a half ironman in Victoria, British Columbia on May 28th and will wrap up her cross-Canada journey in Niagara Falls in September. Other stops will include a women's triathlon in Hampton, New Brunswick on June 11th, as well as a race in Stony Plain, Alberta on July 2nd — just 20 km away from where her mother was born in Spruce Grove. Steph's full race schedule can be viewed on her website.
"I chose triathlons because they are a huge endeavor. It requires persistence and stamina — and I feel like that's my mom." says Steph. "I feel like it is worthy of her. And, what's more Canadian than racing across the country and uniting people in an important cause?"
Steph's father, John, sees a lot of Robin in his daughter.
"Robin is a very independent person, and she instilled that in our daughters," says John. "She felt that everyone, particularly women, have to make their own way in the world. Steph is the same way. It's a big reason why she's doing the races, out of an enormous love and respect for her mother."
"Women are disproportionately affected by this disease, and no one is talking about it," says Steph. "I want to start a conversation about Alzheimer's disease, staying active and taking care of ourselves."
Over the course of the summer, Steph is expected to complete 509 km of racing — swimming 11 km, cycling 406 km and running 92 km. It's no small feat. Steph is currently training six days a week. On the day she was interviewed for this story, she had already logged three hours of training.
Despite the grueling schedule, Steph continues to find motivation in her efforts' larger purpose.
"This is not just for my mom, but for everyone affected by this disease," says Steph. "I want to build Race with Steph into a national movement. I might be the one racing, but you can race with me — for whomever in your life is going through it — your mom, your dad, your grandparents. We're doing this together."
Yet, as she builds the Race with Steph community, she also acknowledges the campaign's deeply personal origins.
"I don't want my mom's legacy to end with her Alzheimer's diagnosis," shares Steph. "She's had an unbelievable career and is an amazing person. I wanted there to be a next chapter to her story, and this is what I could do for her."
"My mom has had such a big life. She pursued all of her interests and passions — she really did it all. It makes me think about the life I want to lead, to try and do big things and go for big goals. That's something I hope to inspire others to do through this campaign."
To donate to Race with Steph, please visit Steph's secure, online giving page at uoft.me/racewithsteph. Contributions will be directed to a new endowment fund, named in Dr. Robin McLeod's honour, that will provide lasting support for vital Alzheimer's research at the Tanz Centre.
"No amount is too small," says Steph. "By taking action, you can help create a ripple effect that can ultimately lead to new solutions for people with Alzheimer's. I want this to be so much more than just me and all these races. It's a rallying cry — to come together as a community around fitness, brain health and health research."
Make a Gift
Join Steph as she races across the country to raise awareness and funds for vital Alzheimer's research at the Tanz Centre for Research in Neurodegenerative Diseases