UofTMed Alum: House Calls, Healing and the Power of Photography
Alumni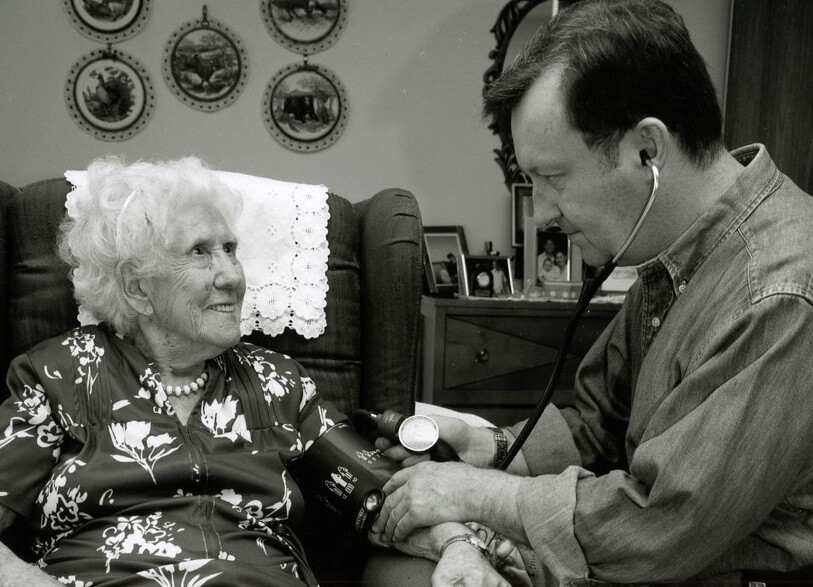 Soon after completing my family medicine residency at U of T and joining a clinic in Toronto's Yonge and Eglinton area in 1992, I began to notice how many of my elderly patients were struggling to make it in for their appointments.
While they still lived in their homes, many were frail and suffered from conditions like congestive heart failure, chronic obstructive pulmonary disease and dementia. The trip from their home to the clinic could be daunting.
Little did I know I'd end up treating patients in their homes and — with permission, of course — taking their photos and sharing their stories nationally.
With our senior population on the rise, and many of them housebound, it just didn't make sense that our health care system offered only office- or hospital-based care.
I started offering to travel to my patients for their next appointment, making it easier for them to access care. And within a few years, I was spending two full days a week doing home visits.
I loved doing home-based care, and was so inspired by these individuals. This is the generation that came of age during the depression years in Canada or was part of the post-war immigration boom. They helped build the Canada we know — and had so many stories to tell.
But it was the mid-1990s — an era of massive cuts to government spending in Ontario. I saw these patients lose the few social services they had. They were made to live with less government-funded homecare (or none at all). And as they lost access to personal support workers, they were at greater risk of poor health outcomes, increased hospitalizations and admissions to long-term care.
It seemed so unfair that this hidden population was being neglected. They suffered in silence. They had grown up with nothing, and when everything was taken away later in life, they were prepared to just suffer through it.
As an avid photographer, I was inspired by the hugely influential photography program led by the Farm Security Administration in the 1930s and early 1940s, as part of Franklin D. Roosevelt's New Deal. These photos brought the world into the desperate lives of poor migrant farmers displaced from the dustbowls of the United States in an emotional, visceral way.
I thought, maybe I could use social documentary photography to bring attention to my patients' stories and their desperate situations. If only others could see what I was seeing every day, they wouldn't let this happen. So I consulted the College of Physicians and Surgeons of Ontario and the Canadian Medical Protective Association. I got consent from patients willing to take part, and I began taking photos in 1998.
I had no idea just how deeply these would resonate. After The Globe and Mail ran the photos in a three-page cover story in 2002, I was invited onto national CBC Radio to speak about the photography and my patients, featured in a Global TV documentary and then in the NFB documentary House Calls that went on to win a Gemini Award. I also exhibited the photography at the Royal Ontario Museum in 2010.
As the message spread, supporters and collaborators began to get in touch. I ended up leaving my office practice in 2007 to offer home-based primary care full time. Through a partnership with home care organization VHA Home Healthcare, occupational therapy group COTA Health, as well as the community support services agency SPRINT Senior Care, we formed an interagency pilot program offering home-based primary care for seniors in Toronto's downtown core.
At House Calls, we now have a team of six family doctors, two nurse practitioners, three occupational therapists, a physiotherapist, two social workers, and two team coordinators — and we are growing towards treating close to 1,000 patients every year.
Most of our patients are medically complex. They're old, sick and frail. Without us, they would likely be in and out of hospital emergency rooms, in nursing homes — or dead.
In fact, one recent patient referred to us was an 85-year old woman who had been admitted to hospital six times over the preceding year for congestive heart failure flare-ups. When I first saw her, she was on just one of the five medications she needed. In the two years I took care of her, she did not go into hospital once.
We also help many patients die as comfortably as possible at home, instead of in hospitals. While we refer patients with serious pain management needs to partners such as the Sinai Health System's Temmy Latner Centre for Palliative Care, we help others in their final years, months and days by offering home-based palliative care.
With the major need for home-based care, it's reassuring that we've been able to integrate the art of the house call into health care education at U of T.
Working with professors and colleagues, including geriatrics specialist Samir Sinha and family physician Thuy-Nga Pham, we've been able to offer medical students and resident physicians first-hand teaching and training opportunities in home-based primary care. It's exciting to see that several former students and residents have become practicing home care physicians — and we've been able to grow our House Calls team as a result.  
Far from the historical image of a horse-and-buggy doctor travelling to patients' houses, house calls are a truly modern health care solution — and I'm glad my photos helped shine a light on the need.
Dr. Mark Nowaczynski, PGME '92 (Family Medicine), is the founder of House Calls, a primary health care program for home-bound seniors. Hear more stories about old age and end of life care at our upcoming UofTMed Inside the Issue event November 26 and in the next issue of our award-winning UofTMed magazine.