U of T Professors John Dick and Zulfiqar Bhutta Win Canada Gairdner Awards
Research, Partnerships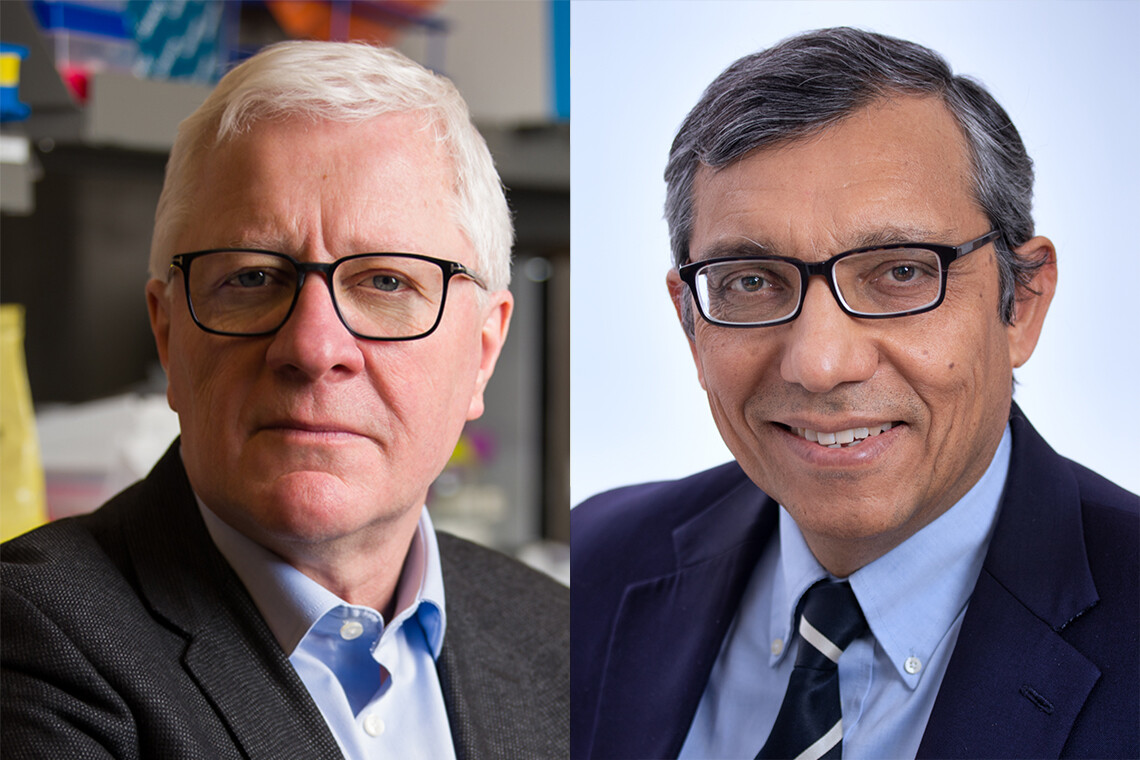 Photos courtesy of Images by Delmar and The Hospital for Sick Children
A stem cell biologist and a global health researcher, both at the University of Toronto, have been honoured with 2022 Canada Gairdner Awards — the country's most prestigious awards for medical and health science.
John Dick was recognized with a Gairdner International Award, for the discovery of leukemic stem cells and later work on the diagnosis and treatment of acute myeloid leukemia. The president and scientific director of the Gairdner Foundation, Janet Rossant, shared the news with Dick in January.
"When Janet called, it was definitely an 'Oh my gosh' moment," said Dick, a professor of molecular genetics at U of T's Temerty Faculty of Medicine and a senior scientist at Princess Margaret Cancer Centre, University Health Network.
"I recall being asked to sit on an evaluation panel for the Gairdners in early 1990s, not long after setting up my lab in Toronto. That seemed like the epitome of achievement, and I never imagined in my wildest dreams that one day I'd receive a Gairdner award."
The John Dirks Canada Gairdner Global Health Award went to Zulfiqar Bhutta, for his research on community-based and policy interventions in child and maternal health, especially among vulnerable populations.
"I'm very pleased and grateful," said Bhutta, a professor in the departments of nutritional sciences and paediatrics at Temerty Medicine and at the Dalla Lana School of Public Health, who is also co-director of the Centre for Global Child Health and a senior scientist at The Hospital for Sick Children.
"There are not many awards for research in global or public health, and the Gairdners occupy a special place in Canada and globally. It really is a pinnacle and most humbling," said Bhutta, who moved to Toronto in 2013 and maintains a research group at the Aga Khan University in Pakistan.
John Dick: Growing Toronto's Stem Cell Legacy
Dick and his lab were the first to discover and describe leukemia stem cells, which can self-renew and drive both cancer growth and relapse after treatment.
Those findings have led to new clinical approaches for acute myeloid leukemia and related blood cancers, and spurred research on the role of stem cells in solid tumours of the colon, breast and brain, among other sites.
Dick said he did not set out to discover leukemia stem cells, but instead began by "plugging away" at basic science on the blood system in mice, experimenting with ways to put genes into stem cells.
In a key advance in the late 1980s, his lab developed a way to transplant human blood stem cells into immune-deficient mice. This 'xenograft assay' was a world-first, and enabled Dick and other researchers to track and test the human cells' growth and replication, albeit in the living system of the mouse.
At the same time, Dick's lab created the first xenograft models of human leukemia, and developed a method to purify leukemia stem cells, allowing for detailed comparisons of those cells and leukemia cells without stem-like properties.
"Most people thought those early experiments wouldn't work," said Dick. "But lo and behold some of them worked beautifully, and we were able to characterize leukemia stem cells and non-stem cells. Leukemia is a caricature of normal development, and we exploited that."
Dick and his team began counting individual cells — much like James Till and Ernest McCulloch after their discovery of stem cells in Toronto in 1961, Dick noted. They made the startling finding that stem cells are extremely rare in acute myeloid leukemia, roughly one in a million in a given population of leukemia cells.
They later found that relapse of acute myeloid leukemia is linked to the survival of leukemia stem cells after therapy, and using patient blood samples they showed that leukemia stem cells that cause relapse are already present in the blood the day the patient first shows up at the clinic and before therapy begins.
Dick's lab eventually developed a 17-gene 'stemness score' that physicians use to predict patient risk and outcomes, which increasingly helps guide therapeutics. "It's a new kind of approach for effective patient-specific intervention, which is gratifying," Dick said.
Dick credits many colleagues for his successes, starting with the trainees in his lab. He said their technical skills and passion were critical, but that their ideas were often essential.
"For most of our findings, no one had the right ideas," Dick said. "We just threw our thoughts in a melting pot — the good and the bad, and the resulting fusion took us in completely unexpected directions. In that intellectual foment, trainees have contributed so much. They've been the best postdocs and graduate students you could imagine."
He also thanked his clinical collaborators at Princess Margaret Cancer Centre and other hospitals, and his colleagues at U of T.
"Human disease is the best sourcebook for raising and testing research questions, so I needed that constant interchange with clinicians," Dick said. "But I benefited hugely from the intellectual rigour and collegiality of my colleagues in molecular genetics. I don't think I could have done this work anywhere but Toronto."
Zulfiqar Bhutta: Thinking Big for the Smallest and Vulnerable
Professor Zulfiqar Bhutta's career began in neonatology in Pakistan, but he soon expanded his focus beyond infants.
"I realized you can't work with babies without working with mothers, and the moment you start working with mothers, you get to social determinants of health," said Bhutta, the first U of T faculty member to win the John Dirks Canada Gairdner Global Health Award.
For more than three decades, Bhutta's research has influenced policy and practice in global child and maternal health through implementation science, research synthesis and trials, and studies of malnutrition and obesity, among other approaches.   
"I've learned as I went along, but I've been fortunate to work in a variety of areas, often on large-scale projects, with opportunities to make a difference in the short- and long-term," said Bhutta, who is also affiliated with the Joannah & Brian Lawson Centre for Child Nutrition at U of T.
Bhutta and his colleagues at Aga Khan University provided some of the first scientific evidence on the impact of 'lady health workers' in community-based interventions in Pakistan. The government of Benazir Bhutto began employing the workers in the mid-1990s, with the goal of reducing child and maternal risk factors and deaths.
Bhutta and his team helped evaluate those interventions in a series of cluster randomized trials — a method common in public health that allows researchers to compare program impacts across groups or clusters of people.
Among their findings: using chlorhexidine for cord care during home births reduced neonatal infection and death, and public-sector community health workers working in rural populations could indeed help reduce perinatal fatalities.
They also showed that when women began to visit health facilities, facility-based births increased. Moreover, they found that women's embrace of the community health system did not falter after the formal period of the intervention ended.
"That's diffusion of innovation, when improvements become ingrained," said Bhutta. "People said that women would suffer de-development after the initial intervention, but that did not happen. The lesson was that when you increase capacity around women's health, you can move away and they never look back."
Bhutta and his team provided evidence for expansion of the community-based worker model in Pakistan and countries in the Global South; but their work also highlighted the limits of what those workers can achieve.
"You can't do much about a woman who is bleeding to death without access to a facility with a blood bank," Bhutta said. "I've seen many efforts to upgrade community interventions to physician-level care fall flat, because community workers are not physicians."
Many of those failures were closely linked to social determinants of health, Bhutta said. He recalled that in a Pakistani hospital where his wife worked in the 1990s, pregnant women kept arriving dead at the hospital, despite living just a few kilometres away. It turned out the delays were often due to an imbalance in decision-making power between males in females, or to a lack of money for transport, or misunderstanding of the severity of the medical crisis.
"These problems don't have a biomedical solution," said Bhutta. "They need education, women's empowerment, and building social and economic resources at the community level."
Today, Bhutta continues to pursue research on child and maternal health in the Global South, and among marginalized populations in high-income countries. But he is broadening his focus further to address another social determinant of health: climate change.
"I would like to work on solutions to climate change for the poorest of poor, before countries agree and develop policy," said Bhutta. "People are dying now, from food shortages and heat shocks. I want to help bring communities together on a self-help basis, to promote innovations without the need for external supports. Watch that space."
The Gairdner Foundation was established in 1957 to recognize research that impacts human health, and has since given 402 awards to scientists around the world. About a quarter of those researchers later received Nobel Prizes. The Foundation gives seven awards annually; each laureate receives $100,000, and participates in public lectures, research symposia and other outreach events. The Foundation is supported by the Government of Canada.