U of T Medicine Remembers Norman Bethune
Alumni, Faculty & Staff, Students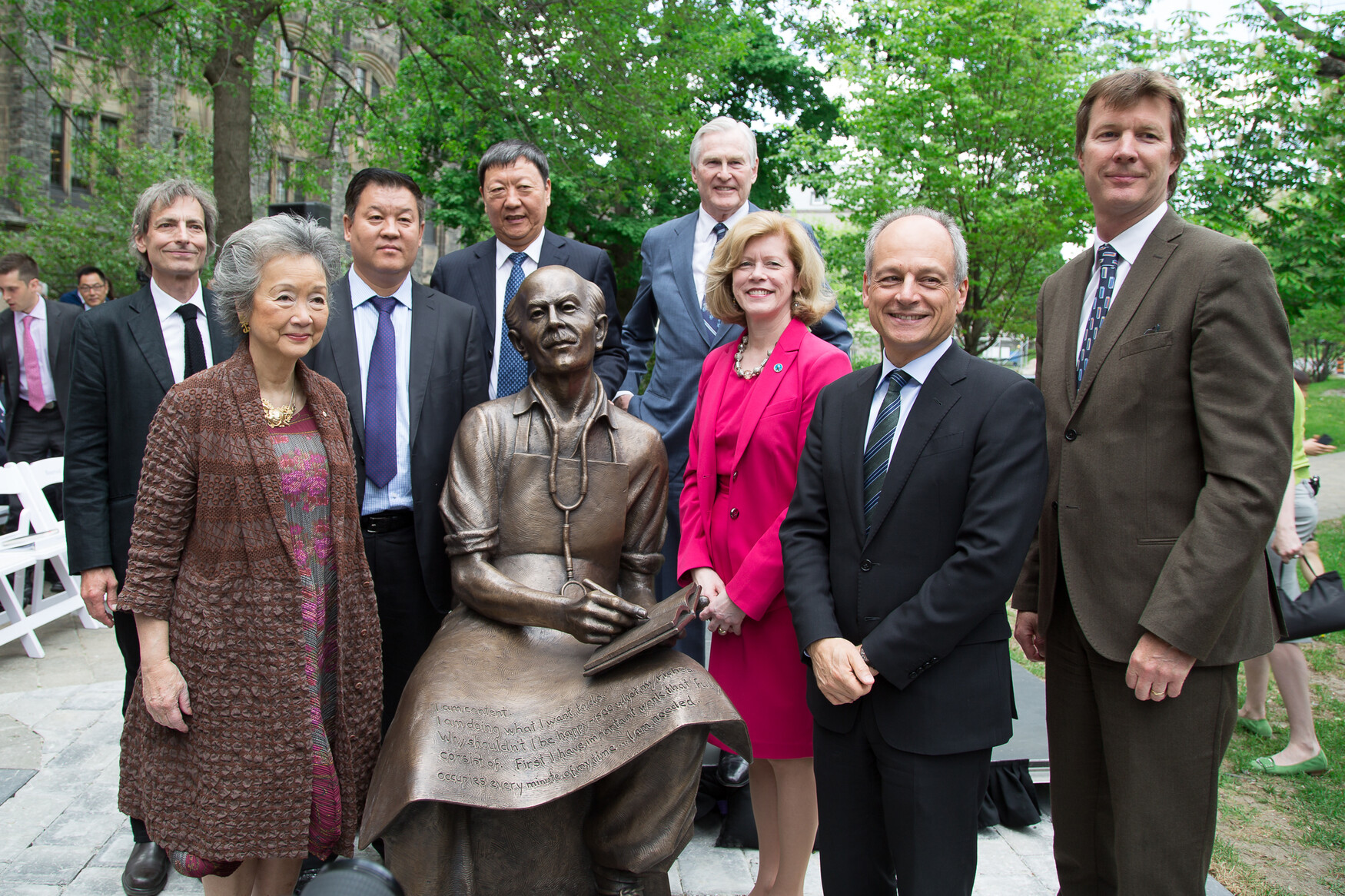 The Faculty of Medicine celebrated the legacy of one of its most famous alumnus — Dr. Norman Bethune — this weekend, beginning on Friday May 30 with the unveiling of sculpture by acclaimed Canadian artist David Pellettier.
On hand were members of Bethune's family, as well as former Governor General of Canada, The Right Honourable Adrienne Clarkson, U of T Chancellor Michael Wilson, U of T President Meric Gertler, and Medicine Dean Catharine Whiteside.
The sculpture, which is seated between the Medical Sciences Building and the McMurrich Building near Queen's Park Crescent, shows Bethune in a quiet moment of contemplation.
"Statues of Bethune are usually heroic and strident," said Pellettier. "I wanted this interpretation to be more contemplative and approachable."
The occasion for the celebration was the 75th anniversary of Bethune's death and it was marked by an $800,000 donation to U of T from Chinese philanthropists Zhang Bin, President of the China Cultural Industry Association and Chairman of Millennium Golden Eagle International, as well as Niu Gensheng, Honourary President of the Laoniu Foundation. Those funds will support the Zhangbin-Niugensheng Bethune Bursaries and Award, in addition to the costs associated with the sculpture.
A gala celebration was held the following evening, on Saturday May 31, in honour of Bethune. Held at the Four Seasons Hotel, the gala was hosted by radio personality and musician Holly Cheng and Breakfast Television co-host Kevin Frankish. It also featured entertainment by award winning singers Wang Qingshuang and Zhang Haiqing and acrobats from the Cirque Sublime.
Bethune is best known as a wartime surgeon. While enrolled at U of T, he interrupted his studies to serve in the First World War. His wartime experience convinced him of the need to transport blood to the frontlines rather than the patient to a hospital. This would lead him to invent an early MASH-like unit – a vehicle with a small refrigerator – during the Spanish Civil War, where he offered his services to the Republican government. He also worked during the Second Sino-Japanese War training people with little schooling to become para-medicals or "barefoot doctors." While in China, Bethune died of septicemia in a Chinese mountain village in 1939 at the age of 49. His work became famous when Mao penned his famous essay, In Memory of Norman Bethune, which became mandatory reading for Chinese school children.
In addition to his wartime service, Bethune is also remembered as a respected thoracic surgeon who patented several medical instruments, including the "Bethune Rib Shears," which are still in use today. 
"Norman Bethune is the greatest Canadian ever," said Clarkson, who served as the honorary chair of the Bethune Gala. "His achievements make us all proud to call him a fellow Canadian citizen."