U of T Hosts Vaccine Pow Wow at Varsity Stadium
Inclusion & Diversity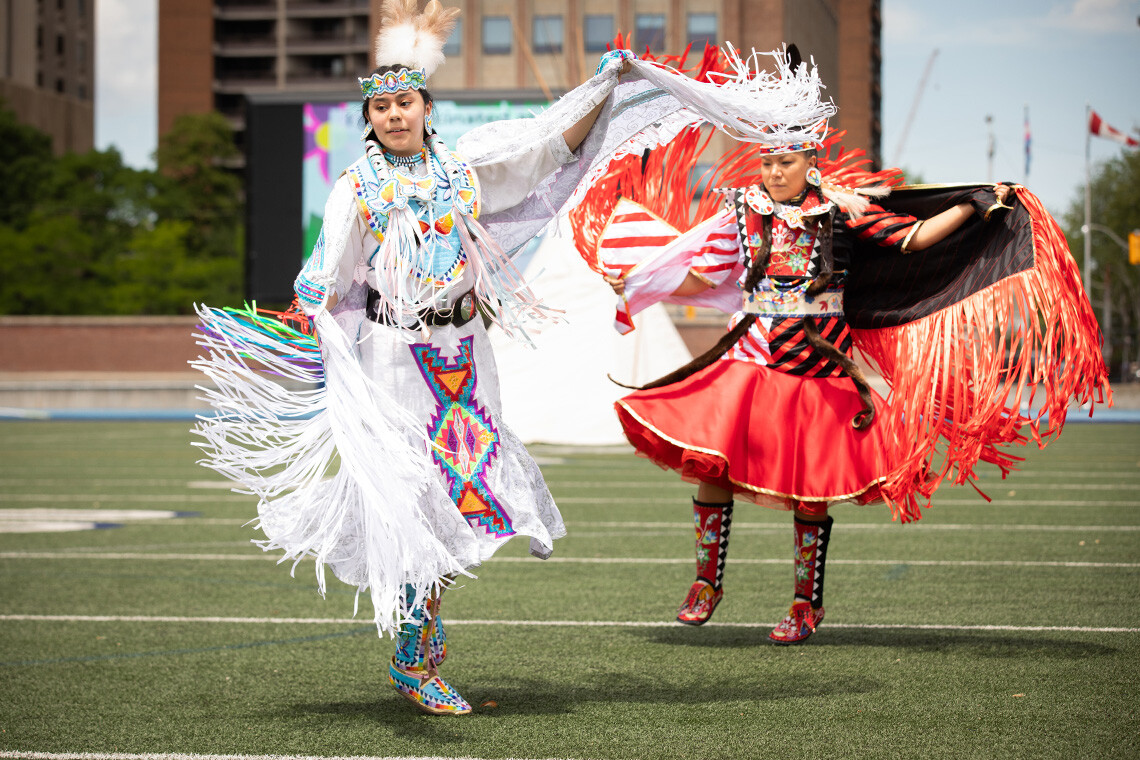 The University of Toronto's Varsity Stadium was transformed into the site of a vaccine pow wow over the weekend, with volunteers dancing and playing hand drums while community members received their shots.
Steve Teekens, the executive director of Na-Me-Res, a Toronto emergency shelter for Indigenous men, said the clinic was held to provide First Nations, Inuit and Métis people with a culturally safe place to receive their vaccinations. Nearly 200 people received their first or second dose of the Pfizer-BioNTech vaccine at the clinic on Saturday, which operated from 10 a.m. to 4 p.m. 
Na-Me-Res partnered with other health-care groups – Seventh Generation Midwives Toronto, Well Living House at St. Michael's Hospital and the Centre for Wise Practices in Indigenous Health at Women's College Hospital – to create an Indigenous COVID-19 response program, called Auduzhe Mino Nesewinong (which means "place of healthy breathing" in Anishinaabemowin).
"One of the things that happened during this pandemic is that it exposed some of the inequities within the health sector, particularly for Indigenous people," says Teekens. "So, there was some hesitancy from our community to access some of these services, especially if they had experiences with discrimination and racism before."
Teekens and others helped organize the mass clinic, with logistical support from U of T, in order to speed up vaccinations. He says he contacted Associate Professor Suzanne Stewart, director of the Waakebiness-Bryce Institute for Indigenous Health (WBIIH) at the Dalla Lana School of Public Health, who agreed to support the Indigenous-led COVID-19 response. 
"Suzanne connected me with the appropriate folks at U of T and they never said no, ever," says Teekens. "It just amazed me. They just wanted to know how they could accommodate it and make it work for us."
Stewart and Clayton Shirt, an Elder and traditional knowledge keeper at Dalla Lana and the WBIIH, greeted people who came for their shots at the entrance.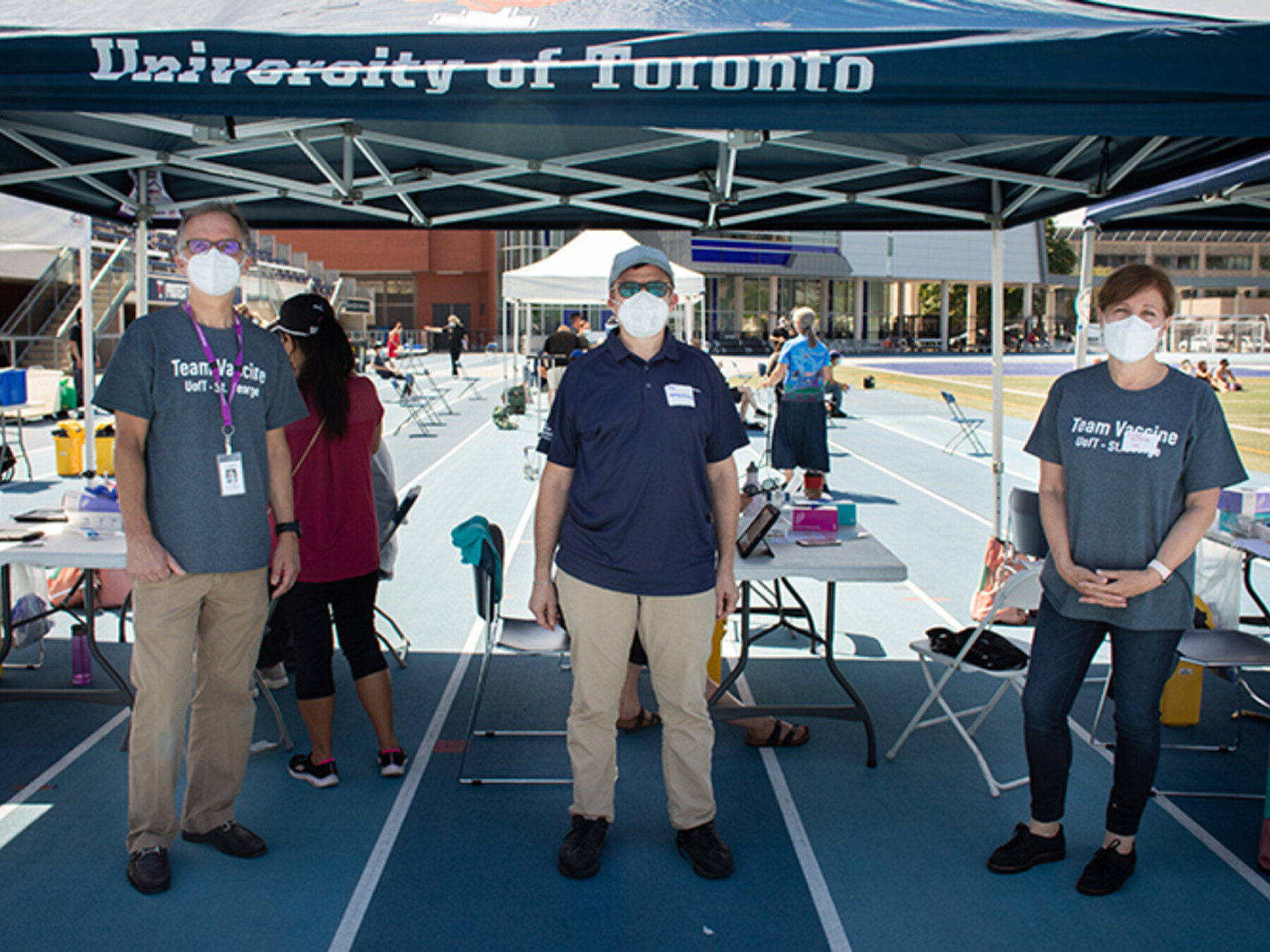 Volunteers from WBIIH, the Temerty Faculty of Medicine, Lawrence S. Bloomberg Faculty of Nursing and the Leslie Dan Faculty of Pharmacy helped with the vaccinations. 
Suzanne Shoush, co-medical director of Auduzhe Mino Nesewinong and the first Indigenous health faculty lead in the department of family and community medicine in the Temerty Faculty of Medicine, was the clinic's medical lead. 
"Na-Me-Res usually has pow wows on the Saturday closest to National Indigenous People's Day, but they had to be paused because of the pandemic," Teekens says. Varsity field provided space for pow wow drummers and dancers, as well as Métis and Inuit performers.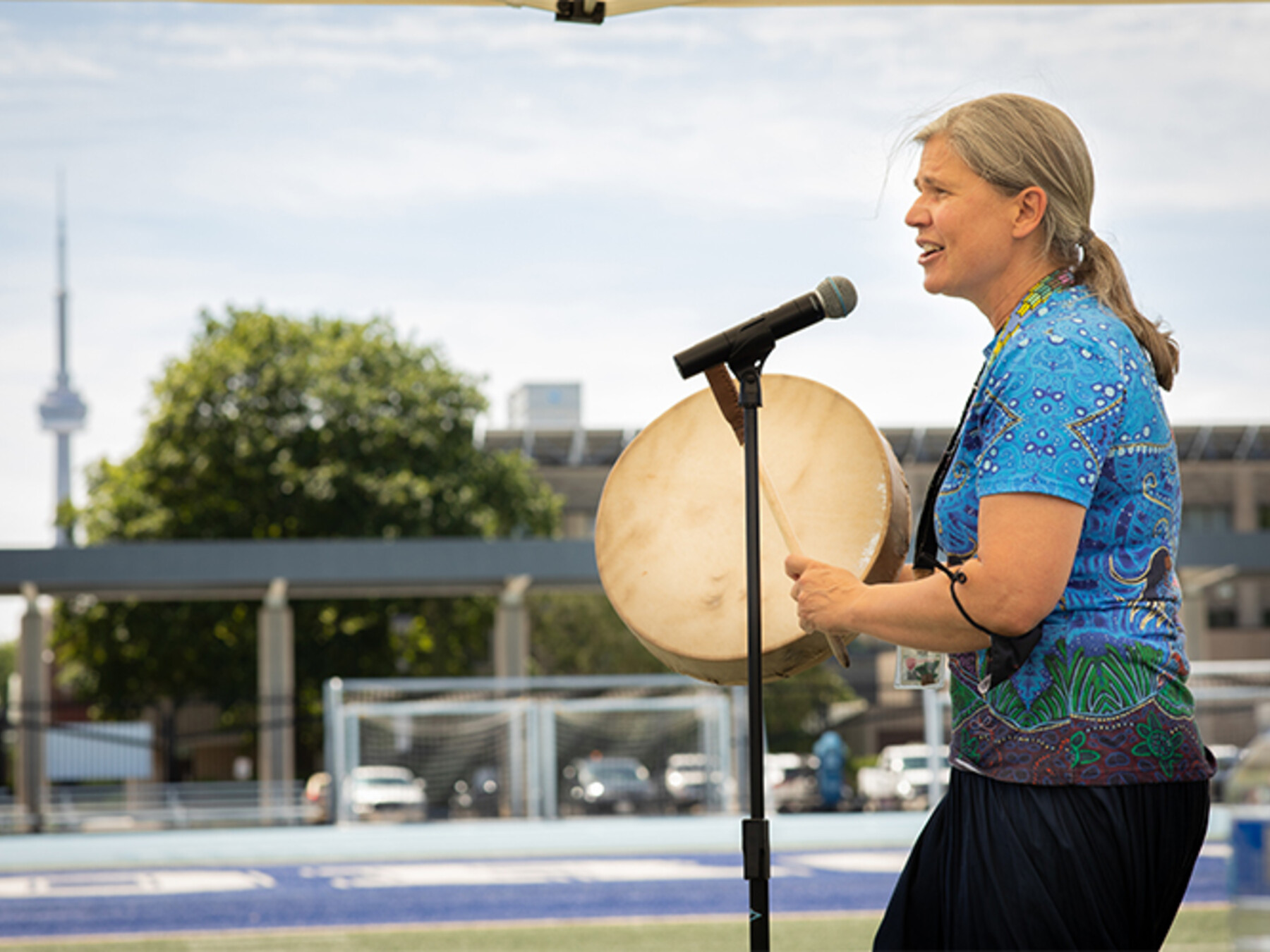 Janet Smylie, a professor at the Dalla Lana School of Public Health, physician at St. Michael's Hospital and one of Canada's first Métis physicians, volunteered as both an observer at the waiting area, where people sat after receiving their shots, and as a performer. 
At the clinic, Cheryl Regehr, U of T's vice-president and provost, said she was proud of U of T's support for the pandemic response, including Dalla Lana's and WBIIH's work with Indigenous communities.
"The Waakebiness-Bryce Institute for Indigenous Health at the Dalla Lana School of Public Health has been instrumental in ensuring that the particular needs of Indigenous people in this health crisis are being accounted for," she said, citing advocacy for Indigenous vaccine access on-and-off reserves, helping create a culturally safe vaccine rollout strategy and operating clinics in co-operation with local Indigenous organizations.
"Today's vaccine pow wow is both a celebration of these efforts, and a recognition of how Indigenous health is critical to the country's health."
For Devon Bowyer, a former Varsity Blues soccer player and graduate of Dalla Lana's master of public health program who helped run the clinic, the event marked a return to the stadium he knows from his days on the pitch.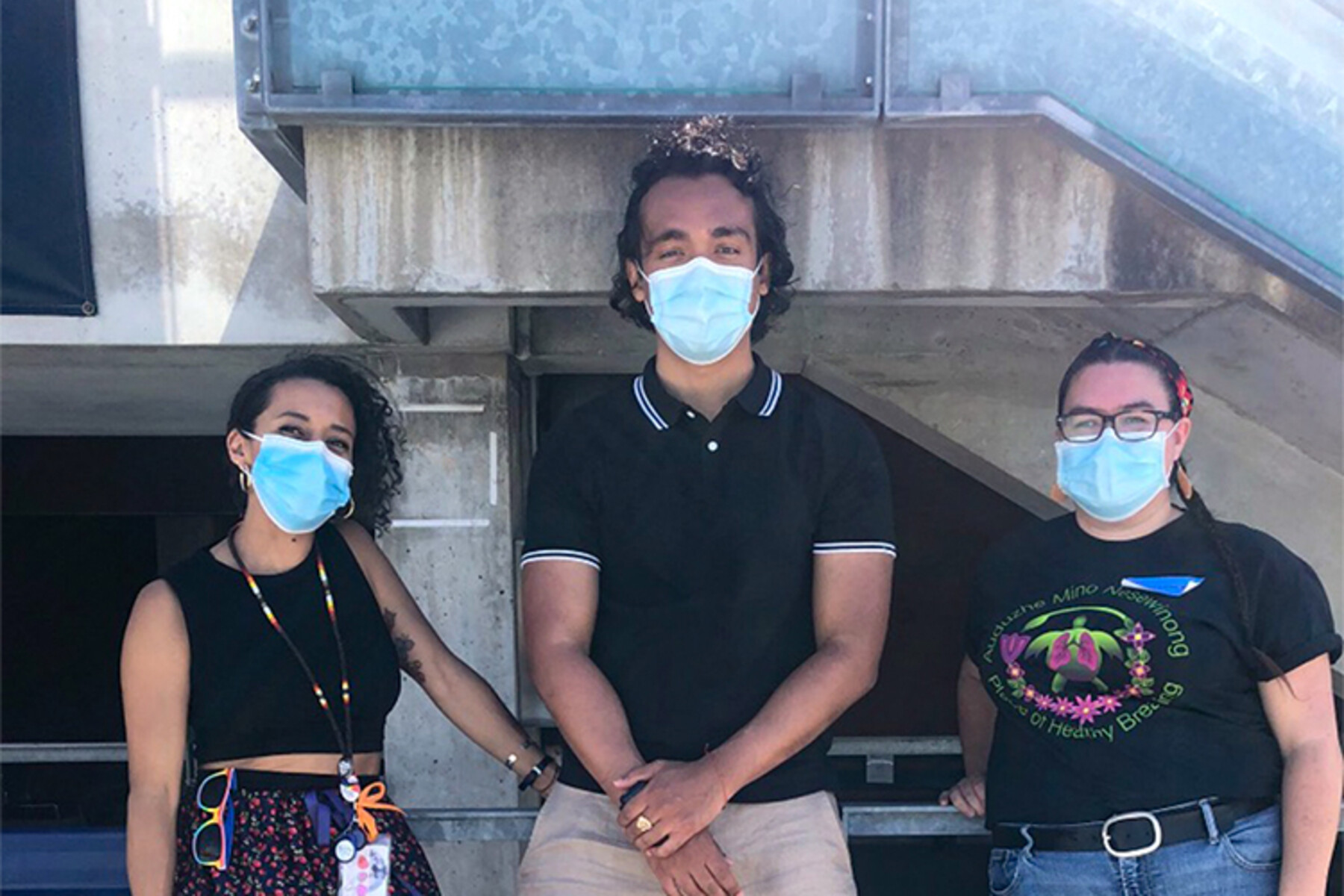 "It was like a full circle moment. It was amazing to do special work helping out the community in a culturally safe and culturally appropriate way," he said. 
"It's really important that these types of initiatives are led by Indigenous academics, clinical workers and community organizations. I was aiming to be a good ally, trying to support the clinic the way I could." 
Bowyer worked closely with Stewart during his graduate studies on community-based projects in the Greater Toronto Area, helping out with previous clinics within the University Health Network. He began working as the logistics manager at Auduzhe about a month ago. 
"This is part of the reason you go into public health," he says. "You want to be there for people, especially those who are under-represented or marginalized."
Beth Ali, executive director co-curricular athletics and physical activity programs, says she's pleased Varsity Stadium could host the clinic. 
"As home to U of T's Sport and Recreation division and the Varsity Blues, we know the importance of teamwork for success and if there's anything this pandemic has taught us, it's how much we are reliant on each other," she says. "Through partnerships and co-operation such as this one, we are committed to providing resources to support the First Nations, Inuit and Métis community."