U of T Hosts Global Health Expert Paul Farmer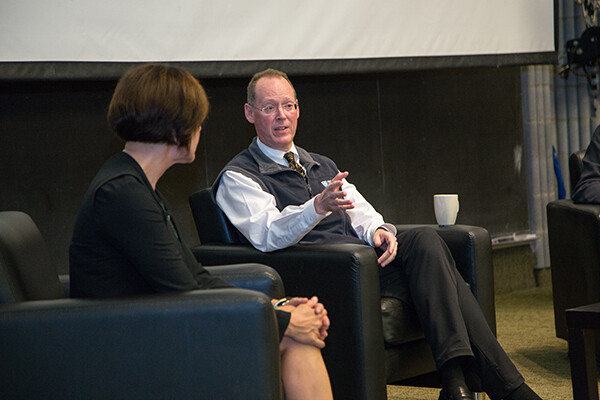 Despite the challenges of social inequality, war and natural disasters, global health equity is possible.
That message was delivered to a packed U of T auditorium last week by Dr. Paul Farmer, Kolokotrones University Professor of Global Health and Social Medicine at Harvard Medical School. The renowned international global health scholar was participating in the Department of Family and Community Medicine (DFCM) Global Health Speakers Series. The event also included talks by Professor Lynn Wilson, Chair of DFCM, and Professor Howard Hu, Dean of the Dalla Lana Faculty of Public Health.
Farmer said he has never encountered a health problem that could not be solved with adequate resources in any of the places he has worked, which have included Rwanda and Haiti. He emphasized the need for diversified health care delivery that includes hospitals, health centres and community-based care to address pressing challenges.
"Investing in health care is an important means of investing into solving the problem of poverty," said Farmer. "Without the support for adequate health care we will not be able to break the cycle of poverty and disease."
An anthropologist and physician, Farmer co-founded Partners In Health — a non-profit health organization committed to improving the health of the poor and the marginalized around the world. He has written extensively on health, human rights and the consequences of social inequality. Farmer also serves as U.N. Special Adviser to the Secretary-General on Community-based Medicine and Lessons from Haiti, as well as Chair of the Department of Global Health and Social Medicine at Harvard Medical School.
Partners in Health's work in Haiti spans over 20 years. One of their biggest challenges came after the 2010 earthquake which devastated that nation and left its health care and medical training systems in ruins. Partners in Health's response to the challenge was building a teaching hospital in central Haiti. The University Hospital of Mirebalais, which opened last year, is proof that partnerships and a holistic approach can help effectively rebuild local health care and medical training systems. Today, the solar-powered hospital provides quality health services to the local population in Mirebalais, as well as secondary and tertiary care to patients from all of central Haiti. The University Hospital is also a training ground for the next generation of Haitian nurses, medical students and resident physicians.
"Universities are amazing institutions. They have the power to transform entire fields," said Farmer. "Teaching hospitals and universities cannot afford to be ambivalent about linking community services provision with training and generating new knowledge. They have a beautiful mission: to do something good, take care of people, teach others and learn something in the process."
Farmer was enthusiastic about the passion of students he met at U of T, and also the mission of the Canadian chapter of his organization. Partners In Health Canada works with sister organizations in Haiti and Rwanda to deliver high quality health care and advance social justice.
In her remarks, Wilson highlighted the importance of long-term partnerships between organizations in solving global health equity challenges. She noted the long-standing Toronto Addis Ababa Academic Collaboration, a partnership between U of T and Addis Ababa University that builds capacity and sustainability in health care education and other professional programs in Ethiopia. Locally, faculty from U of T Medicine are actively involved in Toronto's Inner City Health Associates' programs, which provide health care and health-related services to Toronto's marginalized population.
"We are proud of the work we do, but we have so much potential to do more," said Wilson. "Partners in Health and Dr. Farmer's work and accomplishments are truly inspiring. They show that if you dare to dream big, partner with the right people and work relentlessly, you can get remarkable results."