U of T Giving Day: Celebrating the Power of Philanthropy at Temerty Medicine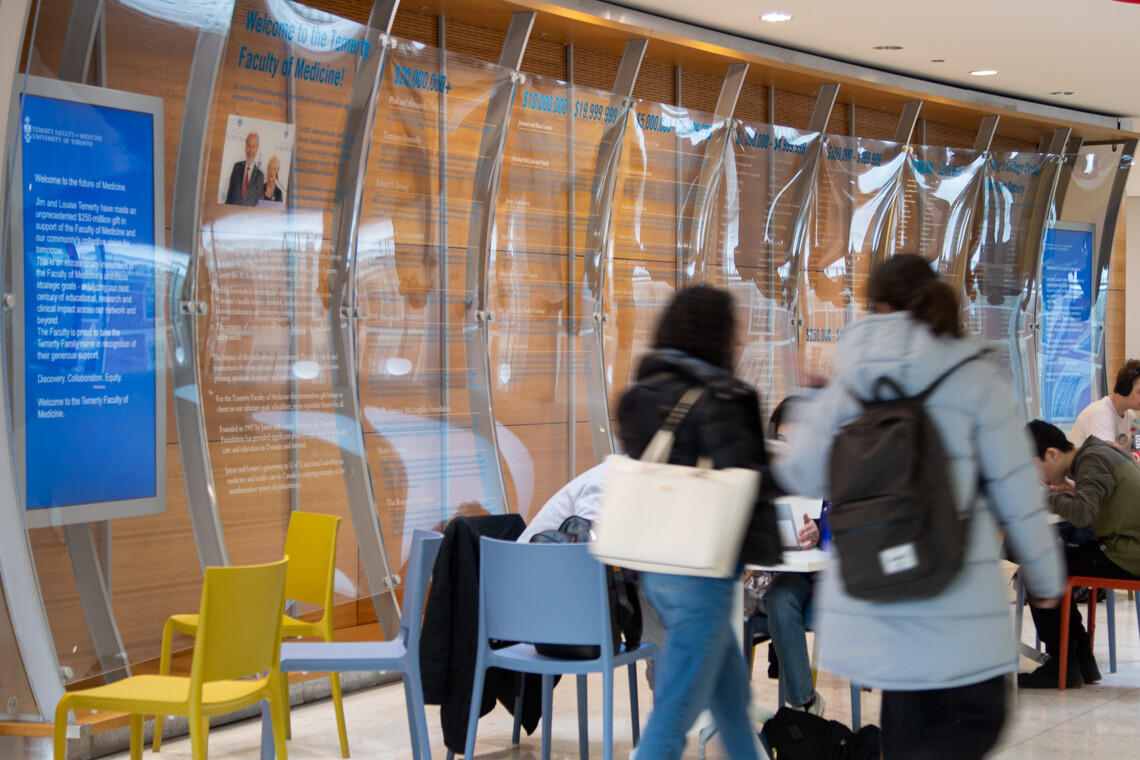 One of my favorite campus spots lies just inside the south entrance to the Medical Sciences Building (MSB). There, on a wall near a popular coffee spot, stands a series of glass panels engraved with the names of Temerty Medicine's most generous supporters from throughout our Faculty's long history.
I'm often struck, as I observe the donor wall, that its lengthy list of names represents only a tiny fraction of the tens of thousands of individuals, families and organizations who have supported (and continue to help support) vital Temerty Medicine priorities, such as student awards, chairs and professorships, equipment, facilities, as well as our innovative research and education programs.
Every one of us — each learner, researcher, clinician and staff member, in every department, division and program — benefits from these donor contributions, both directly and indirectly. Temerty Medicine simply couldn't advance our mission on the same scale we do today without our strong foundation of philanthropic support.
That's why I'm proud to share that on March 28th , Temerty Medicine will be joining the broader U of T community in marking the University's very first Giving Day.
Giving Day at Temerty Medicine will be a celebration of the extraordinary impact philanthropy has on our community. It will also be an opportunity to offer our collective thanks to our generous supporters — including our many alumni, as well as faculty and staff members who, in addition to their contributions as researchers, clinicians, educators and administrators, join me in also supporting Temerty Medicine as donors.
For all those on campus on the 28th, I hope you will join members of the Dean's Executive and me in dropping by special Giving Day festivities near MSB's donor wall which are being planned by our Office of Advancement. There are some fun surprises in the works that you won't want to miss.   
I also want to highlight that, as part of the lead up to U of T Giving Day, the University will be matching all new donations up to $1,000 (to a total of $100,000) to its Giving Day priority funds between now and March 28.
In Temerty Medicine's case, our priority fund is the planned transformation of the nearly 60-year-old MSB west wing with the new James and Louise Temerty Building — a leading-edge research and education facility that will foster a greater culture of collaboration and inclusion for generations to come.
As an added incentive for those who may be interested in contributing above and beyond the University-wide $1,000 matching threshold, Temerty Medicine will be providing additional matching funds. This will ensure all new gifts to the Temerty Building, of any amount, made from now until Giving Day, will be matched dollar-for-dollar.
You'll hear more from me and the Office of Advancement about U of T Giving Day in the weeks to come. For now, I hope you'll save the date for the March 28th on-campus festivities, and that you'll join us in celebrating the incredible impact philanthropy has on our work advancing health education, research and care in Canada and beyond.
In appreciation,
Trevor Young
Dean, Temerty Faculty of Medicine
Vice-Provost, Relations with Health Care Institutions
University of Toronto