Twenty Years of Inspiring Great Young Minds
Alumni, Education, Faculty & Staff, Students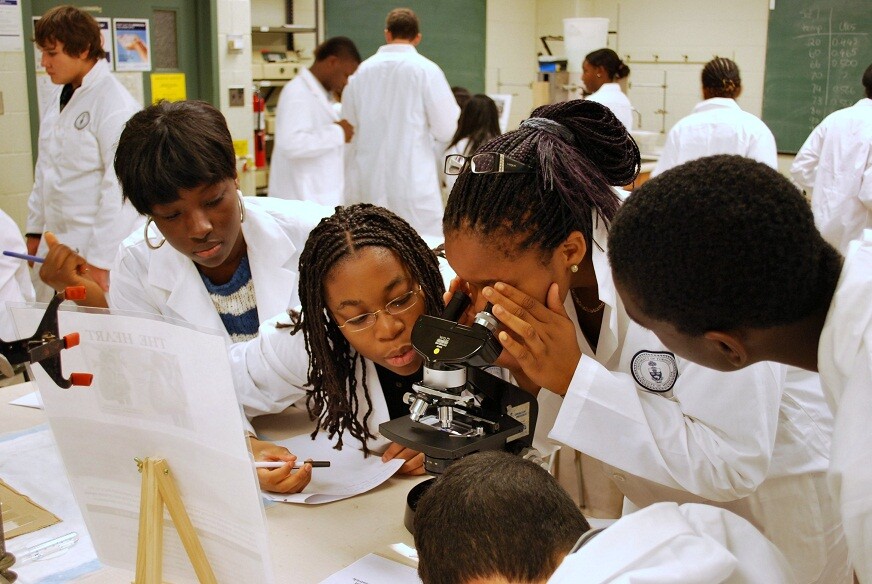 Dr. Husam Abdel-Qadir is a 33 year-old cardiologist, echocardiography fellow and clinician-scientist-in-training whose impressive career began in the summer of 1998.

Abdel-Qadir spent his summer in the U of T's Medical Sciences Building as part of the Summer Mentorship Program (SMP). The program is run by the Faculty of Medicine's Office of Health Professions Student Affairs and helps young people from traditionally underrepresented communities find careers in health professions. Aspiring health professionals participate in research opportunities, clinical activities and job-shadowing by working with U of T students, faculty and staff. This year, SMP is celebrating its twentieth anniversary, and Abdel-Qadir couldn't be prouder.

"I'm very grateful for SMP because it's a big part of how I got to where I am today. As a new immigrant, I was constantly bombarded with messages of what a young black man should be. I didn't have positive influences outside of my family to look up to. The program gave me a network of great role models," says the Sudanese-Canadian, who immigrated when he was 16.
More than 700 students have completed the program since it started in 1994. Nearly all of the alumni have gone on to postsecondary education, with 21 per cent of those students enrolling in professional health science programs.

SMP also played a critical role in shaping Dr. Joel Kerr's career.

"I thought I wanted to be a researcher, but my first SMP placement made me realize the lab life wasn't for me. Then I shadowed a chiropractor and instantly fell in love with that form of medicine and health care. I wouldn't have discovered chiropractic medicine if it weren't for this program," says Kerr. He took on SMP students for the first time this year, and says the experience was very rewarding.
The SMP has evolved a lot over the last two decades, with the OHPSA recently introducing placements at TAIBU Community Health Centre and Anishnawbe Health Toronto, health centres serving marginalized communities.

The program — which is a collaboration among the Faculties of Medicine, Dentistry, Kinesiology and Physical Education and the Leslie Dan Faculty of Pharmacy, Lawrence S. Bloomberg Faculty of Nursing and Factor-Inwentash Faculty of Social Work — has accepted a record 59 participants this year. An increasing number of Indigenous students are enrolling and the OHPSA is offering a full Indigenous curriculum and chaperone support driven by Rochelle Allan, of the Faculty's Office of Indigenous Medical Education. SMP alumni can participate in ongoing mentorship through the DISCOVER program and complete a new year-long public health research project.

One thing that hasn't changed is the program's impact. Terese Mason-Pierre is a second-year bioethics student at U of T who completed the SMP in 2012. Her experience cemented her decision to attend U of T for undergrad and eventually become a physician.

"I shadowed a really interesting physician at Mount Sinai. I really loved that placement. The group activities were also great because they allowed me to meet like-minded people," says Mason-Pierre. Her favourite memory was hearing from internist Professor Herbert Ho Ping Kong (Department of Medicine), who has been mentoring SMP students for 16 years.

"We hope the SMP is a transformative and meaningful experience for the participants — it certainly enriches the professional development of our health sciences student mentors. It's a privilege to see the SMP students become more confident and ambitious as they strive for their educational and professional goals. We want them to believe they can do anything they set their mind to," says Professor Leslie Nickell, Associate Dean of OHPSA.

The OHPSA is hosting a 20th anniversary celebration on Wednesday, July 30. You can find more information about the event here.