Temerty Students Support High School Students with Career Education
Alumni Profile, Students, Alumni, Faculty & Staff, Inclusion & Diversity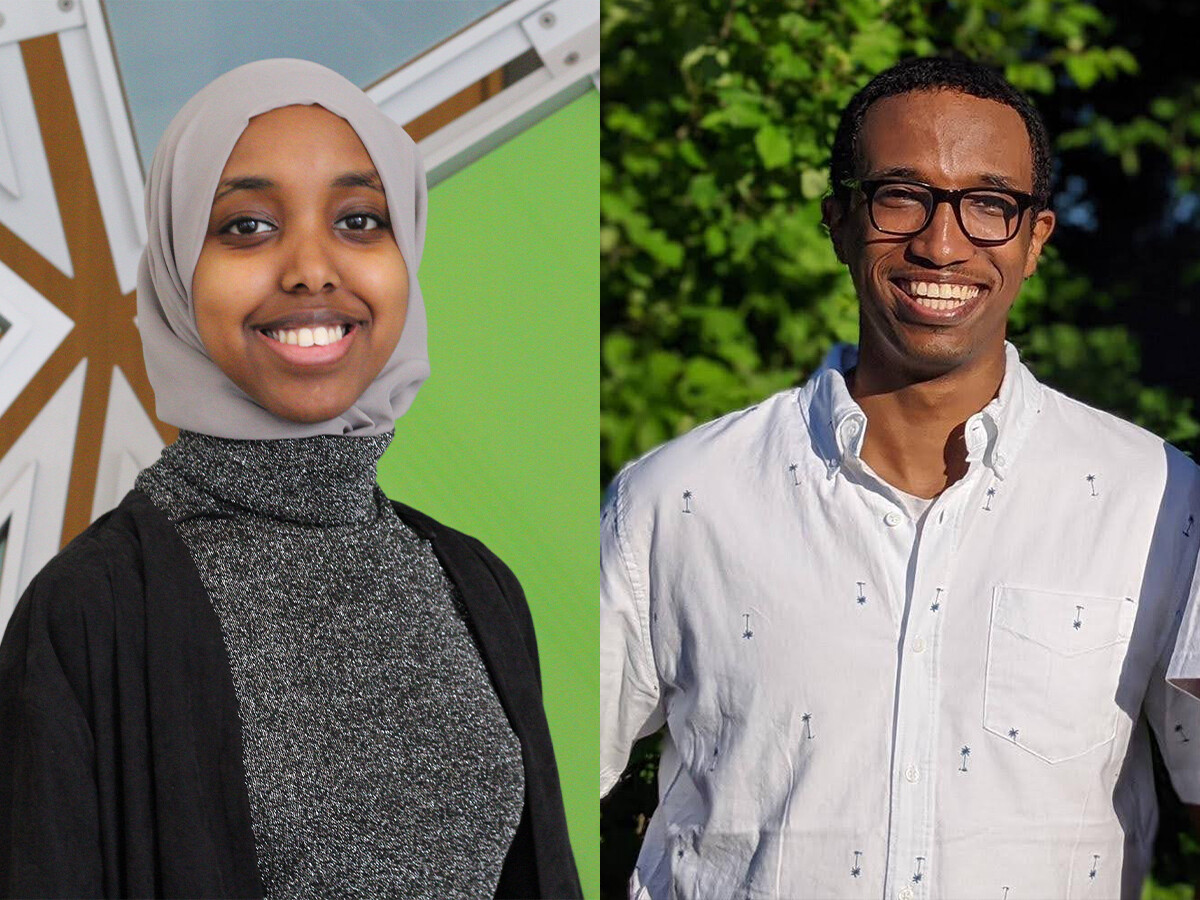 When Ikran Ali and Zaky Hassan were teenagers in high school, they didn't know careers doing laboratory medicine and health research were options.
But, fast-forward to today.
Now, Ali is a fifth-year PhD student in Temerty Faculty of Medicine's Institute of Medical Science doing orthopaedic research on bone healing and infection, and Hassan is a second year Master's student in Temerty Medicine's Department of Biochemistry investigating the structural biology of coronavirus spike proteins.
Ali and Hassan are part of a team of Somali students at U of T who have created a virtual high school career fair, to educate younger students on job possibilities for their futures.
Ali and Hassan recently talked to Gabrielle Giroday about a virtual career fair that's happening Nov. 27 and 28, as part of the work they do with an organization called Say Somaali.
Giroday: How did the idea for a virtual career fair begin?
Hassan: In 2019, University of Toronto's Somali Students' Association had an event called Demystifying Graduate School, and we had an amazing turn-out of almost 100 people. We realized there was a big gap that needed to be filled in the Somali community with respect to connecting mentors and mentees. It led us to consider more programming around mentorship. 
Our goal for the virtual career fair is to feature Somali professionals from different fields, like STEM, health care, business and the social sciences, so they can share their experience and insight with high school students.
One of our speakers is Sahra Gedleh, a family physician in Mississauga and lecturer in Temerty Medicine's Department of Family and Community Medicine.
We've already had nearly 70 high school students sign up to attend. The event is open to registration for high school students across Canada.
Giroday: How did the planning of the event come together?
Ali: Say Somaali does different programming – like a mentorship program, a fellowship program and summer internships for high school students.
This past summer, we decided we wanted to host a large virtual career fair where high school students could opt into sessions of their choice. We worked with four high school students interning at Say Somaali to identify what kind of experts they wanted to hear from.
We already have more than 100 Somali professionals who are part of what we call our success network, and who have been an amazing help to us so far. They were the first people we looked at as speakers.
Giroday: Why did you decide to take part in this initiative?
Ali: I think in terms of medicine and health research, a lot of high school and university students who are interested may not know where to start or know what they need to be doing to be competitive for applying to university programs. Of all our panels at the virtual career fair so far, the one on medicine and health care is the most popular.
It's really important that students are exposed to fellow students, researchers or doctors who have the same upbringing. Being able to connect with someone who can tell them the ins-and-outs of the role is also crucial. I know students who are struggling and trying to figure out, 'What should I do when I'm finishing up high school or undergrad? Or, what programs should I do?'
Hassan: The primary draw of having people who are part of our success network is identifying mentors who had the same upbringing and had to overcome similar barriers, and can speak from a place of familiarity.
Giroday: How do your personal experiences inform your involvement?
Hassan: One of the things that I've noticed is that a lot of students in high school, if they have an interest in science career, they think of medicine immediately. I feel like is that there isn't really an exposure to other science careers.
When I was in high school, I had no idea I could do what I'm doing now, that I could go to graduate school and be a scientist or principal investigator in the future. Part of the role of the virtual career fair is to show the range of careers in STEM (Science, technology, engineering, and mathematics), and that it goes beyond medicine. And, it's to show people there are a plethora of resources and hopefully a group of people who can help you get there.
Ali: Zaky and I are both first-generation Somali-Canadians and we don't know of a lot of people who have done these career paths before us here in Canada. The goal is that once we're in those positions, we can provide guidance to others 20 to 30 years from now.
In my case, I discovered a lot of information by accident. All I knew was that I wanted to do research but I didn't really know the pathway, and so it was trial-and-error and trying to figure out how to get into it. I wanted to be in a lab, and I read faculty profiles to explore the people I wanted to work with.
I guess part of why I do this is trying to make that realization easier for others, so they don't have to experience the same hurdles. If you know what you're doing, then it's easier to know where you're going.
Giroday: What is your top piece of advice for younger students?
Hassan: One of the barriers at the undergraduate level is getting into a lab in the first place, as a research student. As soon as you get that first experience, I feel like it's much smoother to access every other research opportunity going forward.
It took me a lot of effort and energy to get my first research position. I would say going through that experience, I learned what I was supposed to have done. So now I can give them advice on how to get their foot in the door more easily and pursue their passions.
In general, and especially for someone who has no access to peer or faculty mentors, I would say that mass cold-emailing is not as effective as one might think.
A much better alternative is to start your search by narrowing down your field of interest and making your contact with the professors you approach very brief and very specific.
PIs are way more likely to give their energy to someone who is genuinely interested in their work. I also recommend people look at formal programs like the Research Applicant Support Initiative (RASI), and other resources, if they are available.
Ali: I think it's all about putting yourself out there and letting people know what your interests are, so that whoever is in a position to help you, can. Learning skills and finding people who can tell you what to do and how to succeed is ideal.
I tell people to find others who share their interests, and to identify programs that can help, like this one.