Team Hopes to Create Reusable Surgical Mask
Research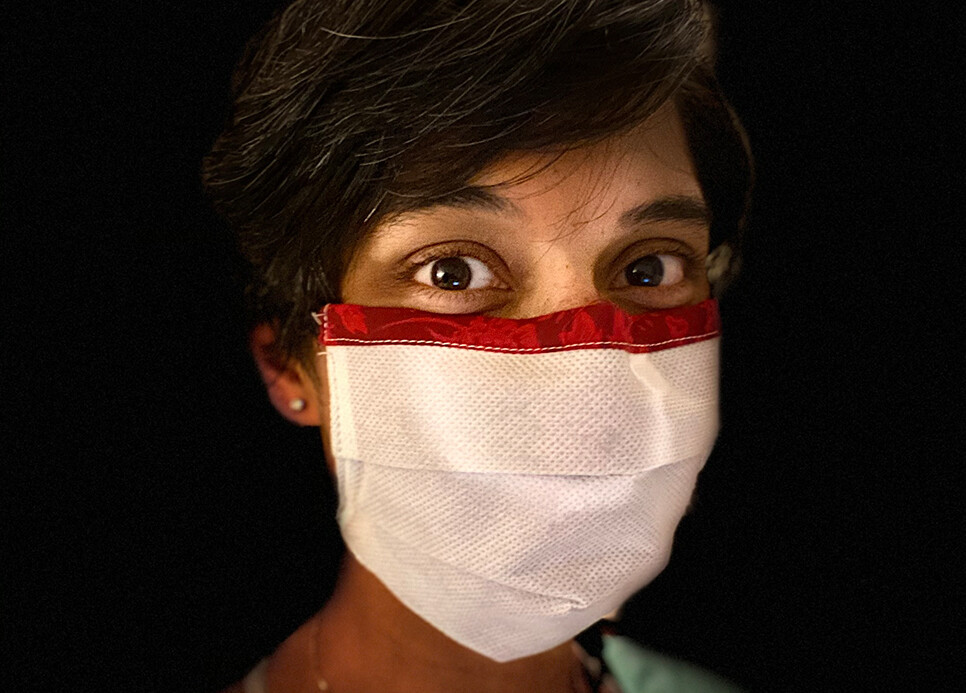 When COVID-19 emerged as a public health threat in early 2020, organizations representing health care workers sounded the alarm over concern over shortages of personal protective equipment (PPE). Now, two members of U of T's Temerty Faculty of Medicine are working toward a sustainable solution to ensure frontline workers who need PPE can access it. Denyse Richardson, an Associate Professor in the Department of Medicine, and Reena Kilian, Lecturer in the Department of Family and Community Medicine lead the ROSE Project. They've joined forces with a textile engineer, an architect, sewists, a knowledge translation expert and a medical student to establish the Rose Project. Richardson and Kilian spoke with writer Erin Howe about their progress so far.
What's the significance of the initiative's name?
Kilian: ROSE stands for "re-useable open-source equipment."
Our plan is to develop a Level 1 face mask that people in health care settings can wash and wear multiple times. The disposable, blue, pleated surgical masks you see are a good example of a Level 1 face mask.
With our design, we hope to match the degree of protection those masks offer. And, we want ours to feature materials that can be repeatedly cleaned and worn again.
Why is this work important going forward?
Kilian: Disposable surgical masks are only intended to be used once. They're made of plastic and aren't biodegradable or recyclable.
We hope if there's a reusable alternative developed, use of the disposable masks will fall, so we can protect the planet while we protect each other and ourselves.
A lot of eco-friendly practices people had adopted before the pandemic stopped in the beginning of the pandemic over concern about spreading the virus — people had to stop using reusable bags at the store or travel mugs at the coffee shop. So, there's a sense that we've really stepped back from the progress we'd made toward sustainability as a society.
The other issue has to do with supply and demand, which becomes less of a concern once there are reusable options. When we can wear a mask again, you don't need as many of them, which we hope can help lower the risk of a shortage like we saw in the spring.
What inspired this work?
Kilian: We both work with patients who live in group homes and work closely with personal support workers.
At the beginning of the pandemic, personal support workers had no PPE, which put patients who were already vulnerable at a disadvantage.
Richardson: Our idea came out of a desire to protect people who were lacking PPE when supply was low. We especially wanted to assist people working in shelters, long-term care homes and group homes. These people work with some of our most vulnerable populations and need to protect their clients and themselves.
Why is it important to you to ensure your design is shared as an open source?
Kilian: We've all been affected by the pandemic and we want these efforts to benefit as many people as possible. There are already a few examples of other open-source PPE, like the Prusa face shield, which anyone with a 3D printer can make.
The idea is that if you're someplace where you don't have access to medical masks, either because there is a shortage or you're in a remote area, this design will allow you to make a mask that you know will provide protection equal to what a standard surgical mask would.
For that reason, we have also focussed on using materials that are accessible to anyone.

You mentioned that you're looking to use easily accessible fabrics. What does this mean?
Richardson: Our aim is to use materials someone could get no matter where they are. For example, one of our team members is looking at sheets from a discount retail chain with locations all over North America.
Who is funding your work?
In addition to crowdfunding, we've also received two grants —one from the UHN Department of Medicine Academic Health Science Centre Alternative Funding Plan (AFP) Innovation Fund and one from the UHN Family Medicine Toronto Rehabilitation Institute AFP Special Project Fund.
What's the status of your work, and what do you hope will happen next?
Richardson: When we started this work, we thought it would be done in a few months, but it's a complex process.
With the help of James Scott, a professor at the Dalla Lana School of Public Health, we're trying to define what and how materials can be used to create a mask that will satisfy important criteria — filtration and proper fit while maintaining breathability.
In his aerosol lab, Scott's also been testing our masks against two standards — US National Institute of Occupational Safety and Health, also known as NIOSH, and American Society for Testing and Materials, better known as ASTM.
The next step is to find out how many times the masks can be re-used while maintaining their protective qualities. We're hopeful that will happen in the year ahead.