Staying Healthy: Ensuring Wellness for Faculty and Learners
2021 Dean's Report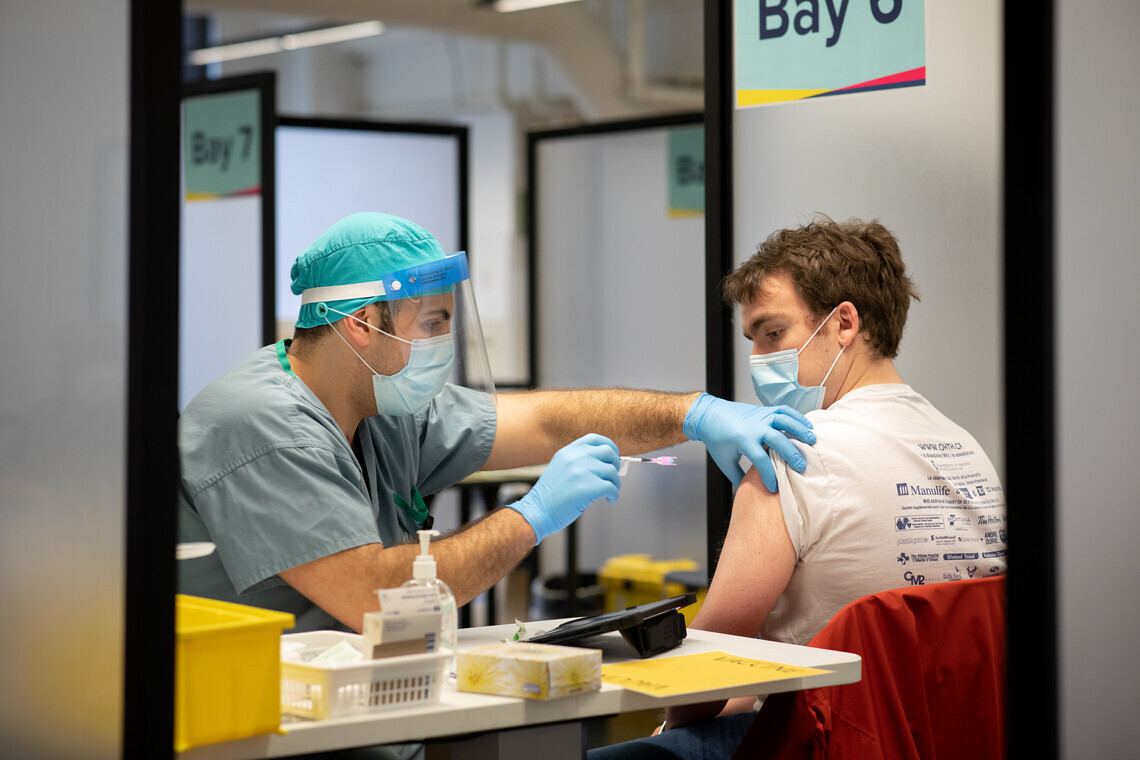 The global pandemic has disrupted every aspect of daily life for Canadians, and this is especially true for those in the healthcare profession. As one of Canada's largest medical schools, many of the researchers and clinicians battling the pandemic on the frontlines are also learners or faculty with the University of Toronto's Temerty Faculty of Medicine.
At such a critical time, the Faculty is ramping up some important health and wellness initiatives. Earlier this year, Dr. Julie Maggi started her role as Director of Faculty Wellness while her counterpart, Dr. Heather Flett, was appointed the inaugural Temerty Professor of Learner Wellness. (Prior to her new role, Flett was the acting director of the Postgraduate Wellness Office.)
Together, the pair will develop guiding principles and lead initiatives and policies that help both learners and faculty thrive in this age of uncertainty and into the future.
Although wellness is frequently treated as an afterthought in workplaces, Maggi and Flett aim to integrate health and wellness not only into the faculty but also into Toronto's healthcare ecosystem. "The healthier we are at work, the more productive and satisfied we are, and the less mistakes we make," says Maggi.
In November 2020, Maggi worked with leaders at the Temerty Faculty of Medicine to launch a Community of Practice. The initiative engages 30 Faculty and healthcare leaders in monthly facilitated online discussions to share challenges they face in supporting wellness within their units and propose potential approaches and solutions. "We're working hard to ensure that leaders learn how to operationalize the concept of wellness in their organizations, and specifically learn how important it is to target interventions at the level of the organization," says Maggi.
In addition to faculty, learners at the U of T have also been affected by the pandemic, says Flett. In the past wellness initiatives have been siloed within programs or focused on just undergrad or postgrad learners, she explains. "My new role spans both programs and allows for collaboration and a broader approach to wellness initiatives."
As the inaugural professor of learner wellness, Flett's goal is to build programs and policies that support learners across the spectrum of medical education—all the way from undergraduate students to medical residents and research fellows and ultimately into staff and faculty roles. 
"When we're looking after people who are unwell, it's easy to put others needs ahead of our own, says Flett. "But there needs to be a strong commitment to being well ourselves…at all levels of medical education."
Under normal circumstances, learners in the health sciences face challenges such as balancing their personal lives and commitments/relationships with academic and clinical demands in addition to managing fatigue from after-hours and shift work. These obstacles have only been heightened since the start of the pandemic. "When learners are early on in their career, they see grief and loss and trauma related to patients. They are also introduced to new environments to regularly changing clinical and lab environments and have to adjust really quickly," says Flett.
Early initiatives to promote health and wellbeing within the faculty are already showing promise. In 2020, the Temerty Faculty of Medicine launched a series of webinars examining topics such as wellbeing and parenting during the pandemic, the health impacts of racism, and—of special interest to healthcare professionals-- compassion fatigue. The webinars have been a huge hit, attracting anywhere from 200 to 700 people.
And this is all just a start for Maggi and Flett.
"Although these are challenging times, it has made us appreciate how valuable we are to the faculty and the healthcare system," says Maggi. "COVID has shown us that humans are our most valuable resource. We have to take care of ourselves, and we have to build systems and structures that allow us to thrive in our workplaces."