Robotic Rehab: Start-up Helps Kids with Cerebral Palsy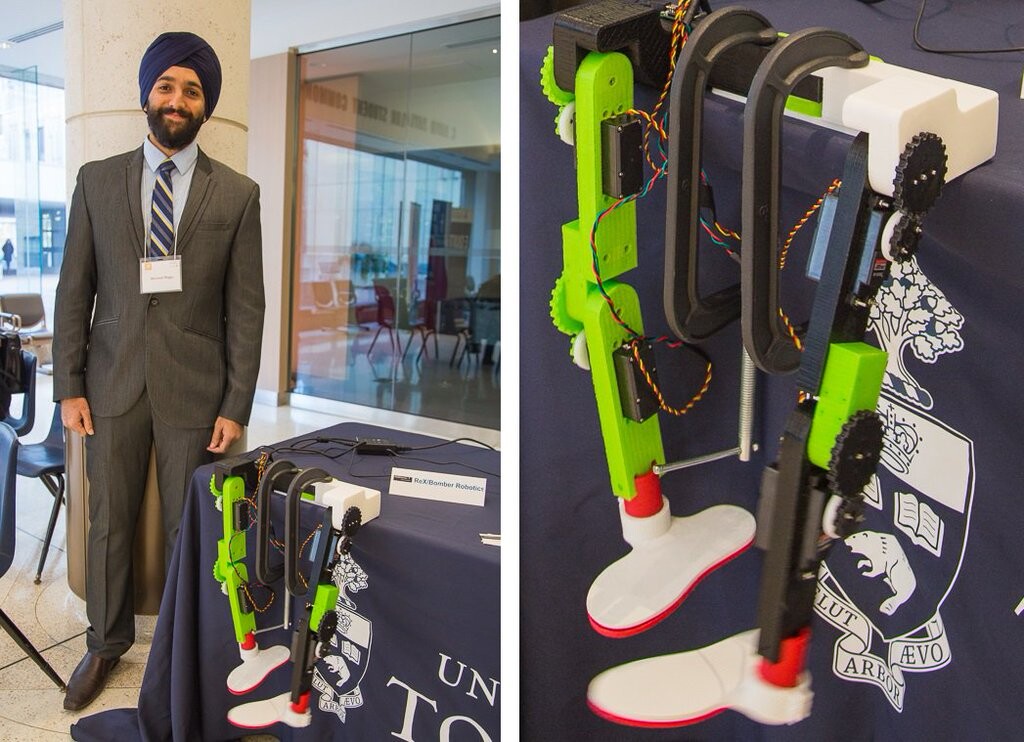 Manmeet Maggu
, an MBA candidate in Entrepreneurial Studies at the Rotman School of Management is one of the inventors of a rehabilitative exoskeleton called ReX, which is being developed with the support of two U of T-based accelerators. He recently spoke with Faculty of Medicine writer
Erin Howe
about the device.
What inspired you to create ReX?
I have a background in robotics and I've always been interested in creating something like the superhero Ironman's powered suit of armor. While I was working toward my degree in mechatronics engineering at the University of Waterloo, my friend Rahul Udasi and I started to build an exoskeleton arm for fun. While we were doing that, I learned my nephew has cerebral palsy. We started to investigate what rehabilitation options existed for him and found out there really wasn't anything out there for an individual. There've been some promising results shown by research into robotic rehabilitation to help improve a child's gait, posture and balance. The whole idea is that repetitive motion can help repair parts of the brain that are damaged, and support other parts of the brain to compensate and learn to control these muscles.
Why was it important for you to develop technology that could help these children at home?
When Rahul and I began looking for possible robotic exoskeleton solutions, we discovered the equipment used in the research costs about $400,000 and it needs trained experts to operate it. It's at least a half-million dollar solution, if not more. At that price, many hospitals can't afford something like it, let alone individual families. That's when I thought I could apply my robotics background to this problem.
Right now, kids and their families don't have many options. Even if a hospital has one of the machines used in the existing research, people may not be able to go often enough to get the full benefit of the therapy. The other option is to have a physiotherapist come to your home a few days a week to do repetitive motion manually for a few hours. But, this is costly for families, too.
Our goal is to create a robotic exoskeleton priced between 20 and 30-thousand dollars.
How does ReX work?
A child would wear ReX for a few hours a day. Our current design is wall-powered, with a long cable attached to it, so the idea is to use it inside. Down the road, we hope to create battery powered versions so kids can use it more easily in different places and while doing different activities. But for now and for kids like my nephew, the primary need is for exercise therapy equipment in the home a few hours a day.
How far along is your concept?
We're still in our prototype stages, and we have one prototype essentially ready. My partner and I are planning to give the next prototype to my seven-year old nephew in India, where the expensive equipment in the research isn't available. That will be a proud day.
Who at U of T has mentored or inspired you?
I've been getting a lot of help from Helen Kontozopoulos at DCSIL, the Department of Computer Science Innovation Lab and from Joseph Ferenbok at the Faculty of Medicine's Health Innovation Hub, H2i. With the help of these accelerators, I was able to secure the Banting & Best Centre for Innovation and Entrepreneurship Fellowship grant, and that grant will be especially helpful when it comes to building the next prototype.
What's the next milestone for ReX?
We've talked with a rehabilitation clinic in London, Ontario called Able Bionics, which already has parents of children with cerebral palsy asking them about devices like the one we're creating. They want to purchase one of our exoskeletons and help distribute them, too. With their help, we plan to work with some alpha customers and use their feedback to fine tune our product.
We also want to build partnerships with clinics and hospitals. Ideally, children would go to a clinic for introductory rehabilitation first, then purchase ReX for their own use at home. This would give children the benefit of both worlds – regular rehabilitation at home and periodic guided therapy and feedback in a clinical setting.
As we move forward, we're going to look ways we might be able to help people with other conditions like traumatic brain injuries, multiple sclerosis and other motor neuron diseases. 
Cerebral palsy, which can affect a person's body movement and muscle coordination, is one of the most common congenital disorders of childhood. Research has shown that walking can help facilitate neuro-development in kids with the condition, but there are few inexpensive ways to do this. A new start-up at U of T is working to make robotic rehabilitation more affordable and accessible to children with cerebral palsy.