Rich culture and resilience: Reflections on Operation Remote Immunity
Research, Education, Faculty & Staff, Giving, Inclusion & Diversity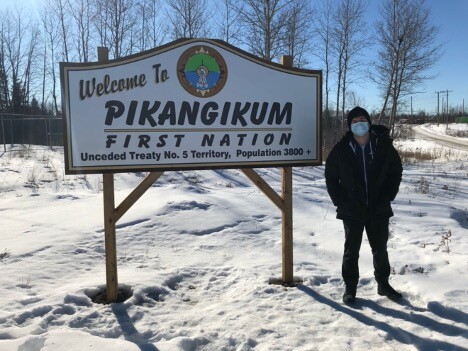 A group of Temerty Medicine residents and faculty members are among the health professionals travelling to remote Indigenous communities to provide COVID-19 vaccines as part of Operation Remote Immunity.
The plan was co-developed by Nishnawbe Aski Nation (NAN), which represents 49 First Nation communities across northern Ontario, and, which provides air ambulance and critical care transportation. During the initiative, vaccination teams will travel to 31 fly-in NAN communities. The goal is to complete Operation Remote Immunity by the end of this month.
A dozen resident and faculty physicians from Temerty Medicine were selected to take part in Operation Remote Immunity, which attracted an overwhelming amount of interest from potential volunteers.
The group included three Indigenous physicians from the Temerty Mecdicine community, Lisa Richardson a professor of medicine, Indigenous health lead for the Department of Family and Community Medicine Suzanne Shoush and fourth-year paediatrics resident Dr. Ryan Giroux, to support the teams' learning and model culturally safe care provision.
"What was most inspiring for me was the leadership of the FN communities. Ornge provided the technical service and medical expertise in partnership with the communities, a true example of collaboration to support self-determination," says Richardson, who is also strategic advisor in Indigenous health, vice-chair of culture and inclusion in the Department of Medicine and an internist at University Health Network and Women's College Hospital.
"In remote communities, accessing specialized medical care means flying to larger centres. This may result in the introduction of COVID-19 and compromise access to care," says Jillian Baker, a paediatrics professor. "COVID-19 in Indigenous communities could be devastating, and I wanted help provide these deserving communities an opportunity for primary prevention against it."
Baker, who is also a pediatrician and pediatric/young adult hematologist at Unity Health Toronto spent a week in Pikangikum First Nation to assist with the vaccination efforts. Family medicine residents Drs. Kate MacNaughton and Elliot Lass were also part of the group that travelled to Pikangikum, which is about 300 kilometres northeast of Winnipeg. MacNaughton has a focus on global health and vulnerable populations and Lass is specializing in care of the elderly.
Drs. Shima Shakory, a first-year resident in family medicine and public health and preventive medicine and Jonathan Kwong, a second-year emergency medicine resident both spent a week in Sandy Lake, about a 45-minute flight from Sioux Lookout.
Recently, the group shared some of their reflections with writer Erin Howe.
What was it like to work in Pikangikum?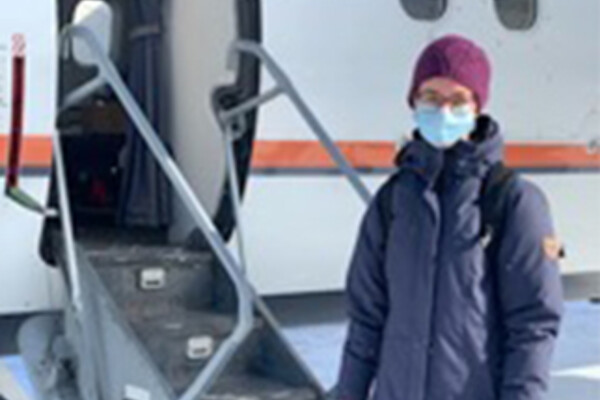 MacNaughton: Pikangikum is a special place to work: its population is about 3000, many community members are young and Ojibwe remains the first language for most residents. There are also challenges related to implementing a vaccination program including a lack of access to transportation and historically low rates of vaccination. In addition, people face ongoing injustices that contribute to ambivalence toward outside health programs.
Our group was joined by an Independent First Nations Alliance (IFNA) team and by local members of the Canadian Rangers — their involvement was crucial to the initiative's success. We worked in small interdisciplinary teams, conducting home visits to answer questions and to provide vaccines to people who were homebound for various reasons. These visits were a wonderful opportunity to get to know the people and the community better.
My IFNA and Canadian Ranger colleagues were respectful and friendly. Our teams were united and motivated and we exceeded local expectations for vaccine uptake.
Taking our constructive interactions as a matter of course illustrates my privilege as a non-indigenous person living in Canada. After all, if one of my indigenous co-workers presented to a hospital in Ontario, would they have had the same implicit presumptions of fair and unbiased treatment from our health care system?
What did you do to ensure you were providing culturally safe, culturally sensitive care?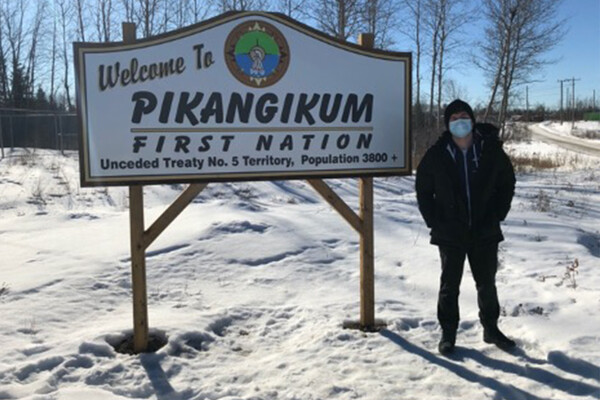 Lass: Before we left for Pikangikum, our team participated in the San'yas Indigenous Cultural Safety Training Program. The course taught us about their history and traditions and the moral imperative to ensure that they were vaccinated in a safe and effective manner.
One of the first people I met while in Pikangikum was Dean, an educator and community leader. He manages the community Facebook group which almost every adult in Pikangikum follows. We decided to do a live Q&A about the COVID Vaccine which helped us virtually interact with the broader community.
I built a great relationship with Dean and am in awe of his tireless work. He visited the vaccine site daily and inspired his community to get vaccinated. On our last day, we even did a mask exchange — we gave him a University of Toronto mask and he gave us a Pikangikum mask. It was symbolic of the connection we made on our shared mission.
Spending the week in Pikangikum helped me learn more about the resilience of the Indigenous people. This experience has inspired me to go back to indigenous communities in the future as a family physician.
What were some of the highlights of this experience?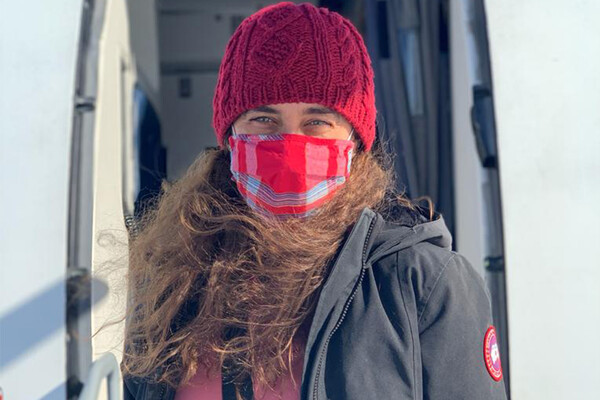 Baker: It was a wonderful experience to be invited into people's homes, hear their stories and learn from them.
Working with the young local Rangers in the community was a highlight for me, as well as the interactions with community leaders who were welcoming and dedicated to ensuring every member of their community had access to the vaccine.
Having learned about the suppression of the First Nations languages and culture, I was heartened to hear Ojibwe shared across generations, from the elders to the youth. I was impressed by the community's pride and the spirit of perseverance in Pikangikum.
What was it like to work with local leadership in Sandy Lake?
Shakory: The community had amazing local leadership. Months before any vaccine approval, they started building vaccine confidence by discussing safety and efficacy over the radio. They advertised the mass vaccination clinic before and during the campaign using Facebook Live and the radio. The Oji-Cree community is home to about 3,000 people, including nearly 1,350 vaccine-eligible adults.
The local team set up the mass vaccination clinic before our arrival, with best public health practices in mind. There were nine vaccination stations, distanced across the elementary school's gymnasium. When clients entered the clinic, they met greeters and screeners. Runners guided clients to the vaccination stations, where we immunized them. Once vaccinated, clients were walked to the waiting area. After waiting 15 minutes, they exited, following a one-way flow. The clinic functioned smoothly thanks to the Sandy Lake community and Ornge leadership.
Reflecting on our experiences, our team was inspired by the communities, and we would each be honoured to return in the future.
Are there any interactions that had a particularly big impact on you?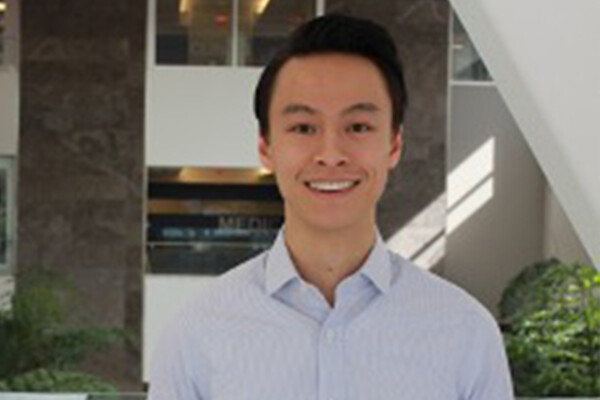 Kwong: I previously spent a few weeks volunteering in Pond Inlet, Nunavut and jumped at the opportunity to learn more and to do the meaningful work of providing vaccinations.
One interaction that stands out to me took place during a home visit to vaccinate a community member with limited mobility who was unable to attend the vaccination clinic. When I entered the house, I saw what could be described as impoverished living conditions. Having seen similar conditions in Nunavut, I was reminded of the systemic causes of such striking inequity in Canada, the disadvantages Indigenous communities face and the privileges we have living in Southern Ontario.
Before we vaccinated the community member, their family requested a smudging ceremony to pray for their loved one's safety and that of their community. It was a privilege to be part of such an intimate, traditional ceremony. After the vaccine was given, we bonded over childhood memories and family pictures. I left feeling I'd learned some beautiful lessons about the family and their culture.
Although I initially thought this experience would prompt me to reflect on my own privilege and the inequities facing Indigenous communities, I was also inspired to learn more about their rich culture and the resilience.