Revolutionizing Hospital Care with Artificial Intelligence: Dr. Muhammad Mamdani
Research, Education, Alumni, Faculty & Staff, Giving, Partnerships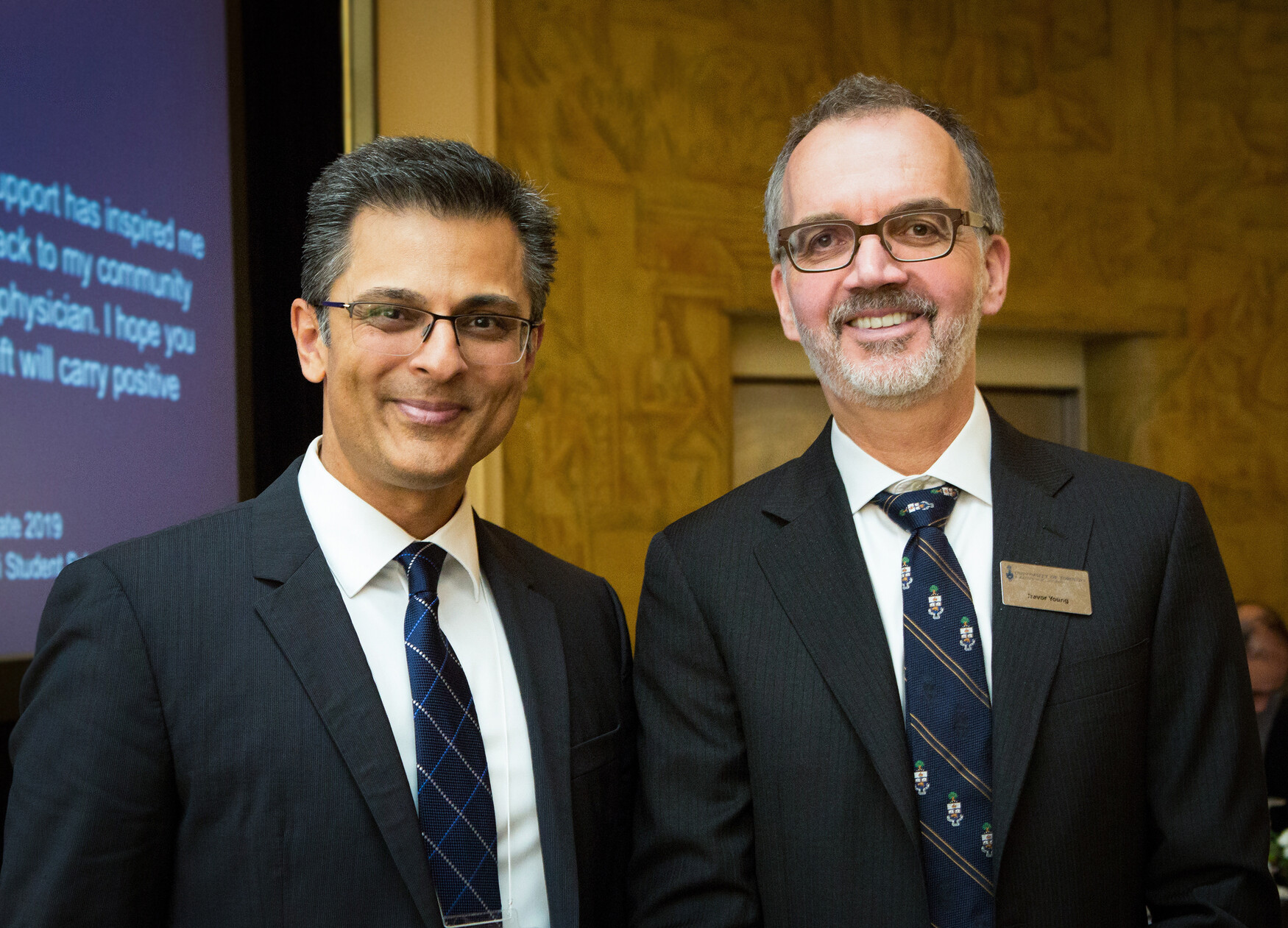 "Everybody loves going to the hospital, right?"
Dr. Muhammad Mamdani jokingly posed this question at the annual Dean's Lunch, an event hosted by Dean Trevor Young to thank and celebrate Faculty of Medicine donors.
Mamdani, who is a professor in the Faculty of Medicine, discussed how one of the biggest issues at a hospital are wait times. A patient going in with an intense headache will first wait to see a physician and then might have to wait to take a CT scan and then wait again for the results.
"It's exhausting, simply waiting for diagnostic results, for example, could take up to six hours," said Mamdani. "But, what if I told you we could reduce wait times for these results to minutes by using artificial intelligence?"

That's exactly what Mamdani has set out to do as the founding director of the Li Ka Shing Centre for Health Care Analytics Research and Training (LKS-CHART).
According to Mamdani to make transformative changes in care, the first step is to break silos. He said, "U of T Medicine is a research powerhouse and has great partnerships with hospitals yet we find researchers, clinicians and scientists often work in silos."
To change this, Mamdani has been collaborating with engineers, statisticians, clinicians, computer scientists and administrators at St. Michael's Hospital to use innovations in data analytics to advance patient care. Six months ago, the team implemented deep-learning algorithms that make use of real-time data to predict patient volume, staffing requirements and determine each patient's needs.
"It's essentially a forecasting tool — think of how we use a mobile weather app to tell us if a snowstorm is coming tomorrow," explained Mamdani "This system works similarly and can tell you on a Wednesday afternoon there will be 82 patients in the emergency room, nine who need mental health care and five who need intensive care. It has already helped us make better staffing decisions and has helped to ensure patients are receiving the appropriate care for their needs."
And that's just the start. Mamdani, who was recently named vice president of data science and advanced analytics at Unity Health Toronto — the first such leadership role in Canada — is also working on an artificial intelligence platform that can detect medical imaging abnormalities more accurately and efficiently, reducing image result wait times to less than five minutes.
"It really is amazing to see how far we have come not only in terms of developments in artificial intelligence and smart technology but their application," said the Faculty of Medicine's Executive Director of Advancement, Darina Landa. "There's so much potential to make meaningful change in health and health care, and it is inspired and fueled by the generous and visionary support of our donors."

Dean Young agreed saying, "It is through the collective impact of students, educators, researchers and donor support that we have reached new heights, including ranking sixth in the world for our clinical, preclinical and health programs by Times Higher Education."
U of T's Chancellor Rose Patten spoke about her own very personal connection to the Faculty of Medicine and her support of scholarships and student awards. She said, "This is one of the world's top faculties of medicine — a place that is forging new paths in care and treatment and pushing the boundaries of discovery. Together we are keeping it at the top."
Mamdani encourages the U of T Medicine community to continue to push further with collaboration among different departments and faculties. Mamdani explained, "One of the worst things you can do is ask a clinician to build a data network or ask a computer scientist to solve a clinical care issue — but, by bringing their expertise together they can drive change where we are no longer waiting for the future, we are creating it."