'Ready to Make a Difference': U of T Medical Students Graduate in the Pandemic
Students, Education, Alumni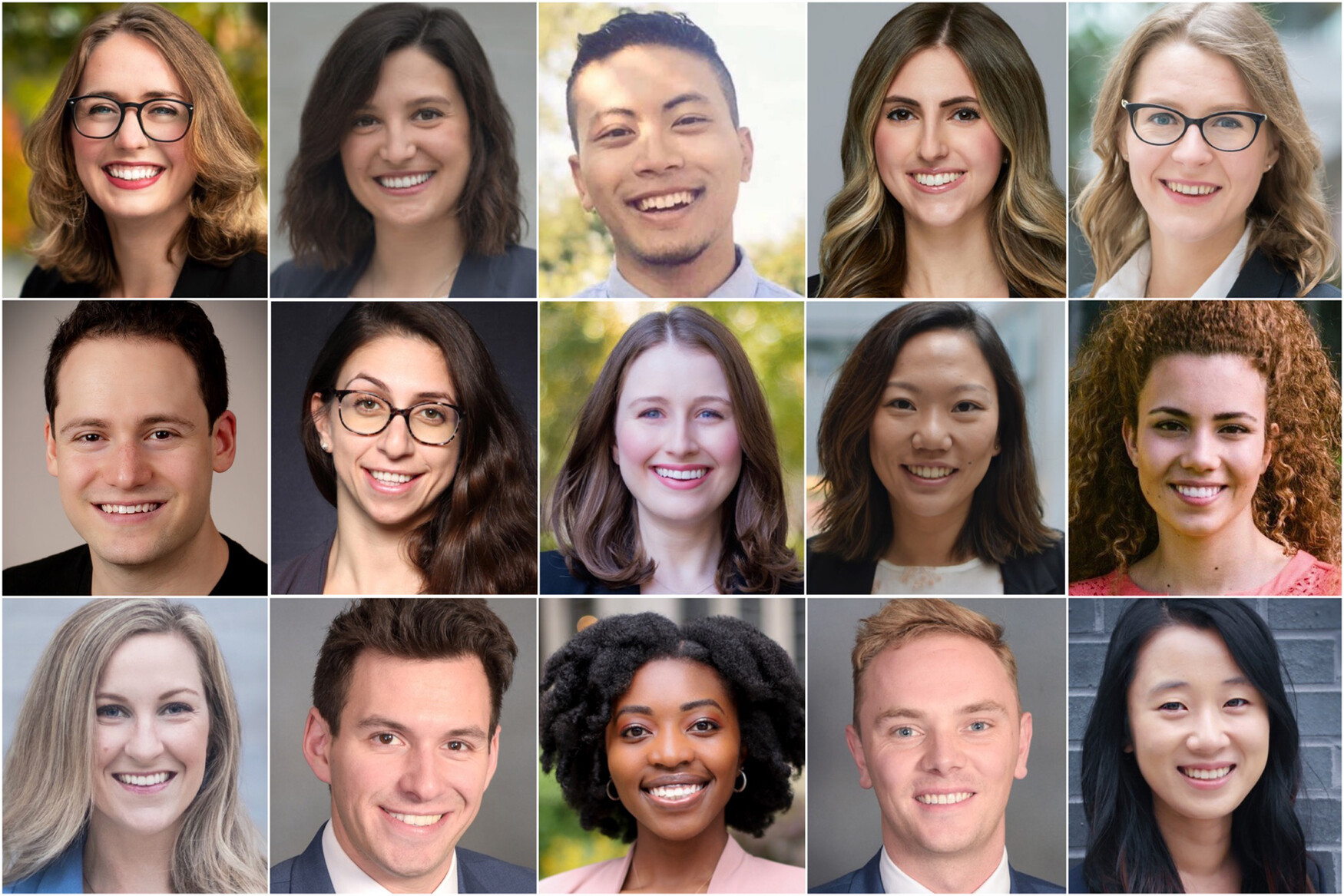 As students in the University of Toronto's MD Class of 2T0 prepare for a virtual convocation ceremony, they share thoughts on graduating during a global pandemic and what they look forward to as they begin their residencies.
Aggie Gao
Next: Internal Medicine, Western University
The quote "appreciate what you have before it's gone" is often painted on inspirational banners and wall posters, but I don't think I have truly reflected on and appreciated my privileges until this pandemic. Although the first few weeks of quarantine were understandably filled with anxiety and a sense of helplessness, I have now gained a better awareness of what is important to me when life has been stripped to the bare minimum. I've learned how vital art and music are to my mental health, how social connection soothes loneliness, and how I need to truly embrace this opportunity of family time as I'm heading into a residency.
I'm very excited about the new independence and responsibility that comes with being a resident. As mundane as it may seem, I'm looking forward to signing orders and taking on more leadership roles in patient care. I'm also looking forward to discovering opportunities outside of clinical practice — such as medical education — through mentorship and forums. It can be overwhelming to think about the endless choices I can make during residency, but that's what is  so exciting about the beginning of something new!
Aidan McParland
Next: Emergency Medicine, University of British Columbia
The biggest thing to realize is that you have to do what you are passionate about, not what you think your classmates or the new person in the bar is going to think when you tell them what you do. So much of the last four years has been leading up to "The Match." But this year, because of the pandemic, I haven't even had a chance to talk to 90% of my peers about our next steps. I am happy I chose the specialty I did because it's what I love, rather than what I wanted to put on my Match shirt.
The uncertainty has been painful, but after matching to my residency, I finally felt a sense of direction in everything that I am doing, from studying, to research to my relationships. Part of the beauty of emergency medicine training is the wealth of opportunities and a fellowship year worked into the training. I am over the moon to start training in a field that I love and to use the fellowship year to diversify my future practice in environments outside the emergency department.
Alex Kilian
Next: Paediatrics, University of Toronto
The pandemic has thrown all plans for 2020 out of wack. And this was distressing to someone like me, who's a planner. But many hidden lessons have come out of the uncertainty and chaos of this year. Prefacing this with the fact that I am in an incredibly privileged position where my family and I are safe, sheltered, and healthy, one of my coping mechanisms during this time has been gratitude. While this is certainly not the ending to medical school that I or most of my classmates imagined, I am trying to focus less on what we have lost and more on what this time has allowed me to do. In addition to the chance to contribute to initiatives around PPE and wrapping up research projects, I have taken time to nurture personal growth and reflection. As a big planner, and someone who's usually on the go, it can be hard for me to slow down. For better or worse, COVID-19 has essentially forced me to learn to slow down. I've become better at being more mindful and present, focusing on gratitude and the things I can control rather than the things I can't. As residency starts up, life will certainly get busy again, but I think the ability to stay present will allow me to enjoy the ride.
I always loved clinical work and always felt that clinical practice is where I belong. But nonetheless, being away from the clinical environment has left me with an even stronger appreciation for how much I love the practice of medicine. I love working in teams, and with patients and their families. And currently, I miss the relationship building and storytelling piece of medicine, while I am not in the clinical environment during the pandemic. Stories are everywhere in medicine, and I am looking forward to the chance to continue to listen to and share in patient stories in residency.
Brigida Bruno
Next: Family Medicine, University of Toronto
I think I can speak on behalf of all my classmates that this was not the end to medical school that we envisioned. The end of fourth year was met with termination of our clinical placements, the postponement of our licensing exams, the cancellation of our in-person graduation ceremony, cancelled vacation plans and postponed celebrations. Though it is unfortunate that we will have a muted celebration this year, I take solace in knowing that we have support from U of T, and together we continue to take the necessary steps to flatten the curve and lessen the negative impacts of this pandemic.
I have also been truly inspired by the sense of community at both UofTMed and within our country in response to this pandemic. Seeing people come together to help with PPE, food drives, senior care, contact tracing and research is a true testament to the resilience and fortitude of our community. I look forward to helping on the front lines in July, and learning about ways we can improve our healthcare system for the future.
I am thrilled to begin my journey to become a family physician, with the opportunity to form trusting relationships with my patients, provide comprehensive care, and meaningfully impact the community. I look forward to learning from the amazing preceptors, peers and patients during my time at UofT family medicine.
Given this incredibly uncertain time in medicine with the COVID-19 pandemic, it is bitter-sweet to be a resident. On one hand I worry about the uncertainty, suffering and lasting effects of this virus on patients, front-line workers and our community as a whole. But on the other hand, I look forward to being on the front lines and learning from leaders in our healthcare field, on how to be adaptable, flexible and creative to help reduce the impact of this pandemic. I hope we can all come out of this pandemic more resilient, and apply the knowledge we have gained to further improve our healthcare system!
Chika Oriuwa
Next: Psychiatry, University of Toronto
Unlike any other class, we're faced with a terrifying time to start residency during a global pandemic. But what I want to say to my class is that we are ready for this. We were made for this. We have endured, and we will be great.
I'm so excited to practice medicine in a way that has more responsibility and more independence. I feel like I can help so many patients. And continue to learn through the entire process. But for the first time — being able to enter into that clinical space confidently and know that I can impact patients' lives is what I'm most excited for. And in the context of the pandemic — to be present, to be on the front lines. To provide care as a physician at this time is such a privilege despite how uncertain and terrifying everything is right now.
Eliza Pope
Next: Paediatrics, University of Toronto
I guess a pandemic is kind of like a really, REALLY big curve ball for the world. If life was a TV show, 2020 would have been the big twist. And like anything unexpected in life, it throws you for a loop. Graduating through this time has been confusing, guilt-inducing (Netflix doesn't seem as noble when your profession is on the front lines), relaxing, stressful, isolating, affirming, and everything in between. And in many ways, you have to let yourself feel it and roll with the emotions —  you do the best you can. Some people have been able to see it as an opportunity to be philanthropic, to change things for the better. Some, to dig deep and do some work on themselves while their contributions to medicine are on standby. And some people are just taking a much needed break. And they're all valid approaches. There's no manual for dealing with this, and everyone's improv is meant to look a little different.
Sometimes there's the temptation to think that once you enter medicine you have to become "serious". And it makes sense, the stuff you see and deal with is serious. But you also have to leave room for the reality that we're all just people. And that sometimes the impact you have on your patients and colleagues doesn't come from being serious. It comes from being human. From messing up, coming clean, laughing, sometimes even singing, and remembering that in the end, we're all in the same boat.
Gabby Ghanem
Next: Physical Medicine and Rehabilitation, McMaster University
While this is an incredibly disorienting time for all us, I have been trying to look at the silver lining. I think that, big picture, we may never have this kind of time again. At times it has felt expansive and daunting, as once you've deep cleaned your apartment twice you're forced to sit still. I haven't sat still like this since 2011 (when I graduated high school) probably. I haven't made the time to go on long walks, garden, or start projects like building my own bike in so long and it has been surprisingly refreshing. I feel more connected to people as we talk about what we did (or didn't do) today. The biggest lesson this uncertain time has given me is a newfound gratitude for "normal". Little things can go a long way and I hope I can carry this with me with more awareness as we move into a new normal.
I'm looking forward to exploring a field that I am so passionate about — and I get 5 years to do it! I'm excited to join a new community and to explore a new city. I'm terrified of what feels like being thrown into the deep end but excited about the growth that will come from that. It all feels like a new beginning which holds so much potential. It reminds me of the feeling I had before coming to medical school — unknowingly naïve but excited to get to work. I'm also excited to watch the many friends I made throughout medical school grow into the physicians we all looked up to so much.
Jordan Lewis
Next: Obstetrics and Gynecology, University of British Columbia
No matter how hard we try to avoid it, this work has a way of surprising us. Nobody expected a worldwide pandemic to get in the way of everything we have been working for — both with respect to planned travel and celebrations, and with our ability to utilize our training to contribute on the front lines. I do feel that there was a general restlessness and frustration among myself and many of my classmates — but from this came an overwhelming sense of solidarity, camaraderie and productivity.
I think that this experience has shifted my perspective with respect to the inevitability — and importance — of uncertainty. Not only does it make us appreciate everything we take for granted, but it goes back to that message I said at the beginning: it's crucial to remain open to the opportunities that come from uncertainty. Instead of focusing on lost opportunities, our class has done an incredible job of discovering new ones. It's been a privilege to learn alongside the inspiring and determined individuals in the 2T0 class, and it's been particularly special to see how so many have reframed their perspectives during this crisis to make meaningful changes. I know that the future of medicine is bright.
Lily Wang
Next: Otolaryngology - Head and Neck Surgery, University of Toronto
Graduating during the pandemic has produced an interesting mix of emotions. It's certainly disheartening to not be able to graduate with classmates in-person or celebrate with friends moving across the country for residency. On the other hand, it's provided time to reflect and take a breather after the chaos that was this last year. It's also been a demonstration of the humanism present in medicine. Students across all four years have participated in a number of great initiatives including organizing PPE donations, connecting with seniors, providing childcare for healthcare workers, and developing virtual curriculums. I'm proud to be part of a community of such caring and innovative peers.
I'm looking forward to developing proficiency and comfort with assessing and treating patients in an area of medicine that I'm passionate about. I'm excited for a lot of 'firsts' — signing my first prescription, packing my first nose, inserting my first tympanostomy tube ... I'm less excited about my first solo call, but throughout medical school I've learned a significant part of growth is overcoming challenges, so in some respects I'm looking forward to showing myself I am capable in ways I have yet to discover.
Michael Elfassy
Next: Internal Medicine, University of Toronto
Despite the challenges that a pandemic brings both academically and personally, it is inspiring to see colleagues on the frontlines making a direct impact in our communities. This is what we have been working toward since orientation week — this is why we went into medicine.
I was fortunate to work with residents who were outstanding teachers and mentors throughout clerkship. I am most excited to pay it forward with medical students and be surrounded by such a supportive environment of trainees.
Patricia Palcu
Next: Internal Medicine, University of Toronto
None of us anticipated we would be graduating medical school amid a pandemic. We see our friends and mentors in residency working so tirelessly and parts of us wish we could be there to help. So, we are helping in ways that we can virtually. Some people are organizing PPE donations, creating COVID-19 information resources or virtual curriculum content, or mentoring the third-year students. We don't have the opportunity to celebrate convocation in person with our teachers, family and friends, or travel with our friends before starting residency. However, I feel grateful to be able to stay home, spend time with my family, and have unlimited time to do some of the things I love — like baking unnecessary amounts of banana bread, staying active, learning to play the piano, hanging out virtually with friends and sleeping!
I'm looking forward to being a real doctor (in training) in the specialty that I love, having more responsibilities, learning a ton, getting to know my patients and doing it all alongside inspiring colleagues and mentors. We are all a bit nervous to start residency amid a pandemic but I am grateful to know that we will have the support of our colleagues and mentors and have the amazing opportunity to make a big difference in our community during this difficult time.
Sam Keshen
Next: Orthopaedic Surgery, University of Toronto
Overall the biggest challenge about graduating during a pandemic has been accepting the unfortunate reality that we won't get to celebrate our accomplishment of graduating together as a class and as a group of friends. This was a big milestone and it would have been nice to pay tribute to it in a more typical way. However, in the grand scheme of things, this is a small price to pay, relative to the current global situation. I think one positive about the way this has all played out is that it's been a very good topic to reflect upon, and I feel like I have developed some new perspectives as I move into a new and challenging chapter of my life.
With residency coming up, I'm really excited for the opportunity to have more responsibility placed on me, and to finally get to practise medicine with some semi-independence. It's a big step to become the person signing the orders and it's something I am looking forward to.
Sarah Freeman
Next: Obstetrics and Gynaecology, University of Toronto
I have been inspired by the many ways the graduating class is taking care of one another and stepping up for our community during this pandemic. I've seen classmates advocating for housing for the homeless population, collecting PPE donations, and providing free childcare for healthcare workers. We have also been checking in on and supporting each other through this stressful and lonely time. This pandemic has reminded me that the MD Class of 2T0 is excited and ready to make a difference in the world.
I am looking forward to becoming a surgeon! Surgery is something that you only get a taste of in medical school, so I can't wait to get more experience in the operating room and learn from the amazing mentors in the Department of Obstetrics and Gynaecology in the years to come.
Victoria Reedman
Next: Adult Neurology, University of Toronto
COVID seems to come in waves. Some days it feels terrible and like a huge loss that must be grieved, other days it feels like a blessing in disguise that brought the world together and taught us new ways to connect and make bread. I get most upset thinking about not getting to hug my classmates and cheer for them as we walk across the stage and accept the title "MD". That said, I have never been more proud of the medical profession. It is the ultimate time to help people in need. I'm glad that my classmates and I will be fresh new faces energized and eager to contribute when July 1 rolls around.
In residency, I can't wait to dive into the parts of medicine I *really* love. I feel so lucky to be entering neurology and spend the rest of my life pondering the mysteries of the brain. It is such a treat. Not to mention, that I'll probably never have to step foot in an OR again!
Yezarni Wynn
Next: Psychiatry, University of Toronto
I'm really proud to have collaborated with medical students from other Ontario medical schools to initiate the "PPEs for HCPs" initiative, sourcing PPE from our community to support frontline healthcare, shelter and homecare workers. Another highlight was my friends, family and loved ones surprising me with a "Zoom" graduation ceremony — all the attention was very embarrassing but it was incredibly thoughtful.
I'm looking forward to working with patients who may feel like they have no one else to turn to in terms of their mental health issues. I hope to be a reliable provider for them to seek help from in times of crisis. I also hope to use my new role as a resident physician to promote their health both in and out of the clinical context — which means more campaigns, protests and petitions!