Play by U of T Doctor Celebrates Canadian Cancer Hero
Faculty & Staff, Research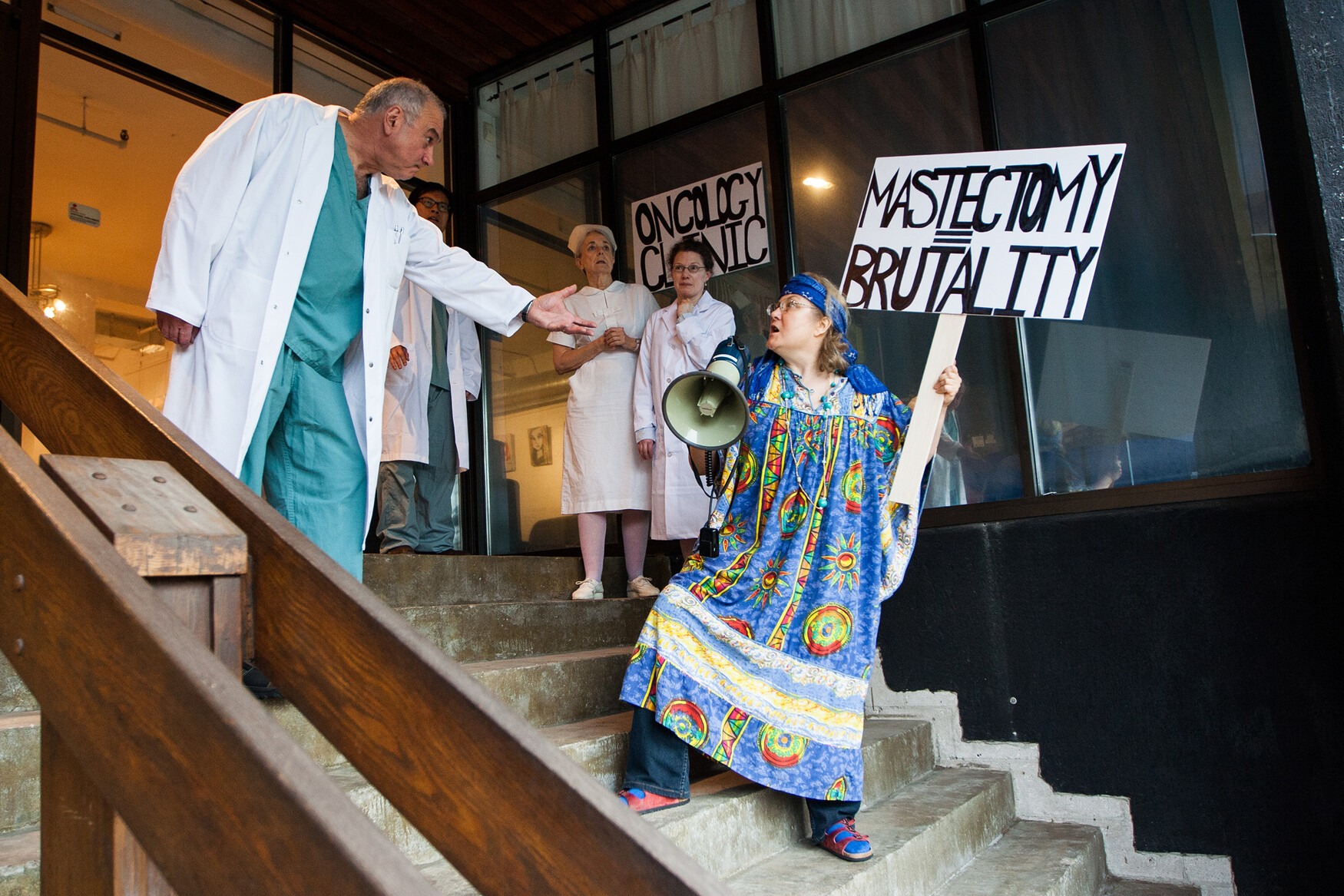 Treating cancer by day and writing plays by night — this is the career of doctor and dramatist Charles Hayter, whose new show looks at the life of Vera Peters, a Canadian oncologist who changed the treatment of breast cancer and Hodgkin's lymphoma.
The play — RADICAL, which premieres at the Toronto Fringe Festival in July — follows Peters as she meets a breast cancer patient at Princess Margaret Hospital in 1972. The patient refuses to have a radical mastectomy, even though it is the only treatment available at the time.
Peters later discovers that breast-preserving surgery is as effective as mastectomy, but must fight to legitimize her findings — and to humanize a medical system that trivialized the views of female patients.
"Vera is a very interesting character," said Hayter, a Professor in U of T's Department of Radiation Oncology and an oncologist at Credit Valley Hospital. "She was a woman and an oncologist at a time when very few women went into medicine, and she completed medical school at U of T."
"She took an interest in oncology when her mother developed breast cancer and received treatment at Toronto General Hospital from Dr. Gordon Richards, a pioneering radiotherapist. Vera later apprenticed with him, and he became her mentor."
Hayter became interested in Vera Peters' story in 2010. He interviewed Peters' family members and colleagues, and worked on the script for three years before Toronto's New Ideas Festival accepted it for a public reading in March this year.
Peters' daughter, Jenny Ingram, attended that reading. "The play was wonderful. I was so moved, I felt she was sort of just right there, as if I could chat with her again," said Ingram. "I think all those connected with medical education, the power of medical pedagogy, the U of T and the evolution of person centered care will find this play wonderfully informative and deeply moving."
Hayter has a master's degree in drama from the University of Calgary. His solo show about a doctor who is a drag queen, Lady in Waiting, won the award for Best Writing at the Fresh Fruit Festival in New York City in 2008. His last full-length play, Eldorado Town, dealt with the history of radium and uranium in a small mining community.
"The essence of drama is conflict, and Vera Peters' conflict with surgeons over mastectomy seemed like a natural fit for a drama," said Hayter.
RADICAL will premiere at the the Tarragon Theatre MainSpace from July 4 to July 13, 2014. View details and tickets at www.fringetoronto.com.
Photograph by Sydney Helland: Edgar Chua (director), Jerrold Karch (actor, Dr. Fowler), Jane Smythe (actor, Vera Peters), Sheila Russell (actor, Rose), Susan Q Wilson (actor, Helen), Jeff Yung (actor, Dr. Frank), Charles Hayter (playwright).
Top photograph, also by Sydney Helland: Jerrold Karch (actor, Dr. Fowler), Jeff Yung (actor, Dr. Frank), Susan Q Wilson (actor, Helen), Jane Smythe (actor, Vera Peters), Susan Russell (actor, Rose).