MD Student Support and Diversity: Chantal Phillips
Students, Education, Giving, Inclusion & Diversity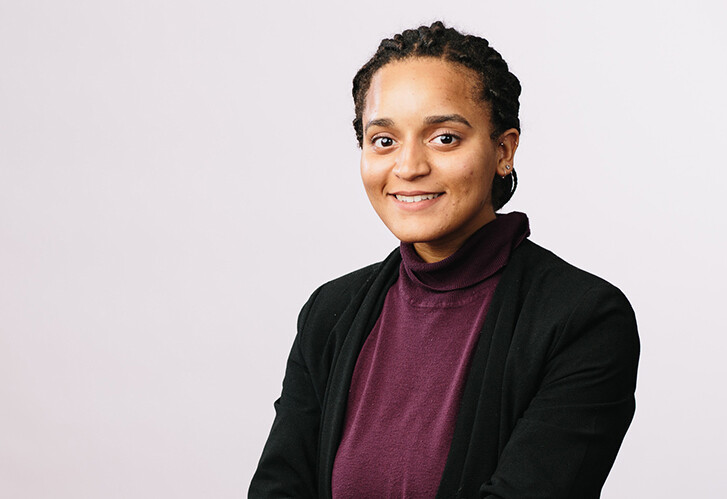 Second-year medical student Chantal Phillips says as a kid she didn't realize she was growing up in poverty.
While visiting her stepfamily, she met kids who had the opportunity of becoming doctors — something she felt was out of reach for her. Phillips credits programs like the Faculty of Medicine's Community of Support and Black Student Application Program — as well as student financial support — in making opportunities like these possible.
"Now, I am the first in my family to go to university, and will be the first to be a doctor," she says.
As the Faculty of Medicine works to support students from diverse backgrounds through various programs, including providing matching funding for donations to MD student bursaries, in the following Q&A excerpt, Chantal reflects on her own journey to medical school.
What inspired your interest in medicine?
My mother was a personal support worker (PSW) throughout my childhood and it was clear how much she cared for her patients. Having her as an example of what an empathetic health care provider looked like gave me insight and sparked my desire to emulate that in my own career.
At the systemic level, my interest in addressing health disparities in the black community was a major propelling factor. Overall, I knew being a doctor would help merge my desire to positively and directly impact lives, while also influencing social systems that have downstream effects on the morbidity and mortality of Black Canadians.
Did you know many Black health care professionals before applying to med school?
Most of the Black health care professionals I encountered were PSWs or nurses. I'd never been treated by a Black physician, despite living in Toronto and then Brampton, which have substantial Black populations.
Why do you think Black students have been under-represented in medicine?
The nature of privilege and education is multifaceted. Getting into medical school doesn't start with the application cycle. It starts the moment we're born and become learners. Black communities experience higher rates of poverty, which influences access to educational resources.
Children from families of higher socioeconomic status typically have parents with the means to support educational activities. Academic summer camps, time at the library, tutors and early mentorship are examples of privileges that establish a foundation for learning and advancement.
Furthermore, underrepresentation is cyclical. When you don't see people who look like you represented in a particular field, especially a competitive one, it can have a negative impact on your self-image and self-efficacy.
Read the full Q&A with Chantal Phillips, and find out more about the Faculty of Medicine's Black Student Application Program (BSAP)
How did Faculty of Medicine's Black Student Application Program help you get to know U of T Medicine better, and help U of T Medicine get to know you better?
The Black Student Application Program reinforces the advocacy, diversity and inclusion outlined in the U of T Medicine strategic plan. It's one thing to read a strategic plan and another to see measurable action of these documents. Investing in this stream to address an evident disparity emphasized the authenticity of these claims. Applying through this stream also allowed me to more genuinely speak about my involvement in the Black community. I was confident these initiatives would be appreciated for their full value, considering there were Black community members reviewing the applications.
How was your experience during the first term of the MD Program?
My initial transition to medical school wasn't easy. Uprooting and rebuilding your home, academic standing, social circle and community initiatives would be tumultuous for practically anyone. I got really sick at the beginning of flu season because of how much stress I was putting myself under. It was a wake-up call and made me realize I needed to alter what I was doing. I decided to prioritize my wellness and growth. Since then, I've been much happier and better integrated. I'm excited to be here and meeting so many amazing people. This might be the honeymoon phase, but I hope it persists and I continue enjoying learning as much as I do now.
The Faculty of Medicine is providing matching funding for donations to MD student bursaries, to ensure more students like Chantal receive a robust educational experience, regardless of their background or financial situation. To find out more, please contact medicine.advancement@utoronto.ca. You can also make a donation to the Dean's Bursary and Excellence Fund online.