Lauded: U of T Neuroscientist Wins Dan David Prize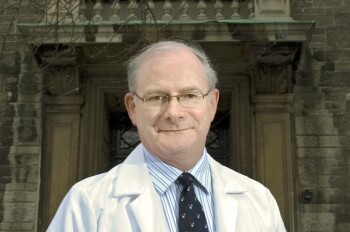 University of Toronto Professor Peter St George-Hyslop is a laureate of the 2014 international Dan David prize, for his pioneering research on Alzheimer's disease. St George-Hyslop and his team found two genes responsible for the early onset of Alzheimer's, which has made early diagnoses and treatment of the disease possible.
The annual Dan David Prize honours achievements in the three time dimensions: past, present and future. St George-Hyslop shares this year's "present" prize — themed "combatting memory loss" — with two other neuroscientists, Professor John Hardy of University College London and Professor Brenda Milner of McGill University.
"This award is a great honour, and a recognition of the many outstanding researchers with whom I've had the privilege to collaborate," said St George-Hyslop, Director of the Tanz Centre for Research in Neurodegenerative Diseases at U of T. "Today, we have a much deeper understanding of the molecular basis of neurodegenerative diseases than we did a generation ago, and this new knowledge has enabled many promising lines of investigation into better diagnoses and treatments."
St George-Hyslop, who is also the Wellcome Trust Principal Research Fellow at the Department of Clinical Neurosciences at the University of Cambridge, was the first to discover key mutations in proteins involved in the early onset of Alzheimer's. Scientists believe these proteins also play a role in the late onset of the disease.
St George-Hyslop's lab is now pursuing new therapies based on the molecular mechanisms of Alzheimer's, which they hope will limit symptoms of the disease, which include memory loss, cognitive decline and behavior changes.
"Dementia and other neurodegenerative disorders present highly complex scientific and clinical challenges," said Professor Catharine Whiteside, Dean of the Faculty of Medicine at U of T. "But the passion and ingenuity of researchers like Peter St George-Hyslop is turning the tide on these diseases, and will continue to provide more and better treatment options for patients around the world. We are thrilled that the Dan David Foundation has recognized Peter's extraordinary contributions to brain science."
The Dan David prize is headquartered at Tel Aviv University, and named after the late businessman and philanthropist Dan David. Winners of the prize donate 10 per cent of their award money to 20 doctoral and postdoctoral scholarships.