Katelin Sims on Taking Care of One Another Through Hard Times
Alumni Profile, Alumni, Giving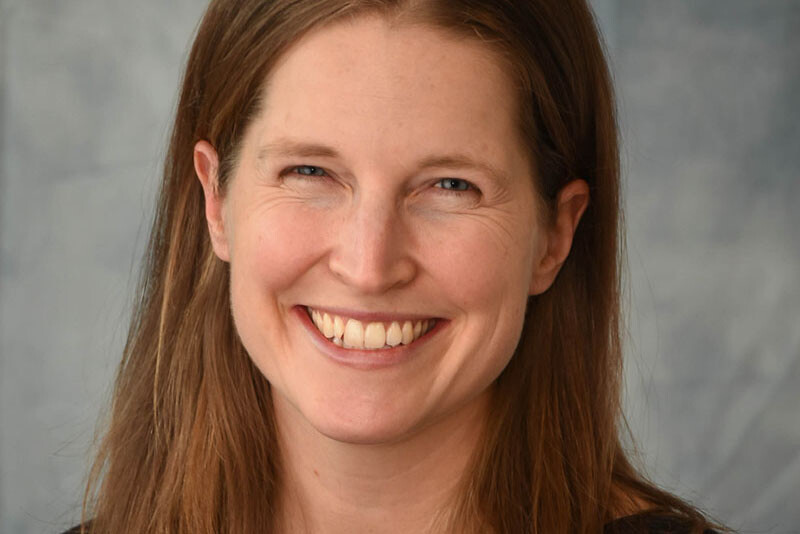 Katelin Sims (MScPT '15) is a physical therapist working out of the Bruce County Chiropractic and Rehabilitation Center in Port Elgin, Ontario. She acquired a disability while pursuing her master's at Temerty Medicine, and received financial support that helped her complete the program. She recently paid it forward by establishing the Katelin Sims Award, to be awarded to one or more students with demonstrated financial need in any year of the U of T Physical Therapy program, with preference given to students registered with Accessibility Services.
We talked to her about her experience before, during and after acquiring the disability, and what motivates her to continue working in her field.
 
What inspired you to pursue a career in physical therapy?
I was always athletic and outdoorsy. In high school I played basketball and volleyball and loved biking and hiking. I did my undergrad in kinesiology at the University of Waterloo. After graduation I moved to Taiwan to teach English and study Mandarin for about 18 months, then I did a big backpacking trip through Southeast Asia and Australia. It was wonderful, but I was also hyper-aware of my privilege at times. At one point I was picking coffee cherries for a farmer in the Philippines and started chatting with his partner — she was in her mid-20s, same as me. All she wanted to do was go to school, but she couldn't. She couldn't leave the farm, that was her life and it was completely dictated for her.
It was an eye-opening moment for me. It made me realize how lucky I was, and it sparked a desire to continue my education. I started thinking about what I enjoyed most, and it was helping others find the joy in their life. With my sports background, I thought I could help people find the joy in their lives through physical activity and therapy.
How was your PT experience at U of T?
My first year was amazing. I remember one day early on the professor walked in and casually asked "How's everybody doing?" It was a morning class, and everybody was mumbling and grumbling but I was like "I am great!" Everyone looked at me like I was nuts, but I was just really happy to be there. I think it was partly because I'd taken time off and come back, and partly my experience travelling. It made me appreciate education a lot more.
Then, with about 8 months left in the program, I sustained a concussion from a fall while crowd surfing. That impacted my ability to complete my studies. Although I tried to go back to school a number of times over the next couple of months, it became clear with the degree of my post-concussion symptoms I would need to take some time away from school to recover. After taking a year off, I returned with accommodations for my disability and finished the program.
What was it like for you right after your injury?
I felt quite confused during the first days after my injury. It was difficult to hold a conversation for more than a few minutes and reading more than a sentence would make me feel really sick. At home, I would be tired just walking to the kitchen from the bedroom. I couldn't turn corners quickly when walking or I would lose my balance. I knew something was wrong, but I was hopeful it would get better over time. But over the next week my symptoms worsened so I went to the hospital where they confirmed I had a concussion.
When did you alert your professors?
I wasn't fully aware of how bad it was because, you know, it's a head injury. But I kept leaving class — I think that's what tipped everyone off at school that I was having problems. I would only be able to last 20 minutes in any one place and then I'd have to leave. After being diagnosed at the hospital it was recommended that I rest and follow up with a physician for post-concussion management. At that point I let my professors know what was going on.
How did you arrive at the decision to halt your studies?
It was a tricky situation for everybody because I was very insistent that I could finish the program, but the staff and faculty at U of T needed to be realistic and also act in my best interests. A couple of months in, it became obvious even to me I wasn't going to be able to finish in time. That was really hard, being able-bodied and then suddenly having this disability threatening my ability to complete the master's program. Luckily, I had a very, very supportive family, friends and a medical team, and the professors at Temerty Medicine did everything they could to help, including connecting me with different bursaries. That financial support became so valuable for completing the degree, especially because it took me much longer to finish than anticipated.
When I returned to school the following year visual learning was still quite difficult. I couldn't look at the board or read notes, so I just sat in the back corner of the class, closed my eyes, and listened. I tried to make associations in my mind with the new information right away so I could keep it in my memory. Then I would talk out the content with friends later to study, and had a reader and scribe for all tests. It was exhausting — but the boost from that emotional and financial support was empowering. It helped motivate me to continue even when it got hard — and it got hard. But I had that team, I had that support, and that's what kept me going. That's what brought me to the job that I love today.
You recently established a fund to support PT students, what prompted that decision?
I've always felt very grateful for the support I had, and I wanted to pay it forward. I'd been thinking about what I could do for a while, and decided the most tangible thing I could do is pay forward that financial aid. School is harder with a disability, and it's harder to make the same amount of money afterward. If I could offer a buffer — and help someone else feel empowered the way I did after receiving that support — that's where I wanted to start.
I was also inspired by something that recently happened with my dad. He's a musician, but he developed a progressive cerebellar ataxia that interferes with his muscle control, so he has difficulty playing his guitar. He had started to write a song about his situation but couldn't finish it. Around the same time, he reconnected with his old bandmates from high school and told them about it. They're now helping him finish the song — his old bandmates from 50 years ago! I think what they are doing is so beautiful and that's the world I want to live in: a world where people support each other when they're going through a hard time.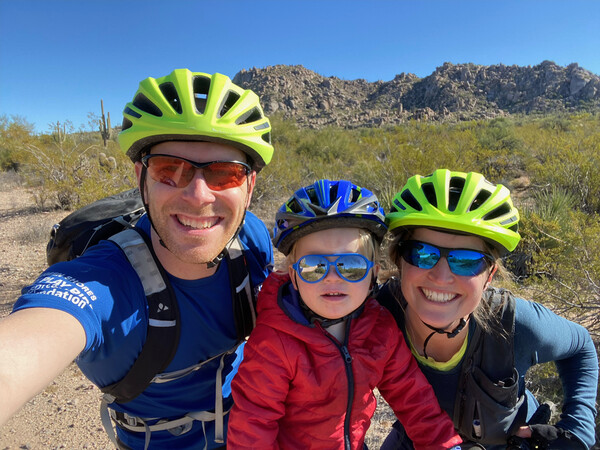 How does your disability impact your day-to-day life now?
I continue to have issues with my visual and vestibular (internal balance) systems. I have a limited amount of energy each day as a result. Visual activities like reading or driving use up that energy very quickly. I can't jam pack a day with activities because I need to protect those systems from fatigue. But I'm still very active and spend lots of time outdoors. Mountain biking, hiking, paddling, cross-country skiing — all those activities are a big part of my life. My husband and I have a three-year-old son, and we love to spend time at the beach.
From a work perspective, I have a great boss who gives me freedom to create my own very flexible schedule. I'm lucky that physio is a very understanding field in terms of injuries and accommodations. I dictate my charts and space my work out to avoid long sessions and screen time.
What's the long-term prognosis for your disability?
There are always new things I can try. Every year or two I'll try something different. Some things have improved, and some things haven't. I'm also still exploring different ways to approach my situation. Sometimes I'm okay with it, and sometimes I'm not.
One thing I learned through my PT studies and experience at U of T is that you need to evaluate everyone individually. There's no protocol that tells you exactly what to do for each person, both in terms of their treatment and your relationship with them; everyone has different experiences and different needs, and there are different outcomes. If I apply that philosophy to myself, I can continue exploring and keeping an open mind without setting too many expectations. That's what I hope to do.