James Temerty Among U of T Luminaries Honoured by Canada's Walk of Fame
Giving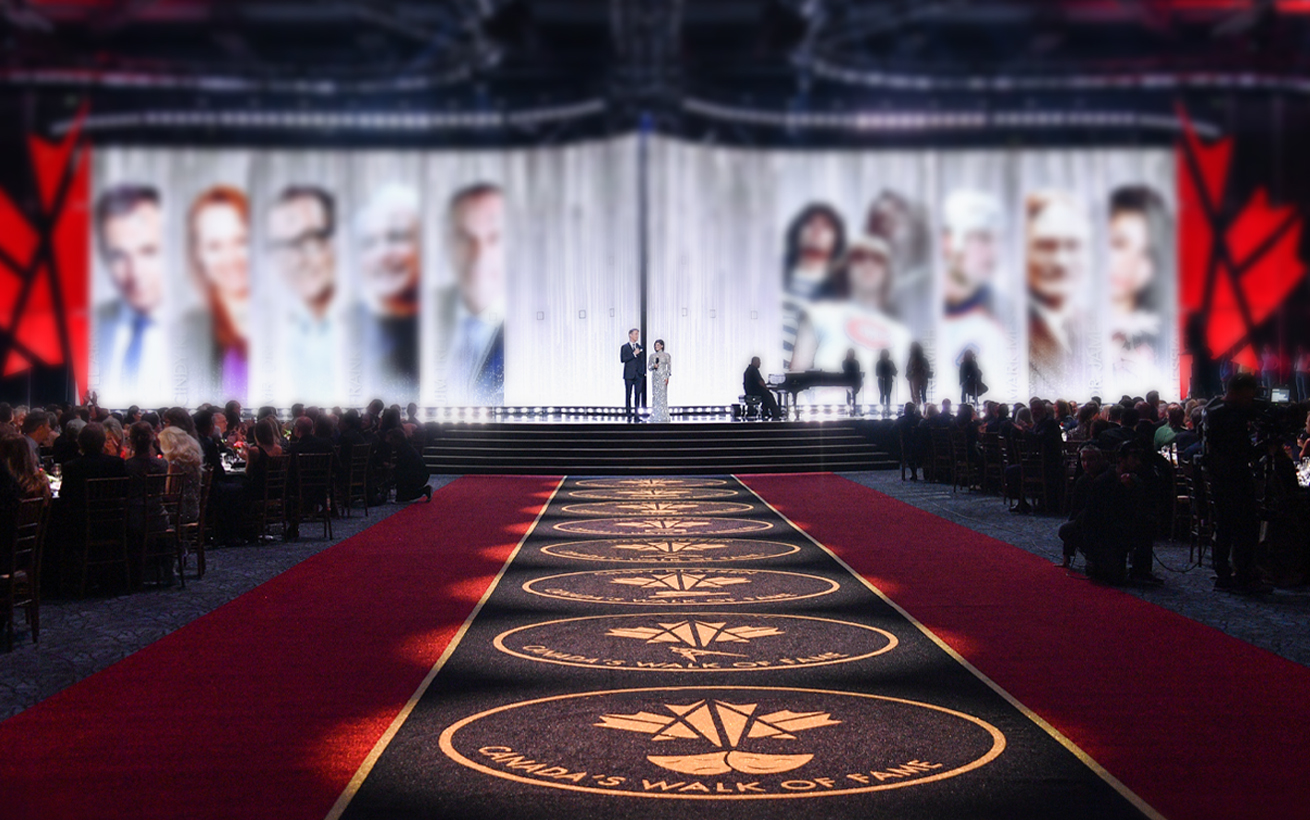 Photo by George Pimentel/Canada's Walk of Fame
On Saturday, December 3rd, the 2022 Canada's Walk of Fame Awards Celebration feted ten extraordinary Canadians for their contributions to music, television, journalism, athletics, innovation and entrepreneurship, including three with close ties to the University of Toronto.
This year's inductees and honourees featured one of Canada's most generous philanthropists, James C. (Jim) Temerty, who was introduced as the 2022 National Hero Honouree by U of T President Meric Gertler; Indigo founder and trailblazing benefactor Heather Reisman, who, along with her husband Gerry Schwartz, helped establish U of T's Schwartz Reisman Institute for Technology and Society and Schwartz Reisman Innovation Campus; and the iconic late CBC broadcaster and U of T alumna Barbara Frum.
"The University of Toronto is deeply proud to be associated with tonight's inductees and honourees, who represent the best of what Canada has to offer the world," said Gertler. "We are grateful for their legacy and their friendship, and we hope to live up to the ideals they each represent, including the late Barbara Frum, one of our most illustrious graduates; Heather Reisman, a visionary donor at U of T and Canada's leading champion for child literacy; and Jim Temerty, whose philanthropy across our university and beyond empowers ordinary people to accomplish extraordinary things."
A letter from President Zelenskyy
Jim Temerty was introduced by University of Toronto alumna and Founder of War Child Canada, Samantha Nutt (PGMT, 2000), who said, "his contributions have made a tremendous difference to thousands of lives." Toronto Mayor John Tory (BA 1975 TRIN) also spoke via video of Temerty's remarkable legacy: "Your generosity, your loyalty, your business sense, and your immense compassion all constitute an example, a role model for everyone in this country."
President Gertler then joined Ukraine's Ambassador to Canada, Yuliya Kovaliv, onstage to thank Jim Temerty and the Temerty Foundation for years of transformative giving. Their legacy includes a $250-million gift in 2020 to the University of Toronto's Temerty Faculty of Medicine and other donations across U of T, Canada and the world—from supporting arts and culture, mental health research and many causes in Ukraine.
In her remarks, Ambassador Kovaliv read a letter from Ukraine President Volodymyr Zelenskyy, who heralded Jim Temerty for his "commitment to freedom, independence and democracy" and "tireless effort to strengthen Ukraine's statehood, to drive positive changes in my country, and to support the people of Ukraine."
"We all are fighting now and we are writing the new book about the fight for values, fight for democracy," added Ambassador Kovaliv. "And we are really grateful, James, that you are with us writing this book."
On receiving the National Hero Honour, Jim Temerty thanked Mayor Tory, President Gertler, Ambassador Kovaliv and President Zelenksyy, using the opportunity to reflect on how Canada has and must continue to "stand with Ukraine until a just peace" can be achieved.
"Let us not tire in our support for Ukraine's fight for freedom. Slava to Canada and Slava Ukraine," said Temerty.  
An icon in child literacy and philanthropy
This year's celebration saw a friend and leading supporter of U of T, Heather Reisman, inducted into the Walk of Fame for her extraordinary contributions to Canadian child literacy, business and philanthropy. As the founder, chair, and CEO of Indigo, Reisman is one of Canada's strongest advocates for inculcating a love of reading among children and established the Canadian Children's Literacy Foundation in 2017 to further this goal.
As a philanthropist, her legacy of giving spans institutions and causes across the country in education, health care and advanced research. Heather Reisman and Gerry Schwartz established the University of Toronto's Schwartz Reisman Institute for Technology and Society and Schwartz Reisman Innovation Campus, which will be Canada's leading hub for innovation and entrepreneurship when it opens next year. Heather and her husband have also generously supported research and education at U of T across several fields and faculties.
Reisman was introduced by Ontario's first Poet Laureate, Randell Adjei, and one of Canada's most important novelists and U of T alumna, Margaret Atwood (BA 1961 VIC, HON D Litt. 1983). Atwood spoke about how Reisman "helped to give innumerable children the gift of literacy, the opportunity to find their own special stories, the ones that validate them by mirroring their world back to them."
"It is within our reach to unleash huge childhood untapped potential," said Reisman on accepting her induction into Canada's Walk of Fame, "and in the process transform the social and economic reality of this country forever."
Broadcast legend and U of T alumna honoured
Famed CBC broadcaster Barbara Frum, who died in 1992 at 54, was also inducted for her legacy as one of Canada's most insightful journalists and interviewers. Frum, who graduated from U of T's University College with a BA in 1959, joined CBC as host of the radio program As it Happens before becoming the host of CBC Television's The Journal, where she interviewed influential figures such as Margaret Thatcher and Nelson Mandela. She was represented at the celebration by her two children, David Frum and Linda Frum.
Frum was honoured by the former host of CBC TV's The National, Peter Mansbridge (HON LLD 2017). "Her secret was simple," said Mansbridge. "She listened. She didn't tell us who we were. She asked us and we told her." Mansbridge was joined via video by prominent Canadian business journalist Amanda Lang and former host of the CTV National News Lisa LaFlamme, who spoke on how Frum "was the epitome of grilling with grace and always respectful decency. Even in a tough interview, she never lost her cool, even confronted with the dinosaurs of her day."
"In her mind, the only star was the truth," said Frum's son, David, who, along with Linda Frum, accepted Frum's honour on his mother's behalf. "And that's why all these years later, we gather at Canada's Walk of Fame to award her the star that she would never have taken for herself."