Honouring Our Graduates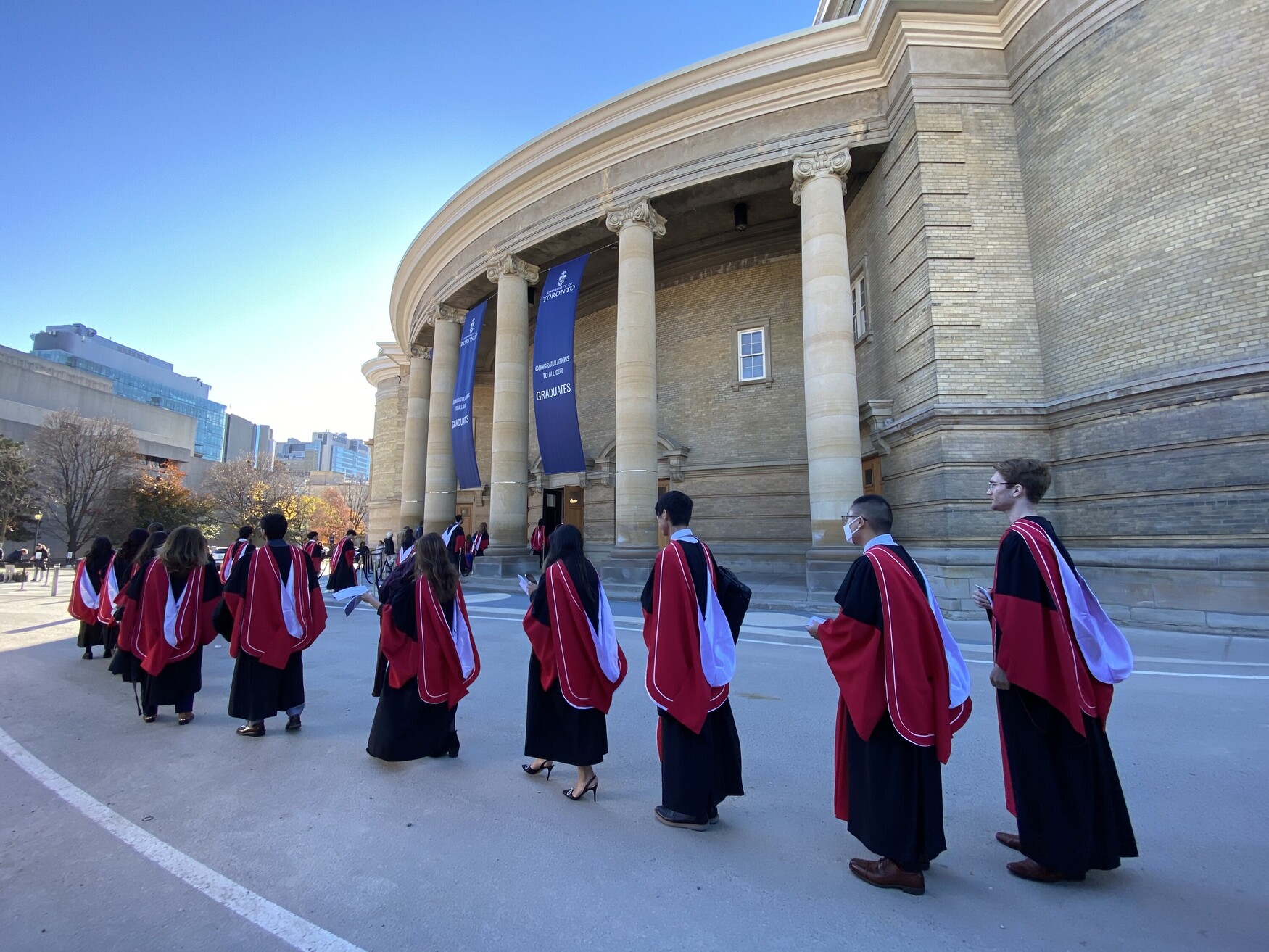 Temerty Medicine celebrated its newest alumni last week during our Fall Convocation Ceremonies, including from our rehabilitation sciences programs, physician assistant program, and graduate programs, among others. On Tuesday morning, I had the privilege of assisting the University of Toronto's Chancellor, Dr. Rose Patten, in bestowing degrees upon our worthy graduates, In addition to allowing me to practice speaking Latin, assisting the Chancellor also provided me with a front-row seat to see the excitement and pride our graduating students and their family and friends felt. Even under masks, the broad smiles remained evident. 
It was once again lovely to return to in-person ceremonies, as we did with Spring Convocation a few months earlier. Gathering together at Convocation Hall to mark the successful completion of one's programs is an important rite of passage for U of T learners. That is why I am glad we will have the chance to celebrate the Classes of 2020 and 2021 who didn't have that same opportunity due to the COVID-19 pandemic. While virtual events held their own significance and were necessary to ensure everyone's wellbeing, I am glad that we will have a Graduation Celebration for Temerty Medicine Classes of 2020 and 2021 on December 5, 2022, from 6:00 – 7:30 p.m. at Convocation Hall. It will be an important opportunity to bring those classes back together and express our pride in their accomplishments.  
While we enjoy opportunities to come together, we must also remain vigilant. The challenges associated with COVID-19 are now coupled with Influenza and Respiratory syncytial virus (RSV) to strain our healthcare system once again. I strongly recommend wearing masks in crowded indoor settings and around vulnerable people. This will not only provide greater safety, but also ensure we can continue to celebrate important milestones as a community. In the past two years of the pandemic, we have shown that we can protect our healthcare services and communities through our actions. 
The success of our graduates over the last few years is made all the more remarkable because they completed their programs during a time of significant disruption caused by the pandemic. When I see our graduates walk across the stage of Convocation Hall, I see the future of the healthcare profession as well as the resilience of our community. These significant moments are the culmination of a lot of hard work by our students, but also a broad community that includes family, friends, scholars and mentors. Despite the challenges our learners have faced, they are now prepared to undertake essential roles in our health system and society. I am confident they, like generations of Temerty Medicine graduates before them, will lead with purpose and principle in service of others. 
Trevor Young 
Dean, Temerty Faculty of Medicine 
Vice Provost, Relations with Health Care Institutions