Highlighting Our Impact: 2019 Dean's Alumni Awards
Research, Alumni, Faculty & Staff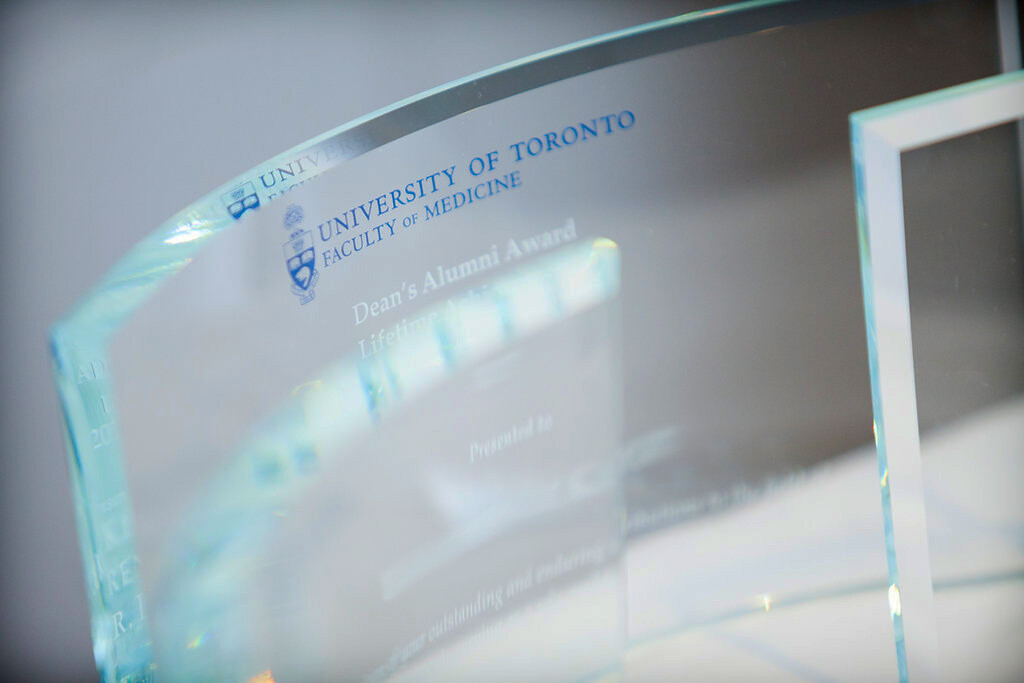 Across a range of medical specialties, and at both local and international levels, U of T Faculty of Medicine alumni are having an impact.
This year's recipients of the Dean's Alumni Awards are changing lives — improving our understanding and ability to provide care — whether it's related to autoimmune disease, mental illness, infectious diseases, cancers or the aftermath of mass trauma.
"It is such an honour to be highlighting the work of these outstanding alumni," says Dean Trevor Young, who will be presenting the 2019 Dean's Alumni Awards at U of T's Alumni Reunion on May 31st.
"They are leaders in health care and are advancing care in deep and far-reaching ways."
This year, the Faculty is honouring:
Dr. Murray B. Urowitz, MD '63

Lifetime Achievement Award – Global Impact

Dr. Urowitz has helped change the way lupus is diagnosed and managed, establishing the University of Toronto Lupus Clinic and Lupus Databank Research Program in 1970 — now recognized as one of the world's premier clinical and research centers for this autoimmune disease. He has also helped create the University of Toronto Centre for Prognosis Studies in Rheumatic Diseases, as well as the Systemic Lupus International Collaborating Clinics, published over 400 peer-reviewed papers and trained close to 140 rheumatology trainees and clinical research fellows.

 

Dr. Catherine Zahn, MD '78, PGME '83 (Adult Neurology), MHSc  '95

Lifetime Achievement Award – National/Community Impact

Dr. Zahn is a champion for the integration of psychiatry and neuroscience, working to steer mental illness into the mainstream of healthcare, and promoting equitable access to healthcare resources for people with mental illness. As President and CEO of the Centre for Addiction and Mental Health (CAMH), she is leading a massive redevelopment of the Queen Street site. Trust in her leadership was demonstrated by the 2018 announcement of a record $100M anonymous gift to support research, and her receipt of the "Canada's Most Admired CEO, Public Sector" award in 2018. A U of T Professor, she helped establish the Department of Medicine's Eliot Philipson Clinician-Educator Training Program. Her accomplishments have been recognized by numerous honours, including the Order of Canada in 2014.

 

Dr. Adrienne Chan, BSc '96, MD '00, PGME '06 (Adult Infectious Diseases)

Humanitarian Award

Infectious disease specialist, Assistant Professor in U of T's Department of Medicine and staff physician at Sunnybrook Health Sciences Centre, Dr. Chan has helped improve lives and break down barriers to health care at an international level. In 2007, she joined the Canadian organization Dignitas International, where she helped Malawian health workers decentralize HIV services to over 150 health facilities in the South East Zone, an area comprising a quarter of the country's population. In addition to providing clinical care in Malawi, Lesotho, Sierra Leone and Zimbabwe, over the last 14 years, she has collaborated on multiple research collaborations with regional and international networks in southern Africa. In 2014-15, Dr. Chan served as a clinical consultant with the World Health Organization in Sierra Leone for the West Africa Ebola Response Team.

 

Dr. Mohammad R. Akbari, PhD '11 (Institute of Medical Science)

Emerging Leader Award

As director of the Molecular Genetics Research Laboratory at Women's College Hospital, Dr. Akbari leads The Screen Project, a study offering Canadians access to low-cost genetic testing for the BRCA1 and BRCA2 genes, and providing genetic counselling to those who test positive. He aims to develop a more complete picture of genetic cancer risk and save lives through more effective prevention and treatment. Dr. Akbari has published over 100 peer-reviewed papers, and has identified a new breast cancer susceptibility gene, named RECQL, a finding he published in Nature Genetics in 2015.

 

 

Dr. Sandro Galea, MD '94, PGME '97 (Family Medicine)

25th Anniversary Award

Physician and epidemiologist, Dr. Galea is the Robert A. Knox Professor and Dean at the Boston University School of Public Health. Named one of TIME magazine's epidemiology innovators, and identified as one of the World's Most Influential Scientific Minds for the Social Sciences by Thomson Reuters, his research focuses on social epidemiology, causes of brain disorders, and health consequences of mass trauma. He has previously held academic and leadership positions at Columbia University, the University of Michigan and the New York Academy of Medicine.

 
Find out more about the award winners and their impact by attending the May 31 ceremony. Videos featuring this year's winners will be featured here following the event.