Female Patients More Likely To Die After Procedure By Male Surgeon: Ontario Study
Research, Education, Alumni, Faculty & Staff, Inclusion & Diversity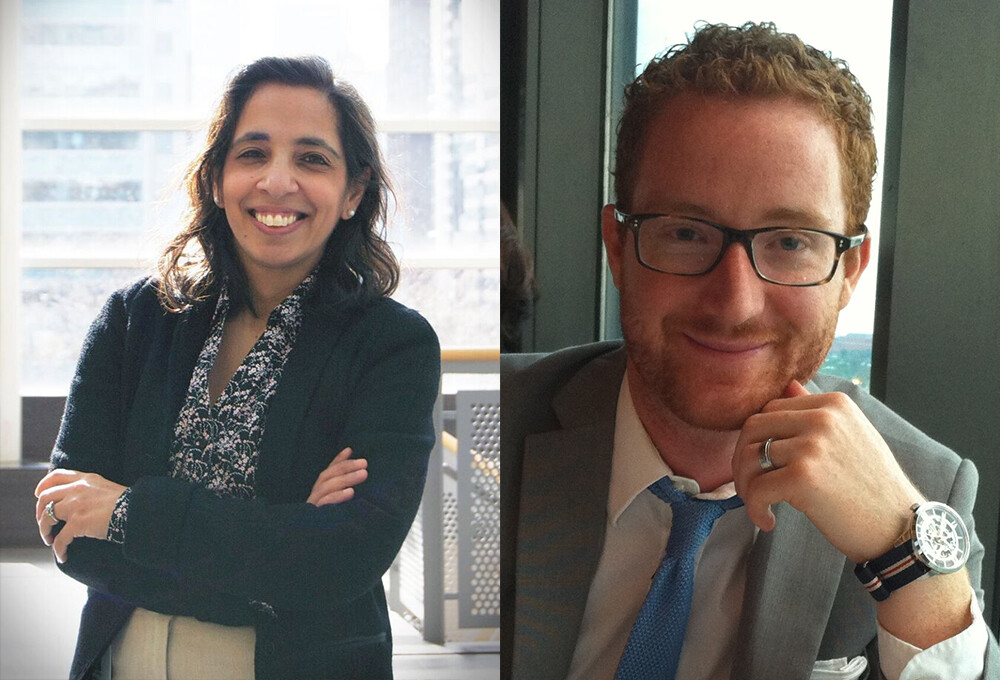 Angela Jerath and Christopher Wallis
Research by two Temerty Faculty of Medicine faculty members shows female patients were more likely to die and experience complications after a male surgeon performed a procedure, compared with a female surgeon.
The research – recently published in JAMA Surgery – has received international media coverage for its startling findings.
Researchers say the study shows that when a male surgeon operated on a female patient – compared with a female surgeon – there was a 32 per cent increase in the likelihood of a female patient's death in the 30 days following the procedure.
There was also a 15 per cent increase of a female experiencing adverse outcomes, when a male performed the surgery.
"To deny the results of this study, is both non-scientific and a marker of our own implicit bias," says Angela Jerath, an associate professor at Temerty Medicine's Department of Anesthesiology and Pain Medicine, who did the study with Christopher Wallis, an assistant professor at Temerty Medicine's Division of Urology.
Both researchers say the findings show a need to reflect on the causes of the disparities.
The study also indicated female patients treated by a male surgeon had a 16 per cent increase in major complications following their surgery, and an 11 per cent increase in the likelihood of readmission, compared with having the same procedure done by a female surgeon.
"We believe that the issues that are causing this gap are extremely complicated, and likely to enter behavioural science. We need to understand these issues and fill the gap in care for female patients," says Jerath, who is also an associate professor with the Dalla Lana School of Public Health's Institute for Health Policy, Management and Evaluation, and a staff cardiac anesthesiologist at Sunnybrook Health Sciences Centre.
The study was based on anonymized data collected from more than 1.3 million adult patients in Ontario, between 2007 to 2019.
It factored in the experiences of patients undergoing 21 types of surgery, including procedures in cardiothoracic surgery, neurosurgery and orthopedic surgery.
The data also factored in procedures in otolaryngology, plastic surgery, thoracic surgery, urology, and vascular surgery, as well as general surgery. 
Notably, male patients did not experience poorer results following surgery as female patients, say the researchers, regardless of the sex of the surgeon.
Researchers found that when female surgeons operated on male patients there was a 13 per cent decrease in the odds of death, and no effect on the rate of readmission or major complications for the male patient, compared with when male surgeons did the same procedure.
"Overall, male patients have comparable results when treated by either male or female surgeons while female patients have worse outcomes when treated by male surgeons than female surgeons," says Wallis, who is also a urologic oncologist at the Division of Urology at Mount Sinai Hospital and University Health Network.
"As a male surgeon, these findings really highlight a learning opportunity for me personally, and for our profession. An operating surgeon's sex shouldn't affect a female patient's outcomes. We need to do more work to understand why these discrepancies are happening," he added.
"There are social and cultural factors that may get in the way of providing the best care for female patients, and we need to investigate that further."
In the study – which looked at more than 2,900 Ontario surgeons – about 82 per cent were male, while about 18 per cent were female.
Further work needs to be done examining ways male and female surgeons communicate with patients, say researchers.
There is also the need to study the ways patients and surgeons of both sexes establish trust, they added.
"Beyond performing the actual surgical procedure, there are complex processes in the care pathway before and after surgery that male and females surgeons may do differently surrounding clinical decision making, exercising personal judgement and team management," says Jerath.
"It's also possible that male and female patients communicate differently with surgeons of different sexes. Understanding these differences are important in improving outcomes after surgery for all patients."
Jerath, who is also a scientist at Sunnybrook Research Institute and adjunct scientist at ICES, says she was "astonished" by the findings.
She says further research will hopefully examine if there are some practices among female surgeons that are leading to better outcomes, especially for female patients.
"We know this is a really uncomfortable piece of work. I work with a lot of terrific male surgeons. The results we found are at a population level and do not reflect any one surgeon's practice," she says.
"Our advice to all patients – female or male – is that they should be able to speak and have a good, trusting relationship with their physician."
The findings also indicate the importance of increasing the number of female surgeons that are practicing, says Wallis.
"This research really supports the goal of diversifying the surgical workforce to better match the characteristics of the patients we're treating," he says.