Faces of U of T Medicine: Lauren Stacey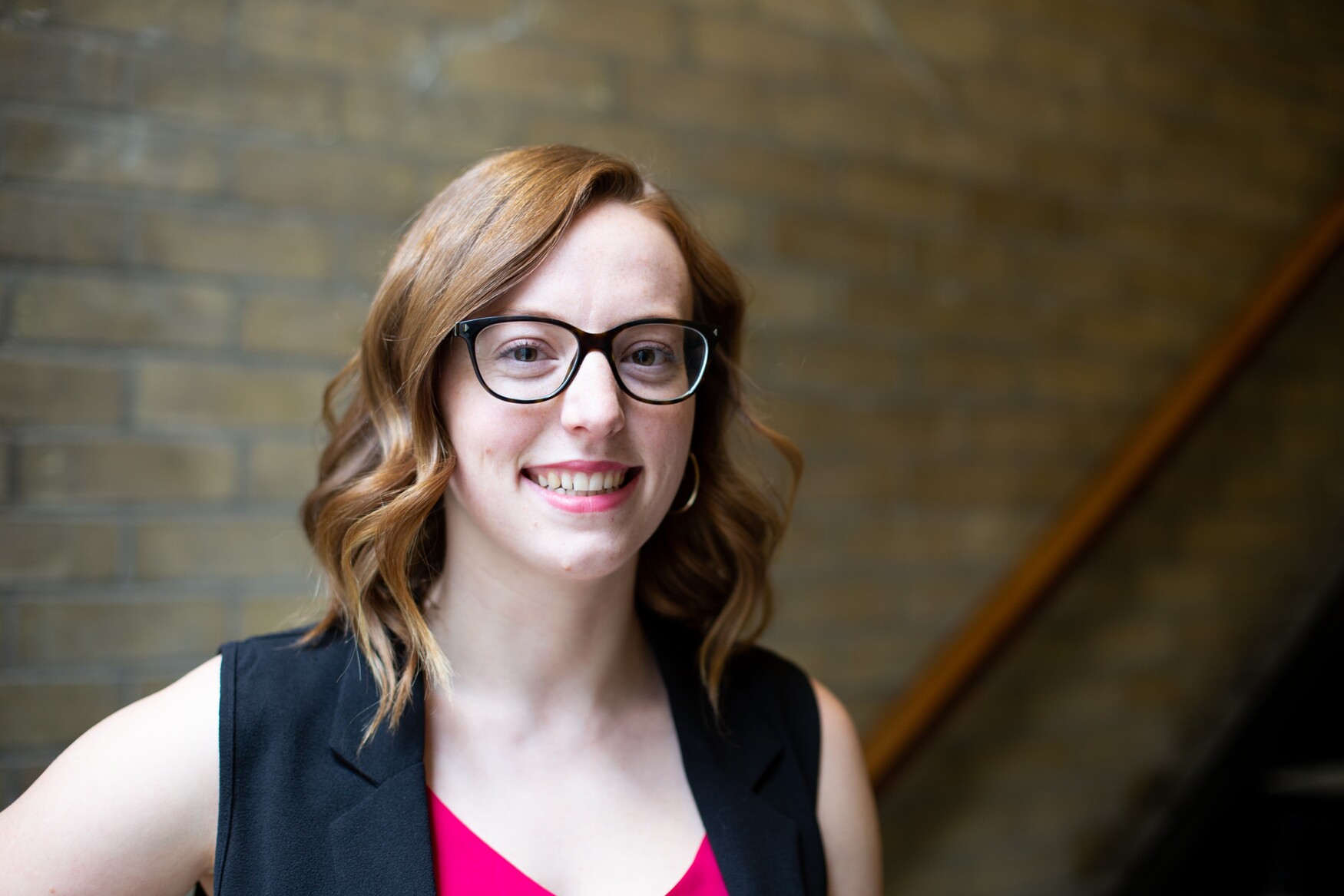 Lauren Stacey
will be graduating with a Master's Degree in Occupational Science and Occupational Therapy. She spoke with Faculty of Medicine writer
Julia Soudat
about the experiences that got her interested in this field and how she's combining her passion for social justice and occupational therapy to help newcomers to Canada.
What got you interested in occupational therapy?
I became interested in occupational therapy because of my personal experience living with chronic pain. In my second year of undergraduate studies, I was not able to function properly due to pain. I saw a lot of healthcare professionals, but no one was able to help me as well as an occupational therapist, who made it possible for me to attend classes, engage in extra-curriculars and advocate for myself at school.
After this experience, I did some research and learned that occupational therapists can work in such a multitude of areas and capacities that this profession would open many doors for my career. Because of my undergraduate degree in Global Development, I was also looking for a profession that could blend well with my undergraduate training. As an occupational therapist, I'd be well-suited to engage in advocacy and make meaningful changes in healthcare, and that attracted me to the field.
How has your research allowed you to combine your passion for social justice with occupational therapy?
My research provided the perfect opportunity to bring social justice into the healthcare sphere. My research partner, supervisor and I explored the occupational engagement of newcomers involved in the Private Sponsorship of Refugees program in Canada. We were hoping to better understand how newcomers adapt to their new Canadian communities and how private sponsors enable and/or disable their adjustment to Canadian life. I'm hoping to continue this research and contribute to a new and growing body of literature and practice area of occupational therapy with newcomers.
What will you remember most about your time in the program?
I'll never forget my time during fieldwork. It challenged me in unexpected ways and I learned so much from my preceptors and my clients. Fieldwork is the time when you have the opportunity to finally realize what you want to do in your career. For me, my fourth and final placement was at St. John's Rehabilitation Hospital in Outpatient Burns and Trauma. It was during this placement that my passion for working in burn rehabilitation developed.
Perhaps even more than my fieldwork placements, I will always remember the relationships I built during my time in the program. Being in classes day-in and day-out with the same 90 people is guaranteed to foster some long-lasting relationships and I could not be more thankful to this program for introducing me to some amazing people. My fellow graduates will also be my future colleagues and I could not have asked for a greater group of intelligent, hard-working and compassionate individuals to learn and work alongside over these past 24 months and into the future.
Did you have any mentors who've helped you along the way?
During my time in the OT program, I had the privilege of working for Dr. Judith Friedland on her upcoming book. Dr. Friedland is such an iconic member of the OT community and the opportunity to work with her and learn from her was eye-opening and inspiring. She is one of my role models and truly inspires me to be a change maker in this profession.
Where do you see yourself in five years?
Early next year, I am moving to Calgary and would love to work in one of the burn rehabilitation centres there. As much as I love burn rehabilitation, I am also very passionate about women's health and would like to be pursuing either research or clinical practice with this population to better understand some of the health inequities women face and how occupational therapists are well-positioned to facilitate transitions for women - including prenatal, postnatal and postpartum care.
I like to believe that nothing is impossible. Regardless of what my future holds, I hope to be making strides for the OT profession and engaging with other change-makers to advocate for the importance and relevance of occupational therapy in the Canadian healthcare system.
What advice do you have for incoming students?
Take advantage of all of the opportunities you are presented with during your time at U of T. U of T provides its students with unparalleled clinical placement opportunities and the chance to network with current healthcare professionals. Now that I have graduated, I've come to realize how beneficial and valuable these experiences and networks are for finding a job and in shaping your image as a healthcare professional.
I would also encourage students to branch out beyond their respective faculties to explore other facets of the university. One of the best decisions I made during my time at U of T was joining groups or clubs that were outside the world of OT. I joined two different volleyball leagues and as a result, met and befriended a lot of people that made my experience better and more balanced.
Lastly, I recommend actually listening to your professors when they explain the importance of asking questions, making connections and going to optional workshops. Push yourself now, and it will make all the difference when it comes time to graduate and enter the 'real-world'. But with that said, take care of yourself. These graduate programs can be intense, so take time for yourself, take breaks, find ways to be active, eat nourishing food, and don't forget to laugh amongst the mountains of responsibilities that are thrown at you.
Faces of U of T Medicine introduces you to some of the interesting people studying in the Faculty of Medicine. From advising political leaders to providing care to Toronto's most vulnerable populations, our students are making an impact on communities at home and around the world.
Do you have an interesting story to share? Contact us at medicine.communications@utoronto.ca.
This November,