An 'EPIC' Commitment to Fighting Infectious Disease
2021 Dean's Report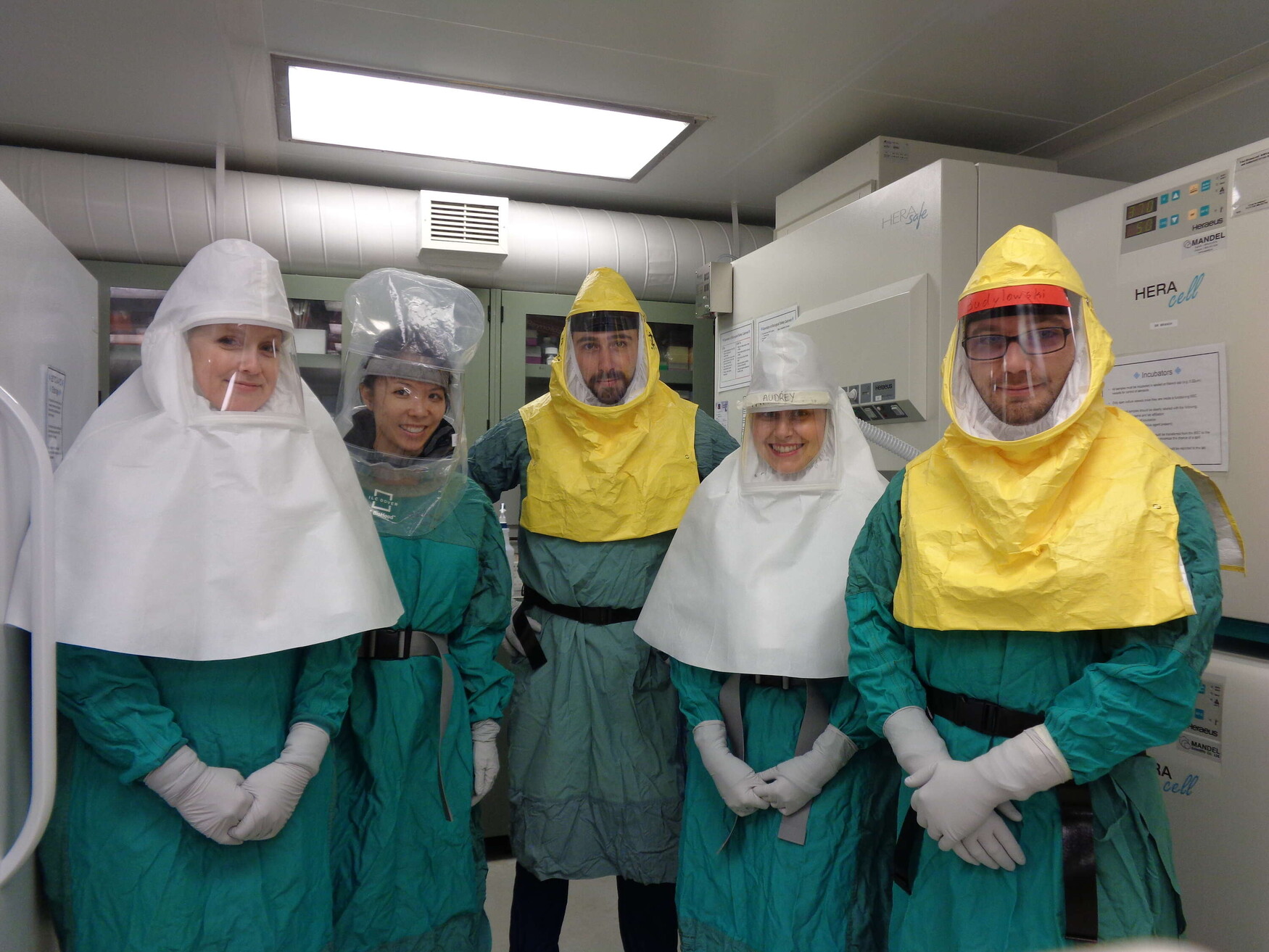 Before COVID-19, Patrick Budylowski was a doctoral student at the Temerty Faculty of Medicine with two research papers to his name and a focus on HIV. Today, he's finishing his studies while employed in the Faculty's combined containment level 3 (C-CL3) unit and as co-author on 10 papers about SARS-CoV-2.
He also has a new thesis topic: coronaviruses and the health of all Canadians in a world increasingly at risk from infectious disease.
Budylowski has been at the centre of a massive shift toward COVID-19 research across Temerty Medicine, much of it anchored by the C-CL3 lab. He used the lab in pre-pandemic work with his academic supervisor Mario Ostrowski, but he quickly found a broader role in the facility helping others study COVID-19.
"We reached out to Patrick early on given his experience working with high containment pathogens, and he's been phenomenal," says Scott Gray-Owen, academic director of the C-CL3 and a professor of molecular genetics. "He's played a key role in a range of COVID-19 research, and supported others keen to study the disease but who weren't necessarily trained to work in our facility."
Budylowski and C-CL3 staff worked with researchers from Sunnybrook Health Sciences Centre and McMaster University to isolate, culture and reproduce the virus from Canada's first patient with COVID-19, and to share samples with scientists across the country — a crucial step for Canadian research.
They later validated ways to deactivate the virus for re-use of masks and ventilators, and showed that standard pasteurization kills the virus in human donor breast milk, which helped re-establish a vital source of nutrition for pre-term babies. 
Budylowski also created a test for antibodies called a neutralization assay, with blood samples from recovering COVID-19 patients at Unity Health Toronto, where Ostrowski is an infectious disease clinician. 
They applied the assay to samples from coronavirus-infected mice in the C-CL3 to measure the immune response to the virus, and to co-lead a preclinical trial of the first COVID-19 mRNA vaccine developed by a Canadian company, Providence Therapeutics. 
The Providence vaccine is entering Phase II trials and could still have a role against variants of COVID-19. Regardless, says Ostrowski, the knowledge and experience that have come with development of the vaccine should prove useful for other infectious diseases in the future.
Pandemic preparation is at the heart of a proposal to enhance research and collaborations on infectious diseases, called the Emerging and Pandemic Infections Consortium (EPIC). This new U of T Institutional Strategic Initiative is led by Gray-Owen and seeded by a $7.5-million commitment from U of T faculties and affiliated hospitals, and will also support training in the C-CL3 labs and knowledge translation.
"We have a lot of work to do as a country to prevent and prepare for future pandemics," says Ostrowski, a co-principal investigator on the project and a professor in the departments of immunology, medicine, and laboratory medicine and pathobiology. "EPIC will enable U of T to recruit more talent in virology, which we need to do, and to better tap our potential for research on emerging diseases, most of which will be viruses."
At the core of this initiative will be an expanded C-CL3 unit as part of the new $80-million Infectious Disease Laboratories (IDL) at Temerty Medicine, providing more capacity for in vitro and in vivo research with high-containment pathogens, as well as a lockdown facility for security-sensitive biological agents to enable studies on emerging global pathogens. 
The new IDL will also house a revamped aerosol containment level 2+ infection core facility, and a small-animal respiratory transmission intensive-care unit called SmART-ICU. This unit will boast high-frequency ultrasound and X-ray, in vivo imaging, and other technologies to reproduce a hospital ICU and allow for development of clinical interventions to improve patient outcomes in severe infectious diseases.
For Budylowski, these changes can't come soon enough. "Our current facility is good, but it's small and has limited what we can do," he says. "The pandemic has been surreal in many ways, but one thing it's shown me is that all our training, the theory and the courses, it actually works. Our knowledge became translational, and that's been an incredible learning experience."