Dream Team Researchers Rally Against Brain Cancer
Research, Faculty & Staff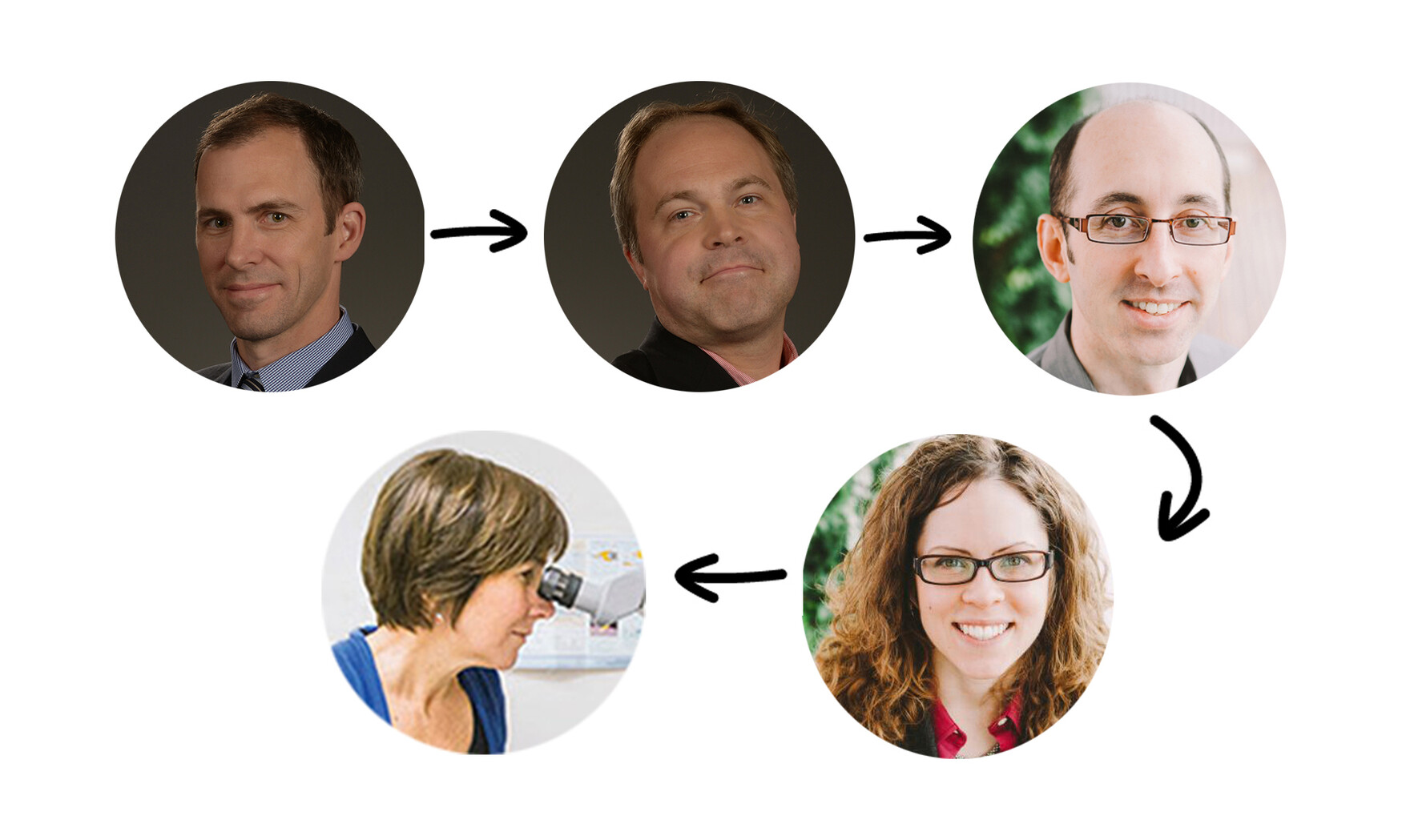 "We want to help each patient, one by one, but we also want to change the world," says Professor Peter Dirks, who leads the "Stand Up To Cancer Canada Dream Team," which focuses on targeting brain cancer stem cells. "We can do that with research."
With collaborative research, to be precise.
As surgeon scientist and professor in U of T's departments of surgery and molecular genetics and at The Hospital for Sick Children (SickKids), Dirks identified cancer stem cells in brain tumours in 2003. But it would take a team to build on that discovery and to start tracking down potential therapies.
Speaking this month at the inaugural UofTMed Talks, an intimate event held in U of T's new lab space at the MaRS Discovery District, Dirks and several "Dream Team" members described a researcher's version of a relay race — through a play-by-play of their collaborative effort to understand a deadly and mysterious childhood brain cancer.
"We sequenced the brain cancer, called ependymoma, and were surprised to find no mutations," says Professor Michael Taylor, surgeon scientist at SickKids and professor in the departments of surgery and laboratory medicine and pathobiology — and a world-leading expert in the genetics of childhood brain tumours. "In every cancer sequenced to date there were mutations. So how could we have a cancer — one that's killing children — with no mutations?"
To answer this question, they passed the baton on to Molecular Genetics Professor Gary Bader, whose lab at the Donnelly Centre for Cellular and Biomolecular Research focuses on computational biology. Bader was able to plug in all of the genetic data and determine which specific system was malfunctioning. It turned out the genetic "alphabet" was intact, but it was the "font" that had gone awry.
The next step was to grow quantities of the tumour in Dirks' lab, and then test potential drugs known to have an effect on that malfunctioning molecular system with the help of Medical Biophysics Professor Cheryl Arrowsmith, chief scientist of the Structural Genomics Consortium (SGC) a public-private partnership leading drug discovery through open-access research.
And they found a drug that worked — in a dish. The team is now pursuing clinical trials to test its effectiveness in patients.
Another avenue of research involves brain cancer cell metabolism and the work of Professor Amy Caudy, a professor of molecular genetics and microbiology in the Donnelly Centre for Cellular and Biomolecular Research. She identified completely new molecules in brain cancer cells that suggest startling differences in how these cells use energy, compared to normal cells. These molecules could become key markers of treatment response and enable non-invasive cancer diagnostics.
"This team is so much greater than the sum of its parts," says Professor and Chair of the Department of Molecular Genetics, Leah Cowen, who hosted the event. "This team is amazing — but there are other 'Dream Teams' all across the Faculty of Medicine and our partner hospitals. The key unifying feature is this incredible collaboration."
Read more about the Stand Up to Cancer Canada Cancer Dream Team: Targeting Brain Tumour Stem Cell Epigenetic and Molecular Networks project