Diversity Day Tackles Tough Issues in Health and Education
Education, Faculty & Staff, Inclusion & Diversity, Research, Students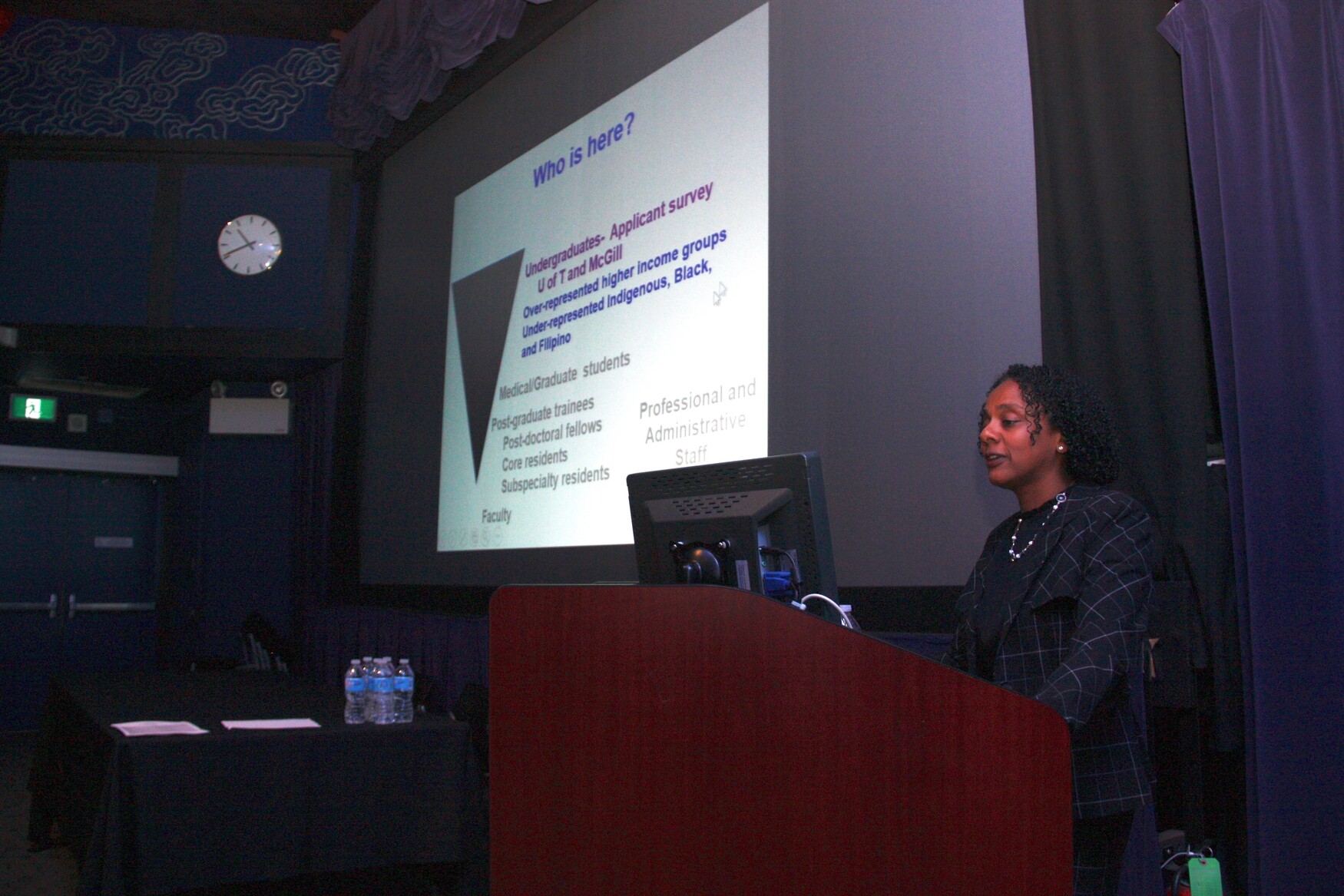 Dr. Marc Nivet wants you to understand that in the 21st century, excellence depends on diversity. He delivered that message in his keynote address recently at the second annual Diversity and Inclusion Day, hosted by the University of Toronto and The Hospital for Sick Children (SickKids).
Nivet, Executive Vice President for Institutional Advancement at the University of Texas Southwestern Medical Center, deftly outlined the evolution of diversity at medical schools and teaching hospitals since the 1960s.
Early attempts, Nivet said, focused on removal of legal and social barriers for women and racialized students and faculty. "Diversity 1.0," as he called it, had roots in the Civil Rights Movement and ideas of fairness and social justice. People inside and outside the movement often saw diversity and excellence as a trade-off.
Diversity 2.0 arrived in the 1980s, with a wave of multicultural, ethnic, and gender studies curriculum changes. New on-campus diversity offices aimed to improve access to education and support the success of visible minorities. For many people then, diversity and excellence were no longer competing ends, but they were still on separate, if parallel, tracks.
Diversity 3.0, which Nivet said is "aspirational," views diversity as core to the academic health science mission. He has visited more than 140 academic health institutions and has yet to see a truly 3.0 campus. But many schools are taking big strides to get there fast. The motivator, he said, is an understanding that diversity drives innovations that improve health and reduce health inequities.
"I think the idea that diversity is integral to excellence is really important as we think about the health challenges of today and how to train the health professionals of tomorrow," said Professor Lisa Robinson, Chief Diversity Officer in the Faculty of Medicine and a Senior Scientist and Head of the Division of Nephrology at SickKids. "Diversity shouldn't be a peripheral priority. We want our faculty, staff and students to see it as a fundamental tool for their success, and in fact the literature on diversity supports that idea."
In her talk, Robinson cited studies that show women tend to hire diverse teams, and that those teams are equipped to solve problems and meet the challenges of the Information Age. And the broader the definition of diversity, the better, said Robinson: gender, race and class differences are important for bringing new perspectives, but so are personal and work experiences, education, skills and values.
Diverse teams are more likely to approach health problems with the goal of equity rather equality, said Robinson — a distinction that Dr. Onye Nnorom sharpened with a question and discussion after Robinson's talk. "Equity often means not treating people equally," said Nnorom, the Associate Program Director for the Public Health and Preventive Medicine Residency program at U of T.
"We see this in our tax system, where people pay more taxes if they earn more — those at a financial disadvantage are taxed less, ideally improving social outcomes," Nnorom said. "In health care and medical education, we could really improve outcomes by targeting groups — some of them racialized — who face more barriers than others, and collection of demographic data is key to understanding who is at a disadvantage."
Demographic data on trainees is a major priority for Robinson as she nears the end of her first year as Chief Diversity Officer. In her talk, she described her work within the Faculty to get racial, economic, wellness and other data on medical residents, and to build on the results of C-Change surveys of faculty in 2013 and medical students in 2015.
This data collection, she said, will complement the Faculty's existing diversity and inclusion efforts, including the Community of Support programs, the Summer Mentorship Program and the Office of Indigenous Medical Education. "But we don't need to re-invent the wheel," Robinson added. "Many of our institutional partners are doing great work on diversity, so we can make a lot of headway by working closely with them."
Professor Lynn Wilson, Vice Dean of Partnerships in the Faculty of Medicine, attended the event and later spoke about the role partnerships can play in improving diversity.
"Our Faculty has a long history of addressing diversity issues through partnerships, from mentorship programs and the Black Medical Student Association to new initiatives to support women in the Department of Medicine," said Wilson. "And some of our teaching hospitals are doing outstanding work — just look at Sinai Health System's ALLY program, which we heard a lot about at the conference."
Wilson said she looks forward to seeing how these and other diversity efforts will re-shape medical education in Toronto and health care across Canada. "We have tremendous expertise in diversity across the University and the GTA, and in our U.S. and global partnerships. This means great opportunities to learn from one another and to effect some really important changes in medicine."