Dean Trevor Young on a Transformational Gift
Research, Education, Alumni, Faculty & Staff, Giving, Partnerships, Inclusion & Diversity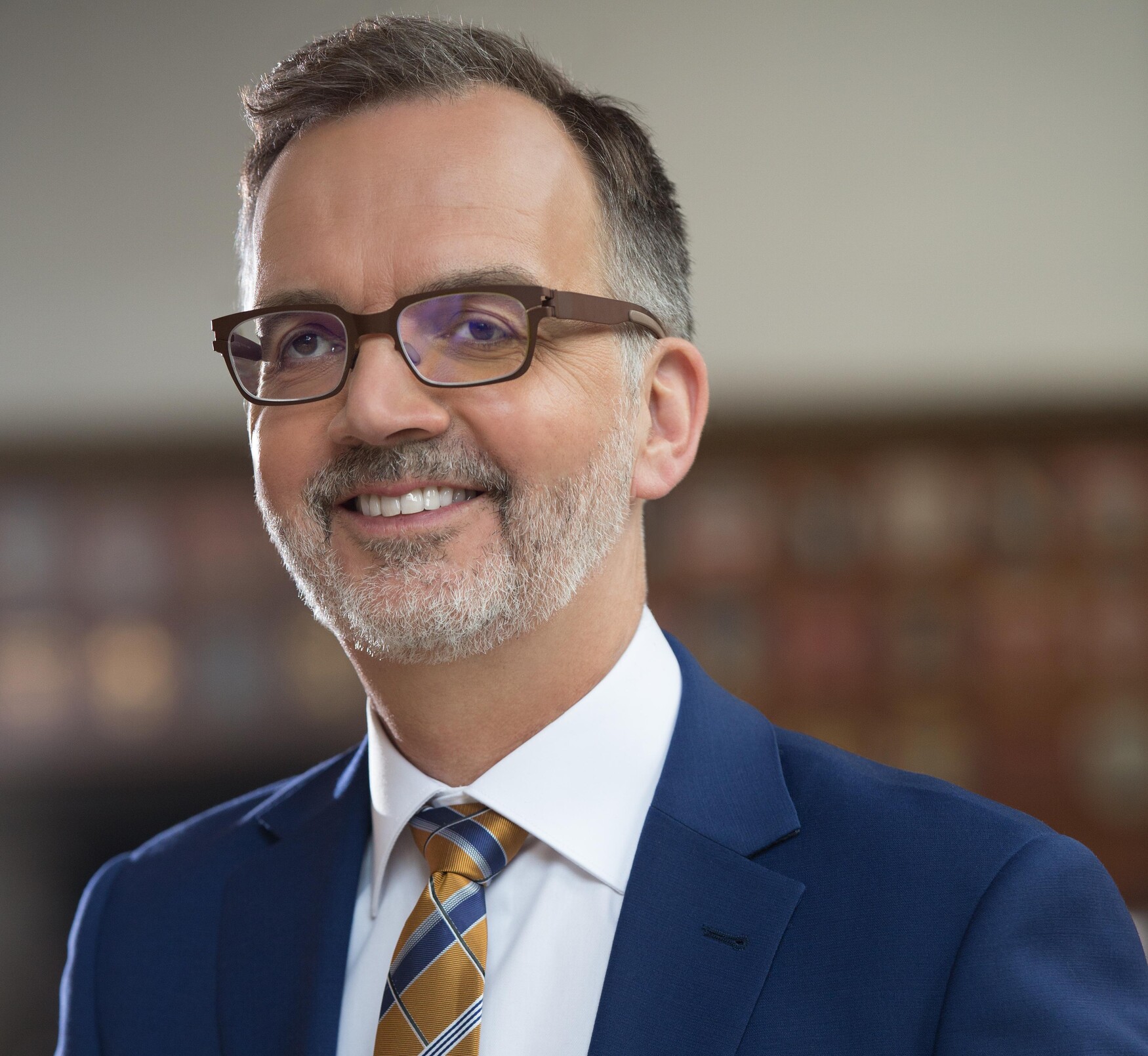 On September 24, 2020, the University of Toronto announced a $250-million gift from James and Louise Temerty and the Temerty Foundation in support of the Faculty of Medicine. This is the largest philanthropic gift in Canadian history. In recognition of the Temerty family's generosity, the Faculty will now be known as the Temerty Faculty of Medicine.
Dean Trevor Young offers his insights into the gift and its transformational impact.
How does a gift of this size come about?
It all began with our Faculty's 2018-2023 Academic Strategic Plan, which was based on a consultative process across units and sectors. More than 100 people participated in working groups and a further 400 community members took part in wider consultations.
There was a lot of enthusiasm for the plan, but we recognized that fulfilling many of the its objectives would require fairly significant financial resources. Once the plan was finalized, we began sharing it with a small group of our closest supporters who we believed could have the interest and ability to help transform some of our ambitions into reality. This included the Temerty family.
The Temertys were inspired by our vision and asked us to prepare a proposal for their consideration — and the rest… is now history.
Neither James nor Louise Temerty attended U of T. What do you think inspired them to make this gift?
James, Louise and their daughter Leah have shared how much they respect the University and the Faculty of Medicine — and especially the impact many of our clinicians and researchers are having on Canadians' health and wellbeing.
The Temertys believe in the critical importance of supporting health. They have been generous donors to the Faculty of Medicine and many Toronto-based health-care institutions in recent years, including to several of our partner hospitals.
When we started talking with the Temerty family about our strategic plan, we could tell our vision and aspirations were resonating with them. They could see how investing in the Faculty of Medicine could support the health science and health care network more broadly. In addition to this, they also value our proven track record of success. Their trust and confidence in us speak to our Faculty's reputation and global reach.
How will this gift change the Faculty of Medicine?
The Temerty Faculty of Medicine will still be the same exceptional education and research institution we've always been, with the same mission and core values. I think that's what I'm most excited about with this gift — it's not altering the heart of who we are, it's helping us become the institution we want to be through its support for our strategic pillars of discovery, collaboration and equity.
One of the most important ways it will do this is by helping us become more flexible and responsive to new ideas. Many of our highly regarded peer institutions benefit from having funds at their fingertips to make timely, strategic investments in key priorities around recruitment, equipment, collaborations, as well as emerging initiatives. With help from this gift, we'll be better able to jump on more ideas and nimbly take action. This is definitely a change for the better.
Why is the Faculty changing its name?
Adding the Temerty name to our Faculty is one way to publicly thank the family. Their $250-million gift is not only the largest donation ever made to U of T, but the largest ever made in Canada.
Naming acknowledges the investment this entrepreneurial family is making in the future of healthcare. With much of the gift supporting endowed funds, its impact will support our community of learners, clinicians and researchers in perpetuity. We want these new generations to recognize the origins of this lasting support.
Naming also sends a powerful message to our broader community and the general public about philanthropy's importance to advancing our mission, to the University and to the charitable sector as a whole.
What is this gift doing to address the global COVID-19 pandemic? Will it support the development of a vaccine?
We were in discussions with the Temerty family about this proposed gift when the COVID-19 pandemic hit. Recognizing the unique challenges of this crisis, the Temertys generously decided to advance a portion of their proposed larger gift in support of our pandemic response.
Their $10 million was put to work immediately to expand our highly secure (CL3) research facility, to create a viral biobank to diversify COVID-19 research, and to provide personal protective equipment and support to front-line trainees. It has also helped fund important research projects on campus and across our partner hospitals aimed at better understanding the virus and developing potential treatments and vaccines that can be used to control it.
Discovery-based research — including important COVID-19 work — will continue to be a major focus as we implement the Temertys' gift.
What are the equity initiatives this gift will support?
First, the Temerty family's gift is supporting new and expanded bursaries for MD students through a designated $20-million endowment. Delivering medical education is expensive and we don't want tuition to be a barrier for any qualified student.
While we are currently able to offer a significant portion of our MD students financial assistance each year, students' total needs are always greater than what we have available. This leaves many to struggle under the weight of debt or juggling part-time work in addition to their intensive studies. It's a major obstacle for many qualified students from less advantaged backgrounds.
Thanks to the Temertys' gift, we'll be able to greatly increase the number of students who receive financial assistance each year, as well as the amount many receive. This will go a long way toward ensuring the most qualified students can receive their medical training, while also continuing to increase the diversity of our future physician workforce.
I'm also thrilled by the support this gift provides for our ongoing work engaging with Canada's Indigenous Peoples. The Temerty gift will endow a new Elder-in-Residence in the Faculty of Medicine who will support teaching and learning (e.g. curriculum development, student support) while also bringing Indigenous knowledge, history and experience into the Faculty at a level of esteem akin to an endowed Chair in Biochemistry, for example. We'll also establish a new Elders Circle, which will provide governance in alignment with Indigenous ways and act in an advisory capacity to me and the decanal team.
The Temerty gift will also help enhance and grow important equity programs already underway to help recruit and support Black, Indigenous and persons of colour in our community at every stage of their journey in the Faculty of Medicine. Included among these are our Black Student Application Program (BSAP) and Indigenous Student Application Program (ISAP), as well as our Community of Support initiative.
How does this gift help researchers in the Faculty of Medicine?
There's a lot in this gift that should have our research community excited.
Research funding is a core pillar of the Temerty family's gift, which includes support for new and expanded grants for fundamental, translational and clinical research, for interdisciplinary investigations and for collaborations with partners across our hospital network.
The gift will also support our ongoing efforts around innovation and entrepreneurship, helping to catalyze new ideas and amplify Toronto's growing reputation as a global hub for health innovation.
One example of the gift's impact on research is its support for the purchase of a new cryo-EM microscope — a powerful new tool for deciphering the atomic structures of proteins and ultimately developing more precise and effective medications for a wide range of diseases.
Another example is the creation of our new Centre for AI Research and Education in Medicine (CAIREM). Inherently collaborative in nature, the Centre will link our work on AI and machine learning with similar initiatives underway in our partner hospitals and other U of T academic units, such as Applied Science & Engineering, Statistics and Computer Science. The Centre is a great addition that will build on Toronto's many strengths in this area.
But, in addition to these specific examples, that we will also have significant flexible and unrestricted funding for future research. This means, going forward, we'll be able to direct funding to high-potential projects and collaborations as they arise, regardless of the department or unit in which they are based. This really is a gift that will benefit everyone in the Faculty of Medicine.
What are some of the ways this gift will make a difference to our partner hospitals?
Because most of our faculty members are cross-appointed between the University and at least one of our partner hospitals, the Temertys' gift really is 'a tide that raises all ships' when it comes to health care and research in our city.
In addition to supporting research, innovation, equity and wellness initiatives, the Temertys' investment also includes support for a fund dedicated to promising collaborations across the Faculty of Medicine and the Toronto Academic Health Science Network (TAHSN). I'm looking forward to working in partnership with TAHSN leadership to identify the first projects to benefit from this funding in the coming months.
Tell us more about the new building. Where will it be located and when will construction start?
I'm very excited about the support this gift provides for the development of a new state-of-the-art education and research building. It's going to be an incredible new landmark that, in addition to housing our important work, will prominently showcase our Faculty on U of T's St. George campus.
As outlined in our strategic plan, we've launched a Master Programming Study to conduct a thorough review of all Faculty of Medicine space, including the 51-year old Medical Sciences Building (MSB). Recommendations from the study are expected by the end of 2020 and will inform the plans for the proposed new building on the site of the MSB's West Wing.
An advisory committee made up of all stakeholders — faculty, staff and students — will have an opportunity to share their views on the layout and space distribution of the new building. Construction for the new facility will begin no later than 2025.
What does this gift mean for the Faculty of Medicine's finances? Are additional donations no longer required?
While the Temerty gift is an extraordinary investment in the Faculty of Medicine and its strategic goals, no single donation could ever meet all current and future needs. We must continue to carefully monitor spending and ensure adherence to a sustainable financial model.
To that end, our community's continued philanthropic support will continue to have a huge impact on fully realizing our vision for tomorrow. I can't emphasize enough that every donation makes a difference. Indeed, part of what inspired the Temertys to make this historic investment is our broader community's generous support. Our alumni and donors have shown their belief in us, our work and our impact through their gifts over the years and we'll continue to rely on their support to sustain us in the years ahead.
How are you personally feeling today as the Faculty celebrates this extraordinary gift? You must be especially proud to see the Faculty recognized with this gift under your leadership.
As a psychiatrist, I always appreciate the opportunity to talk about feelings! After the challenges we've all experienced since March, this happy and exciting news is a much-welcomed change.
I'm definitely feeling proud today — not necessarily because of the gift itself or out of any sense of personal accomplishment, but rather for what we've been able to achieve together as a community.
This gift wouldn't have been possible without the hard work of generations of Faculty of Medicine clinicians, researchers, alumni, learners and staff who have raised our institution to where it is today. As an alumnus and clinician-scientist faculty member myself, I'm proud to see our institution recognized so prominently through this generous gift.
I'm also feeling overwhelming gratitude. The Temertys' gift is an incredible investment in our organization, one that demonstrates incredible trust in our ability to follow through on our ambitious goals. It's an honour to be serving as dean during this momentous time in our Faculty's history and to have had the opportunity to share our vision for the future with the Temertys.
And finally, I'm feeling a tremendous sense of eager anticipation. With this unprecedented gift fuelling our work, we'll be setting a new bar for what's possible in health and health care, and really extending the Faculty's global reach. I'm so looking forward to all that awaits us as the new Temerty Faculty of Medicine and am eager to get to work.