Clinical Trial Delivers Chemotherapy to Paediatric Brain Tumours Using MRI-Guided Focused Ultrasound
Research, Partnerships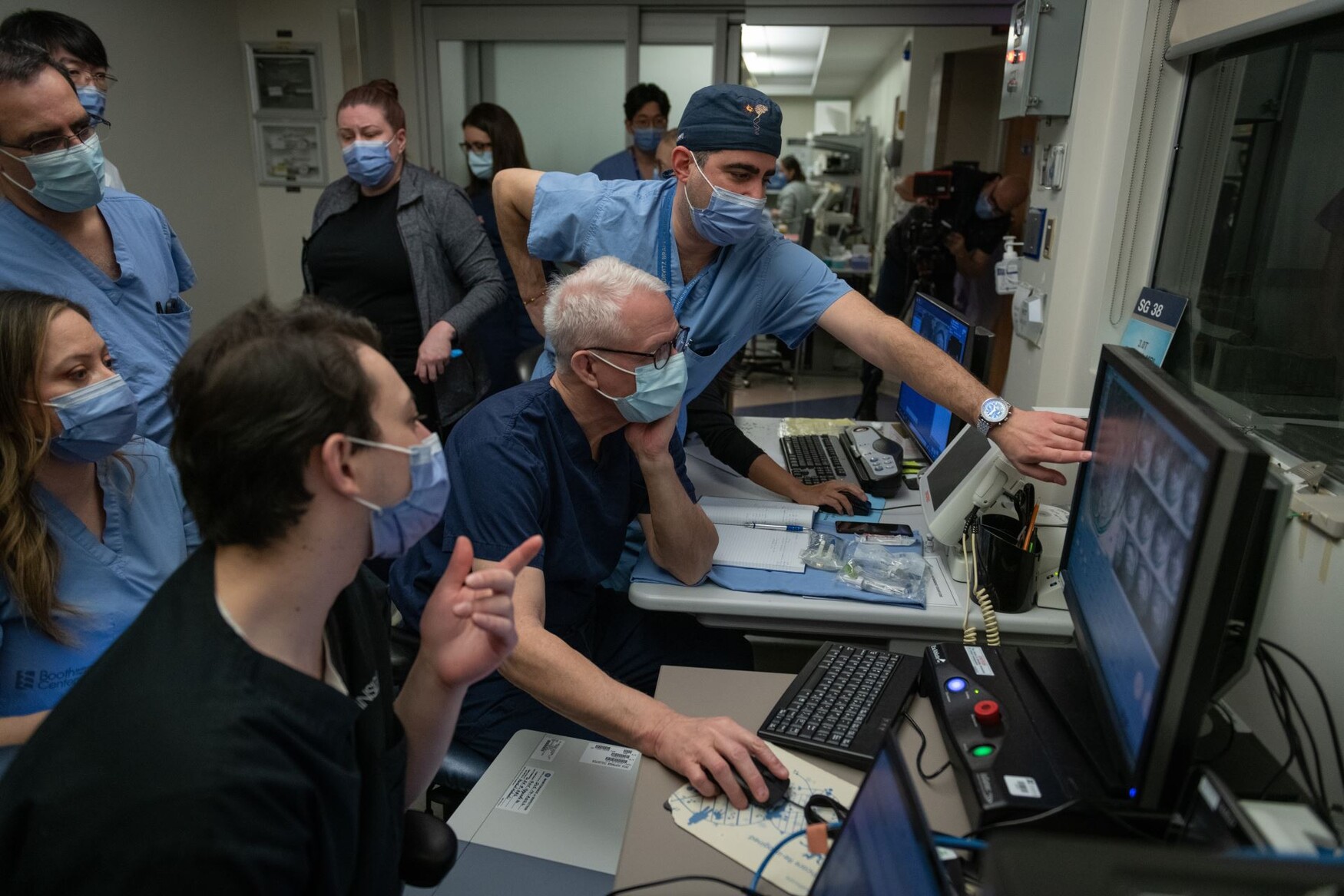 Sunnybrook Health Sciences Centre
A team of Toronto researchers and physicians are the first in the world to use MRI-guided focused ultrasound to open the blood-brain barrier and deliver chemotherapy in Diffuse Intrinsic Pontine Glioma (DIPG), an aggressive and terminal paediatric brain tumour.
The first paediatric patient recently successfully underwent the procedure as part of a safety and feasibility clinical trial in children with this tumour.
A challenge for treatment of DIPG is the blood-brain barrier, a protective network of cells, which can prevent therapeutics from reaching areas in the brain. In this Phase I clinical trial, low-intensity focused ultrasound technology is used to temporarily open the blood-brain barrier with the power of soundwaves, allowing drug treatment to cross and treat the brain tumour.
"DIPG is a devastating pediatric brain tumour which is inoperable due to its location in the brainstem," says Nir Lipsman, study co-principal investigator, neurosurgeon, and director of the Harquail Centre for Neuromodulation at Sunnybrook Health Sciences Centre. "Focused ultrasound is an innovative and non-invasive approach to more effectively delivering chemotherapy directly to the tumour. Our hope is that this continued research will bring us closer to enhancing treatments to help change the course of the disease."
Lipsman is also an associate professor of surgery at the University of Toronto's Temerty Faculty of Medicine.
"Current treatment for DIPG is limited to radiation, which can slow progression of the tumour for a period of time, but does not have longer-term effects," says James Rutka, study co-principal investigator and director of the Arthur and Sonia Labatt Brain Tumour Research Centre at The Hospital for Sick Chlidren.
"Focused ultrasound technology is a promising drug-delivery strategy that is helping us penetrate the blood-brain barrier in a novel way," says Rutka, who is also a professor of surgery at Temerty Medicine. "Conducting this trial will help us build new and innovative treatment pathways for children with DIPG."
DIPG tumours are the most common form of brain tumour in children under the age of 15 and make up nearly 10 to 15 per cent of all childhood brain tumours. It affects the region of the brainstem known as the pons which regulates the body's involuntary activities such as breathing, heart rate and important functions such as swallowing. DIPG is considered a terminal cancer.
Clinical and research teams from Sunnybrook and SickKids are collaborating on the clinical trial which will investigate the safety and feasibility of breaching the blood-brain barrier using MRI-guided focused ultrasound in combination with the delivery of chemotherapy in pediatric patients with DIPG.
The study will include 10 patients between five and 18 years old who have been diagnosed with DIPG. Study participants receive general anesthesia ahead of focused ultrasound treatment at Sunnybrook, which will involve three cycles of chemotherapy about four to six weeks apart. A specialized helmet is used to deliver ultrasound energy to brain targets without requiring scalpels or incisions. SickKids physicians and nurses will assist with the treatment procedure at Sunnybrook, and the children will receive post-operative care at SickKids.
Low-intensity ultrasound interacts with microscopic bubbles which vibrate causing a temporary opening in the blood-brain barrier that enables therapies to pass and reach a targeted area. The blood brain barrier closes within hours of the procedure.
In 2015, Sunnybrook researchers were the first in the world to investigate low-intensity focused ultrasound in the opening of the blood-brain barrier and delivery of chemotherapy in adult brain cancer, and recently demonstrated in a global first trial that chemotherapy can be delivered across the blood brain barrier in brain metastases.
Sunnybrook has also continued this leading-edge focused ultrasound research in other debilitating brain disease including, Parkinson's disease, Alzheimer's disease, Amyotrophic Lateral Sclerosis, major depression, and other disorders.
This study was funded and supported by The Harquail Family through the Harquail Centre for Neuromodulation, the Focused Ultrasound Foundation, and INSIGHTEC as well as by its lead donor at SickKids, Jordana's Rainbows Foundation and the Fiorini Family, Meagan's Hug, Nelina's Hope and The Wiley Family who supported pre-clinical trial work.