Celebrating Impact with the 2018 Dean's Alumni Awards
Research, Alumni, Faculty & Staff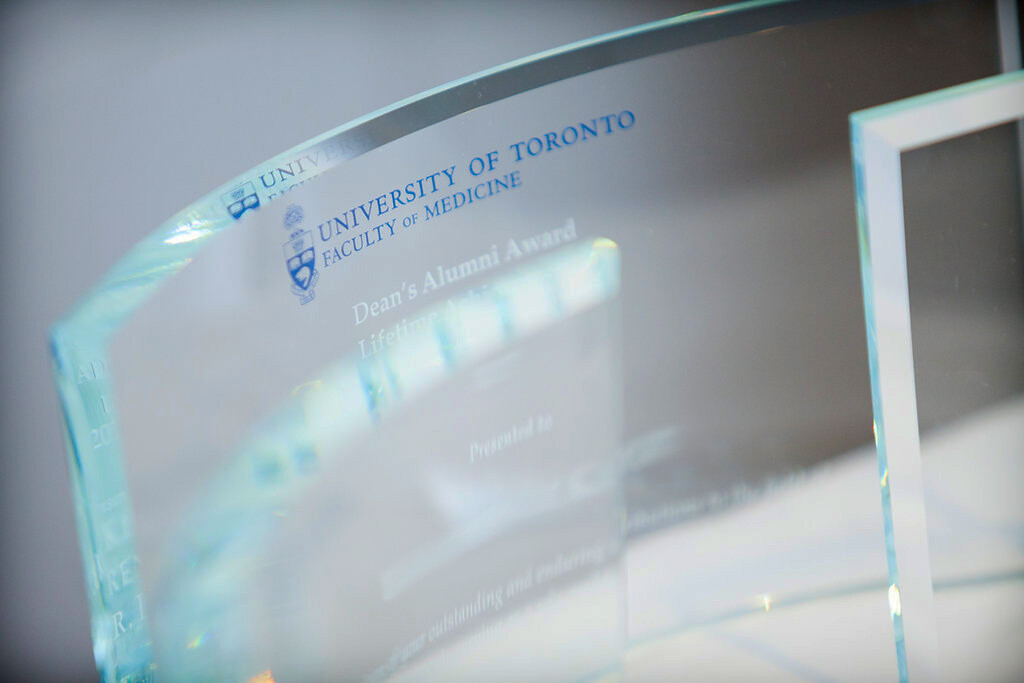 U of T Faculty of Medicine alumni are truly changing the world. They are transforming children's lives internationally through cleft repair, creating Canada's first multi-organ transplant program, rehabilitating victims of torture, harnessing big data across hospitals to improve research and care, enhancing outcomes for children receiving liver transplants. And much more.
Dean Trevor Young is keen to highlight this impact. He presented the 2018 Dean's Alumni Awards at U of T's Alumni Reunion on June 1.
"It's incredible to reflect on the many ways our alumni are advancing health and health care," says Dean Young. "I'm thrilled to recognize some of the most outstanding and inspiring examples of how our alumni community is making a difference."
This year, the Faculty is honouring:
Dr. Ronald Zuker, MD'69, PGME'76 (Plastic Surgery)

Lifetime Achievement — Global Impact

Dr. Zuker is an international expert in microsurgery, cleft repair and facial reanimation. He is a Professor in U of T's Department of Surgery and a plastic and reconstructive surgeon at the Hospital for Sick Children (SickKids). He is a long-time volunteer leader with "Operation Smile" as well as with the cleft lip and palate charity "Transforming Faces." Dr. Zuker served as medical director of the SickKids' Cleft Lip and Palate Program for many years. He is recognized for his exceptional and sustained contributions to clinical skill innovation and teaching.

Dr. Gary Levy, BSc'69, MD'73

Lifetime Achievement — National/Community Impact

Dr. Levy is founder of Canada's first and one of the world's foremost Multi-Organ Transplant Program at the University Health Network's Toronto General Hospital. During his tenure, Dr. Levy built this program to become the largest transplant program in Canada. As a faculty member in the U of T departments of Medicine, Immunology, Laboratory Medicine & Pathobiology as well as the Institute of Medical Science, he has made major research contributions in the field of transplantation. He is recognized as a leader, physician, scientist and mentor.

Dr. Donald Payne, MD'63, PGME'70 (Psychiatry)

Humanitarian Award

Dr. Payne has made outstanding career-long contributions as a psychiatrist to the care and advocacy of victims of torture and human rights abuses, both nationally and internationally. In addition to developing the Canadian Centre for Victims of Torture, his work has extended to Amnesty International and Canadian Physicians for Aid and Relief (CPAR). He has provided training to new members of the Immigration and Refugee Board and to lawyers working on refugee cases. He also developed a protocol for writing psychiatric assessments on refugee claimants, which is used in teaching at the University of Toronto.

Dr. Fahad Razak, BSc'02, MD'09, PGME'13 (Internal Medicine)

Emerging Leader Award

Dr. Razak is an internist at St. Michael's Hospital, Scientist at the Li Ka Shing Knowledge Institute, and assistant professor in U of T's Department of Medicine and the Institute of Health Policy, Management and Evaluation. He is co-founder of the General Medicine Inpatient Initiative (GEMINI), a "big data" network that extracts and harmonizes information across seven Toronto hospitals with the aim of improving the care of patients admitted to general medicine. He has developed partnerships across Ontario with plans to expand GEMINI province-wide. Dr. Razak has led research in the fields of population health, global health and on general medical inpatients. He is co-founder of The Rounds Table, a free educational podcast focused on new research in medicine, which has been downloaded more than 200,000 times in 100 countries.

Dr. Vicky Lee Ng, MD'93, PGME'97 (Paediatrics)

25th Anniversary Award

Recognized by the MD Class of 1993, Dr. Ng is Medical Director of the Liver Transplant Program at SickKids and U of T Paediatrics Professor. As an academic clinician and gastroenterologist, she focuses on improving health outcomes for children with end-stage liver failure and who have undergone liver transplantation. She is the SickKids site lead investigator on multi-center trials studying immunosuppression withdrawal in stable pediatric liver transplant recipients, as well as novel therapeutic interventions in children with fulminant liver failure and biliary atresia. She is also the co-creator of the first disease-specific health related quality of life tool for survivors of pediatric liver transplantation, now available in over 10 languages.
Find out more about the award winners and their impact by attending the June 1 ceremony. And look out for videos featuring this years winners — they will be featured here in June.